Evan Sinclair
—Adult male knowledge sim
Taurus personality
Neat 5, Outgoing 5, Lazy 3, Fun 8, Nice 6
Lifetime want—Reach top of journalism career—Achieved
Preferred hobby—Arts and crafts
Alyssa Cory
—Adult female family sim
Cancer personality
Neat 6, Shy 4, Active 6, Serious 4, Nice 6
Lifetime want—Reach top of education career—Achieved
Preferred hobby—Arts and crafts
Christopher Sinclair
—Child male sim
Aquarius personality
Neat 7, Shy 4, Active 6, Playful 8, Nice 6
Preferred hobby—Games
Rose Sinclair
—Child female sim
Cancer personality
Neat 7, Shy 4, Active 6, Serious 4, Nice 8
Preferred hobby—Tinkering
Check out the Cory-Sinclair Family Tree.
In the last update
—Amanda Cory retired from Cory publishing and passed the reigns to her son-in-law Evan, who quickly reached the top of the journalism career. Evan also earned a hobby plaque in arts and crafts. Together, Evan and Alyssa opened a toy store to sell their hand crafted toys and teddy bears. Christopher and Rose grew-up from babies to children. The twins love doing everything together and insisted on still sharing a room. Evan finally stood up to his father, Gary Sinclair, and told him that he was not going to pressure his children to be 'perfect.' Evan and Alyssa love their children the way they are.
Season 9—Fall
After the twins' first day of school, Christopher brought home a friend.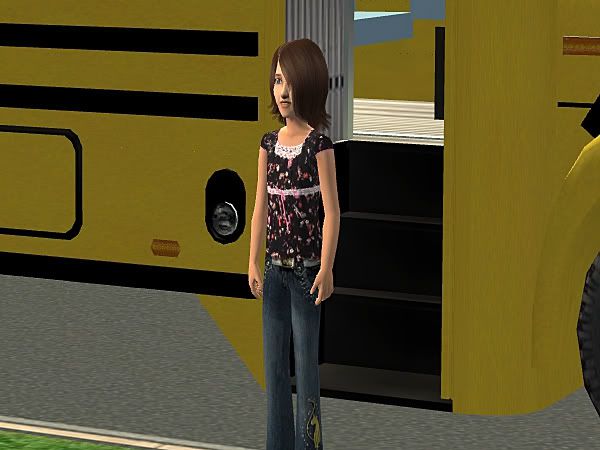 Her name was Catherine Windsor, and she was new to town. Her mother had left her to live with her father, who didn't want her at all. Christopher thought it sounded like the saddest story he'd ever heard, so he invited his friend to come play games with him at home. That was tons of fun.
Alyssa took pity on the little girl when she heard that no one ever paid attention to poor Catherine. She asked her to stay for dinner with the Sinclair family and made her delicious pork chops.
Just after she'd served diner, the door bell rang. Alyssa answered it.
"Hello, I'm Vince, the principal of Emerald Isle Academy. Mr. Gary Sinclair called me and told me that your children are interested in attending our private school. Of course we always give special consideration to children of alumni, so I came over for your home visit right away."
"Of course. It's very nice to see you again. It's been so long since Evan and I were at Emerald Isle Academy ourselves," Alyssa said politely. "Why don't I give you a tour of our home," she suggested, but she panicked the moment the man turned his back.
Alyssa and Evan hadn't really thought about private school yet. Christopher and Rose were just in kindergarten. She hadn't even picked up the house! Well, at least she did have some decent food to serve him. The decent meal, the fact that both Evan and Alyssa were alumni, and the large if messy house were enough to earn the children admittance into Emerald Isle Academy.
Evan was furious when he got home and learned that his father had interfered in the lives of his children. He was ready to call Emerald Isle Academy and tell them to forget it, but Alyssa convinced him to lie down and talk about it with her.
"I don't want my children growing up like I did, Aly, under constant pressure to succeed and be perfect," Evan explained.
"I know. I don't want that either, but Emerald Isle Academy is a very good school. I loved it there. I got to learn a lot of fun and interesting things that I wouldn't have been able to at public school. We can let the children go to school there without pressuring them," Alyssa suggested.
With that decided, the twins began attending Emerald Isle Academy for first grade. Christopher and Rose were so adorable in their little private school uniforms.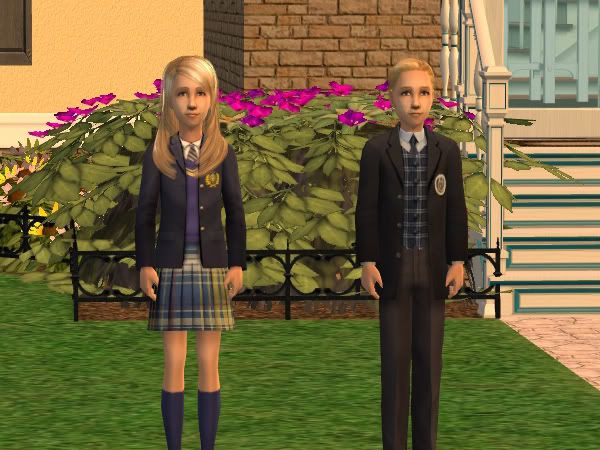 Christopher came home from his first day of private school nearly in tears. His fun was all drained and he only brought home a C+. His grandfather Gary would be so ashamed of him!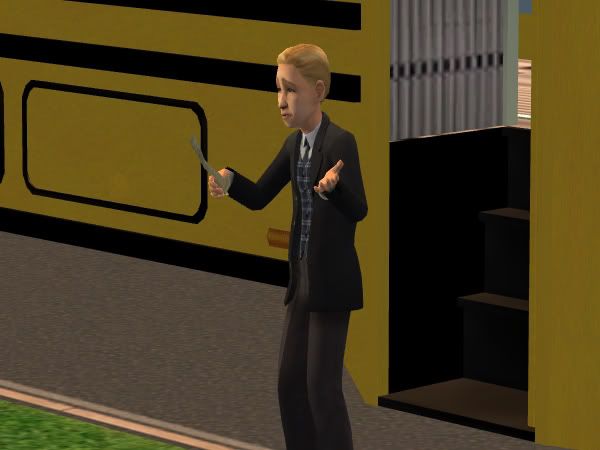 Rose wasn't nearly as upset. She had the same grade, but she enjoyed school. She was more serious than her brother, and she found learning fun. She was, however, very concerned about Christopher. Being twins, they always felt a bit of each other's emotions.
Christopher was so upset, he ran upstairs to his room and cried into his teddy for hours. It was a hand-crafted teddy bear his father had made for him. Being one of the first teddy bears Evan had made, it had lopsided eyes and patches all over it, but Christopher loved that bear so much. He sobbed all of his frustration into his teddy while he waited for his father to come home. "No fun, teddy! Need fun!!!! And going to get in trouble. Grandpa Gary says I need A+s and I got a C!!!! I'm going to make Mommy and Daddy and Grandpa so ashamed of me!"
Rose sat at her desk, quietly reading while still staying close to her brother until their father got home. The moment she heard the car, Rose ran down to greet her father.
Evan had a good day at work. He was doing such a great job at Cory Publishing that he earned a 63,000 simoleon stock dividend. Evan came home, very proud, to announce the news to the family. The smile fell from his face as he saw the tears streaming down Rose's cheeks as she ran to hug him.
"Daddy, oh, Daddy!" Rose exclaimed as she ran and hugged her father.
"What's wrong, Princess?" Evan asked her.
"It's Christopher. He's been crying since we got home from school. He thinks you're going to scold us for getting C+s on our report cards. Grandpa Gary has been putting a lot of pressure on him," Rose explained.
Evan knew he was going to have to have further words with his father about the pressure he was putting on the twins. Evan would not allow this, but the first priority was helping Christopher feel better.
Evan followed Rose up to the twins' room and hugged both of his children. "Daddy is so proud of both of you. You tried your hardest at school today, and that's all that matters." Evan went on to explain how they didn't have to bring home perfect grades. He also offered to help both of them with their homework and gave them some tips on maintaining fun while still paying attention at school.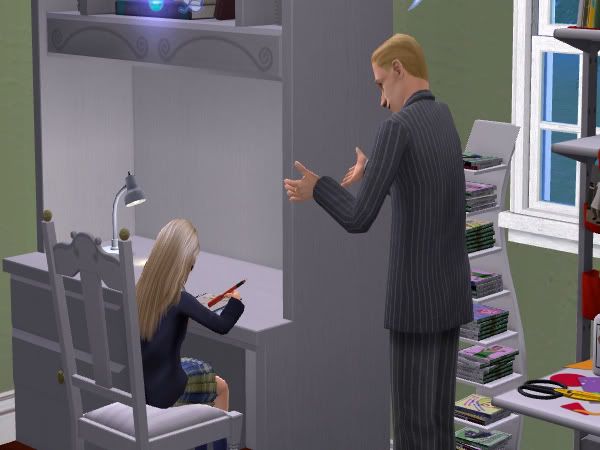 "Thank you, Daddy, thank you!" Rose hugged her father with gratitude. Evan had managed to cheer Christopher up, and that made all of them feel so much better.
Evan decided to surprise the family by adopting a dog. He felt all families should have a dog, and he'd wanted one ever since he was a little boy. There had been this stray dog that he'd cared for when he was a really lonely and hurting teenager.
Evan explained to his lifelong friend Daniel Turner about his desire to adopt a dog, a pet that no one else wanted. Evan had always liked the idea of caring for an animal that had no one to love him, because that's how he'd felt as a teen growing up in the Sinclair home. Daniel suggested that Evan go to see Rachel Ziese-Lecy. Daniel gave the puppies he couldn't find homes for to Rachel and knew that Rachel also took in strays to find good homes for.
On Daniel's advice, Evan went to meet with Rachel.
"So, Evan, what kind of dog are you looking for?" Rachel asked.
Evan described his ideal dog to her. It was remarkably similar to Max, the stray dog he'd befriended as a lonely teen. He also explained that he wanted a dog that needed love and a family, one that was hard to adopt out that really needed him.
"I have the perfect dog for you," Rachel declared with confidence.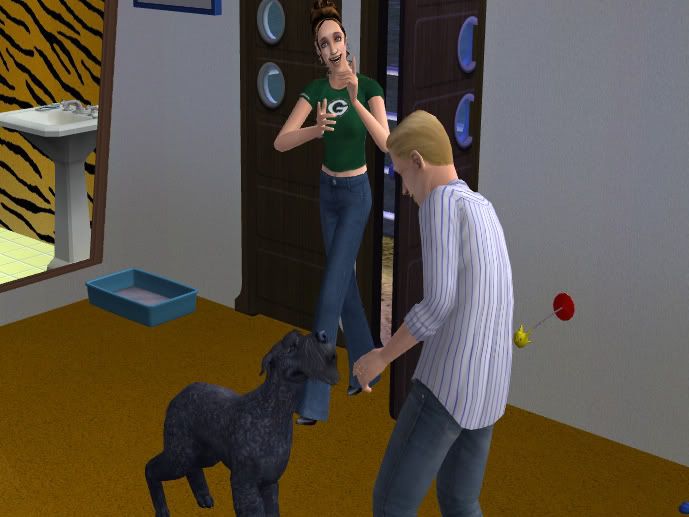 She introduced him to Webster, a Kerry Blue Terrier. It was an immediate perfect match. Evan knew the dog was exactly what he wanted.
"I think he's been abused," Rachel warned him. "He cowers and trembles a lot. He's quite cowardly now. And he's been hard for me to adopt out because he does mess the floor sometimes."
Evan didn't mind. Webster needed a family to show him love, and Evan was happy to provide that.
The twins were so excited when Evan brought Webster home. They both wanted to rub his belly and play with him.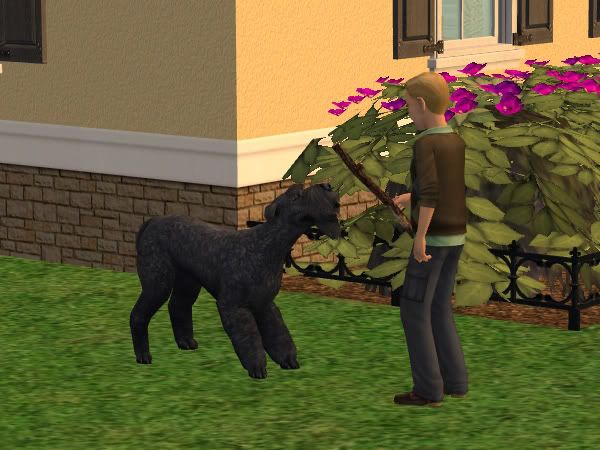 Webster did mess in the house sometimes at night, but Evan was gentle with him. Evan worked on house breaking him with praise when he did go outside instead of hurting the poor, scared dog when he did wet in the house.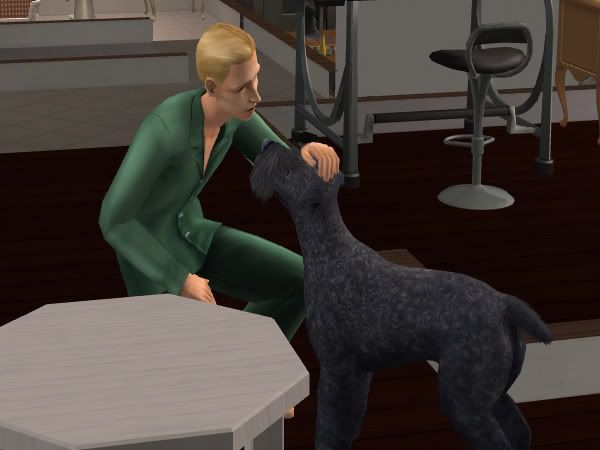 Alyssa got a big surprise one day as she realized that she was pregnant again! She and Evan had not planned on more children after the twins, but being a family sim, Alyssa was happy about it.
It was Labor Day weekend, and Evan and Alyssa threw a large party for their family. They invited Evan's half-brothers (Ethan, Eli, and Jack) and Alyssa's half-siblings (Matthew, Rachel, and Sandy) as well. All of their half-siblings were young enough to almost be more like cousins to Christopher and Rose. Everyone had fun swimming in the pool, fishing, playing games, and eating hamburgers off the grill.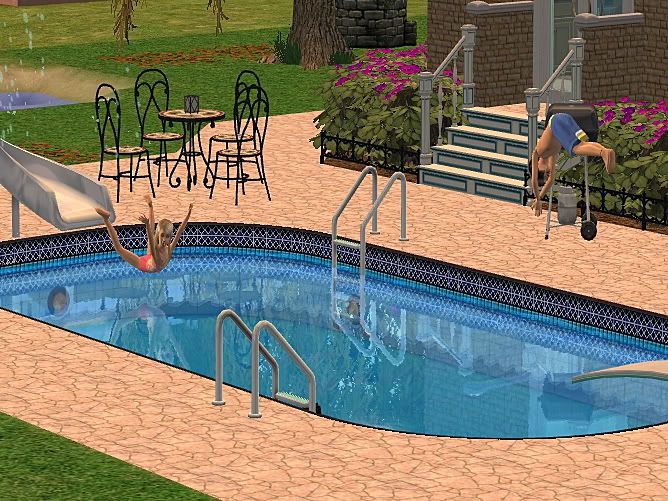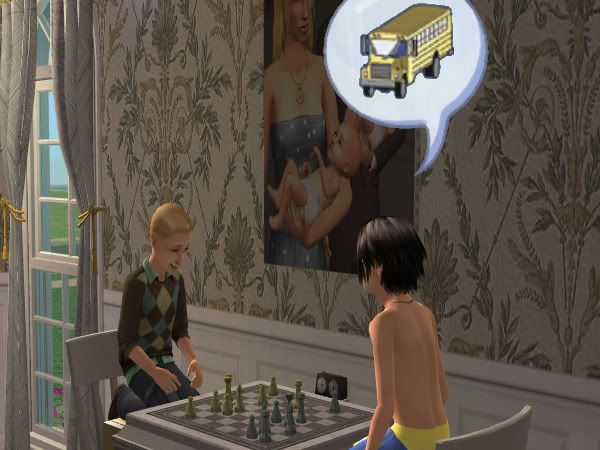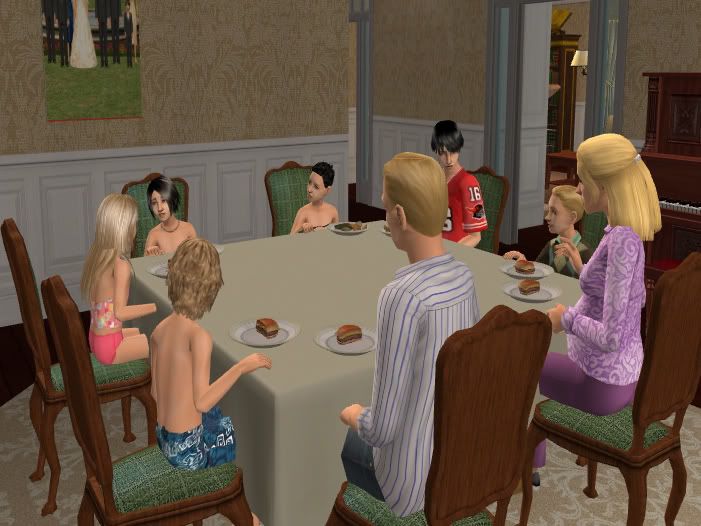 It was a great party until Alyssa went into labor.
"I'm never having children," Rachel exclaimed as she saw the pain her much older half-sister was in.
"I want lots of children but I didn't realize . . . wow . . ." Ethan said, stunned. He wanted six children of his own someday, but he had no idea that his future wife would have to go through that! And six times!
"Oh no, Aly! I'll get the car!" Evan said, a little panicked. He'd missed the birth of the twins, because Alyssa had delivered them quickly at home while Evan was at work.
This birth went just as quickly. There was no time for the hospital. Little Carlisle was born right at home, just like his older siblings.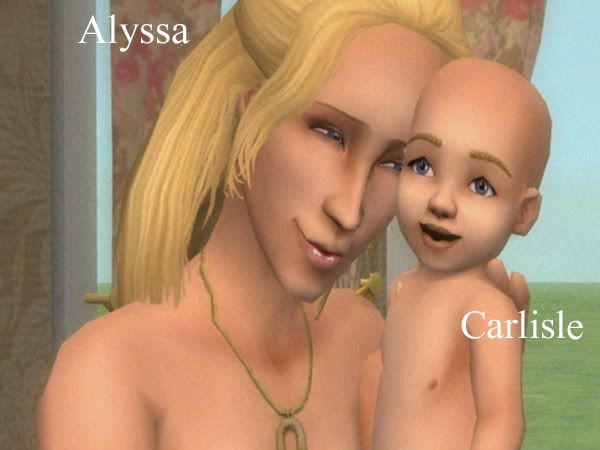 Carlisle Sinclair
--Baby male Sim
Everyone cheered the arrival of the newest member of the Sinclair family.
Carlisle was a very active little baby boy. He really loved playing with his toys, especially when his mother joined him and jiggled his play gym toys for him.
Christopher woke up crying the day of a big test. He'd had the opportunity to cheat using an RC plane to see the test, but he'd decided not to. His father had taught him better than that. But Christopher was sooooo stressed about the test. He'd had nightmares about failing it and getting a strong scolding by Grandpa Gary. It was enough to make tears come to his eyes as he woke up.
Luckily, Rose was there for him. The twins shared such a close relationship, they were always there to listen to each other and understand. She gave him confidence, because she was positive they were both going to do fine on the test. She also reassured him that he'd done the right thing by not cheating. Their parents would be proud of him for making the right decision, even if it made him stressed.
Finally, all of the hard work and studying paid off. Both Christopher and Rose came home with A+ report cards.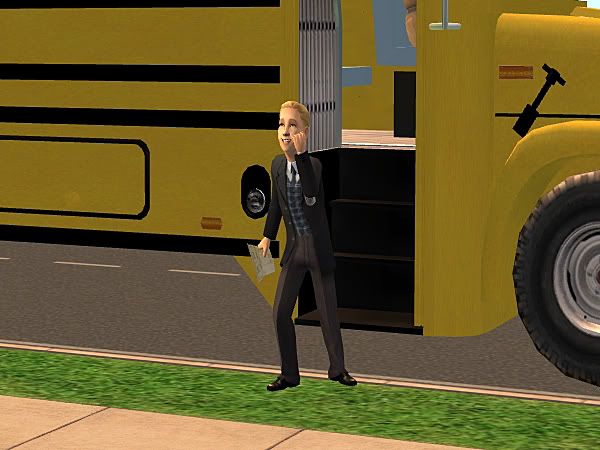 Alyssa was very proud of her children, but the real excitement came when Christopher got to tell his daddy how well he'd done.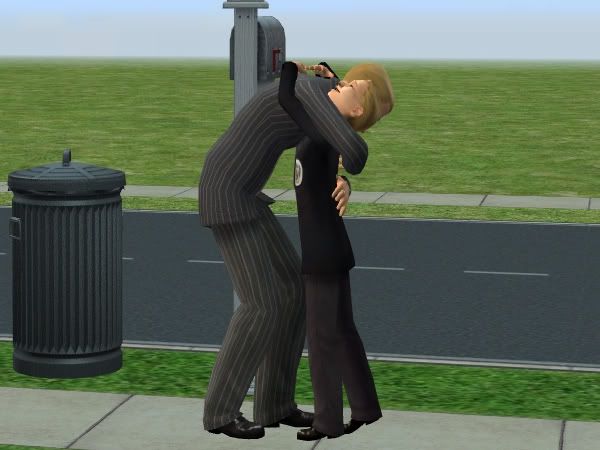 All this time, Evan had been working hard on his sewing skills. He knew it wasn't very manly. His father wouldn't approve, but he enjoyed it. He made special nursery quilts to sell along with their hand-crafted toys at their store.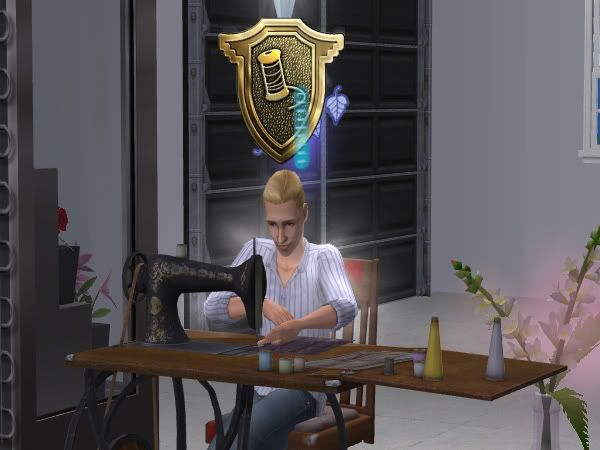 With such special product made with love, Inner Child Toys and Gifts quickly became a level 10 business, and Alyssa earned 100,000 simoleons.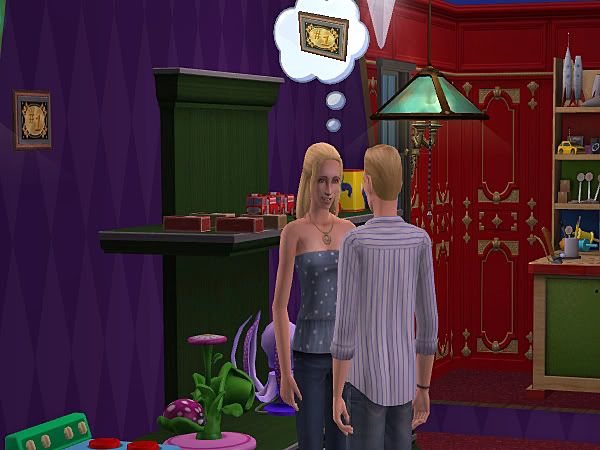 More than the money, though, Evan and Alyssa were happy that they were able to share their special creations with the whole town. Children all over Emerald Isle had access to unique and fun toys.
Cameron and Amanda babysat the children while Evan and Alyssa worked at the store. They were amazed to see how much Christopher and Rose still did everything together; even chores were done in unison. It was obvious that Christopher was the more creative and playful child, but he could always convince his sister to play along with his ideas for adventures and fun.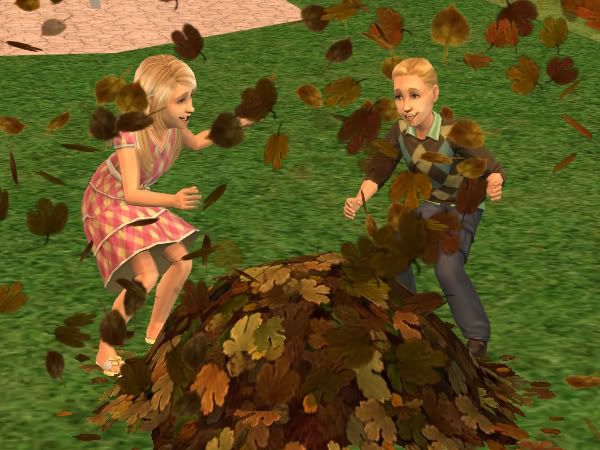 Season Recap
1. Gary got Christopher and Rose into private school and put a lot of pressure on Christopher to succeed despite Evan's best efforts to shield his children from his father. Despite that, the children are growing up fairly well and brought home A+ report cards.
2. Evan adopted an abused dog, Webster. He's a great fit for the family.
3. The family spent a lot of time bonding with their extended family (The Sinclair 1 and Cory families).
4. Alyssa gave birth to Carlisle.
5. Evan earned a gold sewing badge. The toy store reached level 10, and Alyssa earned 100,000 simoleons without any effort to do so on my part.
Points Recap
Previous non-money points
194
Gold badges (Evan) +1
New non-money points
195
Neighborhood money
Turner 186,744 +39,513 (business) = 226,257
Sinclair 299,386 + 62,069 (business) = 361,415
Cory 194,345 + 95,256 (business) = 289,601
Windsor 194,135
Windsor 2 186,074
Turner 2 178,076 + 37,112 (vacation home) = 215,188
Turner 3 342,202 + 76,429 (business) = 418,631
Sinclair 2 325,584 + 74,442 (business) = 600,026
New neighborhood money points 1,794,495 simoleons=18 points
New neighborhood total points 213
Author's Notes
Of course Alyssa called and invited the headmaster herself, but I thought it would make for an interesting story if I said Gary did it. I mostly decided this because Gary spontaneously walked by the exact moment the headmaster arrived, and I had that hilarious shot of Alyssa looking overwhelmed as the headmaster showed up.
What kind of game is this that choosing NOT to cheat is the WRONG answer to pick! I felt so sorry for poor Christopher. But at least it made for an interesting story.
The baby's name is Carlisle. Yes, as in Carlisle Cullen from Twilight. I'm eventually going to have all of the Twilight characters in my hood. It's something for me to look forward to.