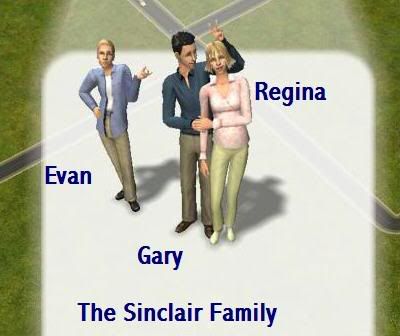 Gary Sinclair—Adult male fortune sim
Scorpio personality
Neat 6, Outgoing 5, Active 8, Serious 3, Grumpy 3
Lifetime want—earn 100,000 simoleons
Regina Sinclair—Adult female fortune sim
Scorpio personality
Neat 6, Outgoing 5, Active 8, Serious 3, and Grumpy 3
Lifetime want—reach top of business career
Evan Sinclair—Teen male knowledge sim
Taurus personality
Neat 5, Outgoing 5, Lazy 3, Fun 8, Nice 6
Lifetime want—reach top of journalism career
In the last update—The family just discovered that Regina was pregnant. Evan was so upset about the news that he nearly ran away, but his family was able convince him of their love. Gary was promoted to the top of the law enforcement career.
Season 6—Winter
Regina was on maternity leave from the police force. It was driving her crazy being stuck at home, but she put the time to good use. She spent all day socializing with friends that might help get her promoted and working on her skills.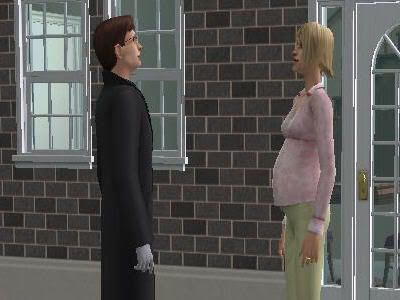 In the meantime, Gary was trying to adjust to his new job as Captain Hero. Things were definitely different now that he was expected to use super powers to fight crime.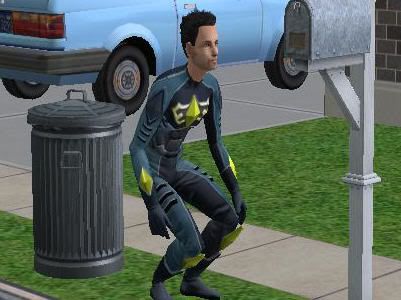 They were having a small dinner party one night, when Regina said that she wasn't feeling very good.
She went to the bathroom. Suddenly, her water broke. It couldn't be time for the baby. She didn't think that she was due yet, but sure enough, she went into labor right in the bathroom.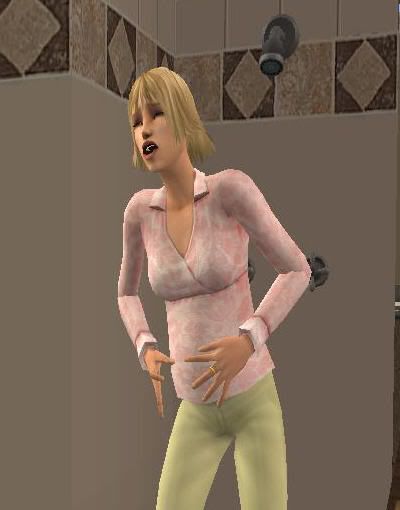 "Honey, are you alright?" Gary asked as he entered the bathroom. "Oh my! I'll get your suitcase. We've got to get to the hospital."
"No time!" Regina shouted between clenched teeth. "The baby's coming now!"
She never planned to deliver her baby right in her own bathroom, but it wasn't as bad as Regina feared. Before long, she had a beautiful baby boy in her arms. It was all worth it when she heard him coo.
The Sinclairs named their little boy Ethan. Ethan looked a lot like his father with black eyebrows and stunningly deep blue eyes.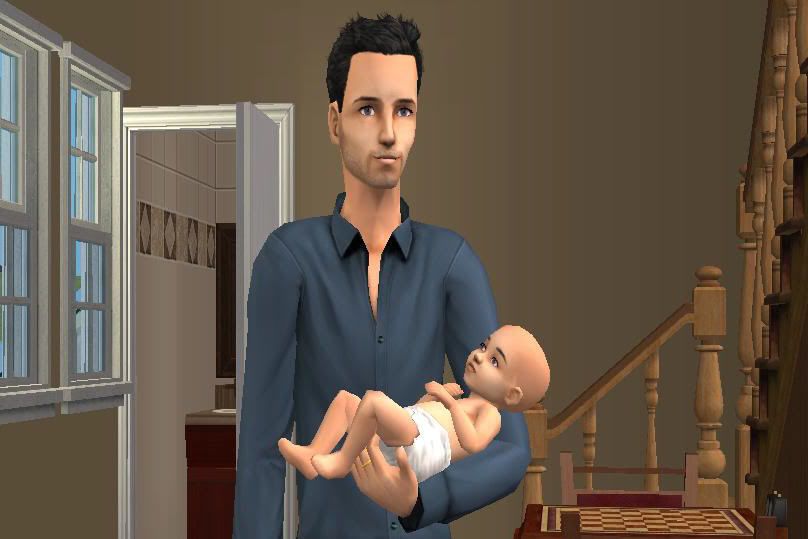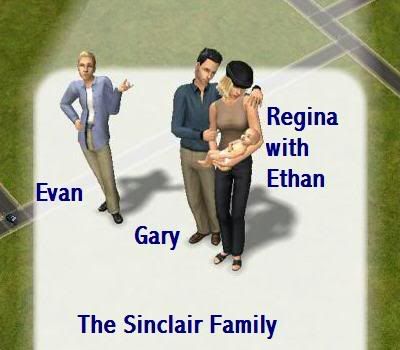 Regina returned to work right away. She was bucking for a promotion. She received it and reached the top of the law enforcement career.
Evan was left babysitting Ethan while Regina and Gary were at work. He was trying his hardest to love his little brother and not be jealous. Ethan wasn't a bad baby. Evan didn't mind helping out by watching him. Still, Evan's feelings were very tender on the subject. His dad and Regina had assured him that they loved him, but Evan couldn't help feeling that Ethan would be everything that their father wanted, everything that Evan wasn't.
Evan's Uncle Cameron had told Evan that he could call him anytime he needed anything. Alyssa and Amanda had promised to be there for Evan, too. So, Evan called over to the Cory house. He knew that he was being silly, but he needed to know that someone loved him. Uncle Cam came over and hugged him. They had a good talk, and then Uncle Cam helped Evan take care of the baby.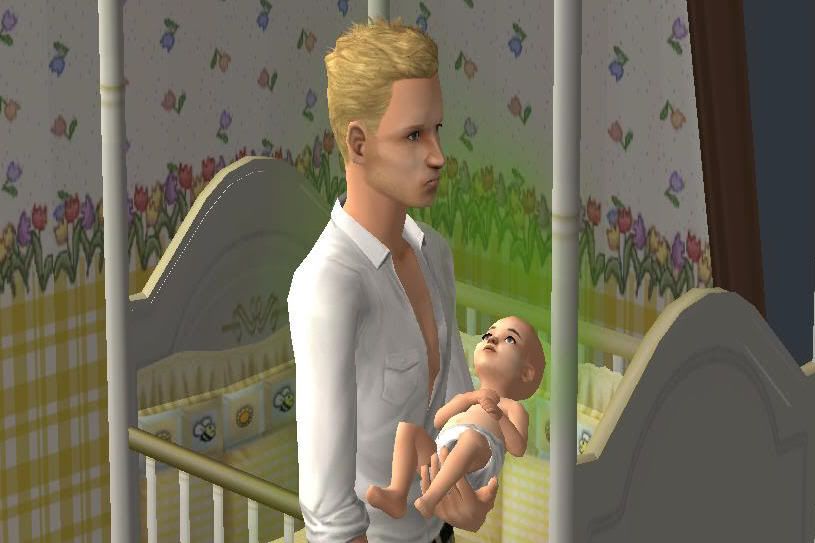 Gary was spending most of his time at his little shop. Business was booming. The store was so popular that all of the customers could barely even fit in the door.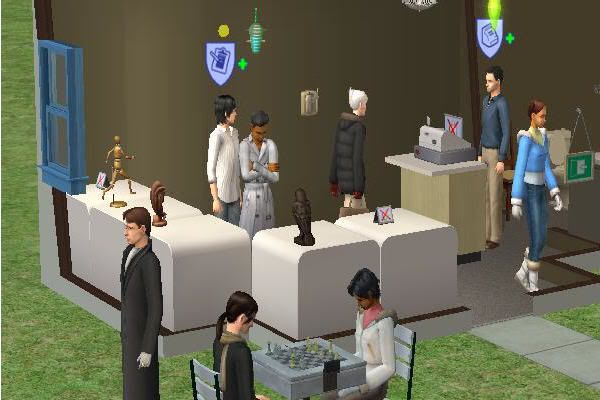 Eventually, the business achieved a level 8 status. Gary received cash bonuses for each business level. The prizes were so large, that Gary achieved his lifetime want of earning 100,000 simoleons. He also finally had the money he wanted to remodel the shop. He specialized in selling collectable, colored glass; but, he also sold some other vases and decorative objects.
With his lifetime want fulfilled, Gary decided to look for a new job. He was tired of catching all of the bad guys and watching the lawyers get the criminals off. He decided to go into law himself. He'd be sure that all of the criminals were properly prosecuted. His first position was as a Personal Injury Attorney. Gary would make certain that justice would prevail.
Regina decided that it was time for a change of career as well. She wanted to go after her dream of becoming a Business Tycoon. Thanks to her leadership experience on the police force, Regina was able to take a position in Senior Management at an Emerald Isle company.
"Honey, guess what?" Gary approached Regina.
"I have news, too, but you go first," Regina replied.
"I got a new job. I'm going to be a lawyer," Gary informed her.
"But, we had the whole work schedule set for who was going to stay home with Ethan. I just took a new job as a Senior Manager. I can't stay home."
That was a dilemma. Neither of them was willing to give up on their new careers, and they both knew that they couldn't miss the first day of work. In the end, they decided to take the chance and leave Ethan with a nanny until Evan got home from school. They weren't happy with the compromise, but luckily for them, the agency sent one of their best nannies. She even played with Ethan.
Gary and Regina barely had time to get home from work to make it to Ethan's birthday party. The Corys and the Turners came over for a Roof Raiser party.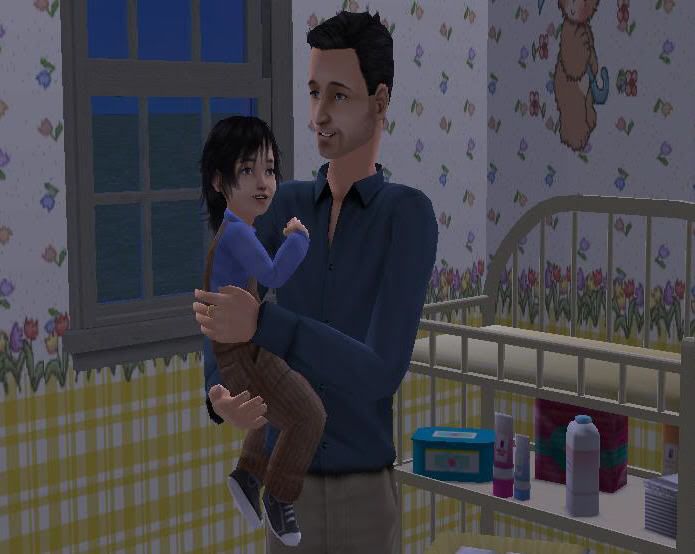 Ethan Sinclair—male toddler sim
Gemini Personality
Sloppy 2, Outgoing 10, Active 10, Serious 3, Grumpy 3
Already realizing that his little brother was going to be the little athlete his father had always wanted, Evan decided that he would have to start working out more if he really wanted to earn his father's love. Sure, Gary had said that he loved Evan just the way he was, but then he was also always encouraging him to be neater and more active. Evan was still desperate for love and approval.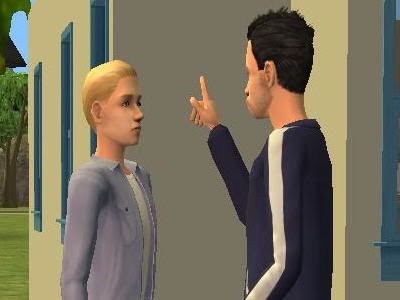 When it came time for Evan to leave for college, he had scholarships for his grades and in all skills, including body. He also earned a scholarship for his dance skills, but that wasn't one that his father would be proud of. Evan enjoyed using his creativity, but Gary wanted an athletic and serious son. Evan hoped that college would give him the opportunity to earn his father's praise.
Gary was proud of Evan. He had pushed his oldest son to great success in high school. It was time to start teaching his youngest son. First, he taught Ethan to walk, talk, and use the potty.
Then he encouraged him to work with his charisma bunny as Gary also worked on maxing out his charisma skill.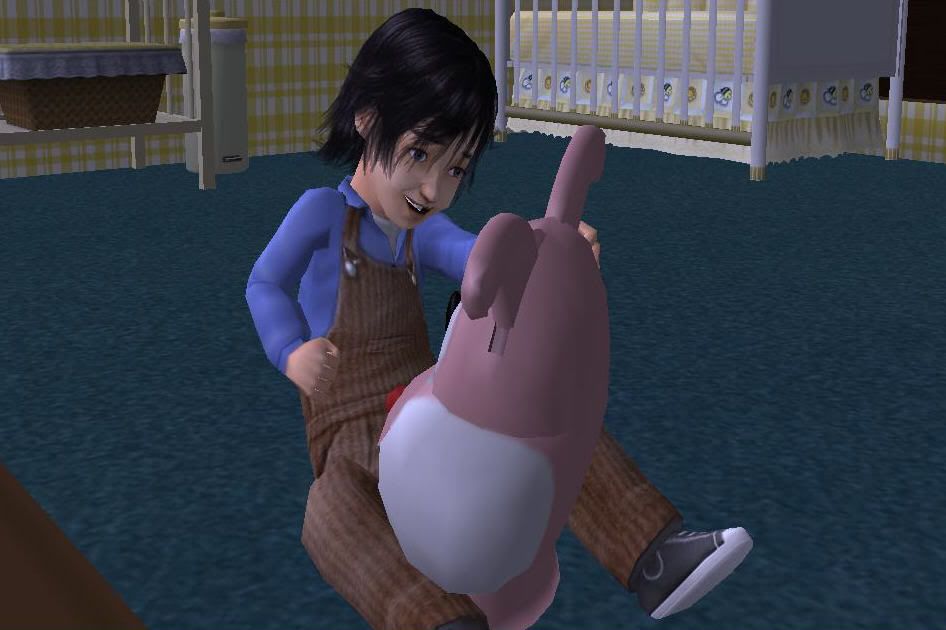 Gary already had two wonderful boys, but Regina wanted a second child of her own. Never able to deny his wife anything, Gary agreed. They tried for another baby.
In the meantime, they both were progressing well in their careers. Gary was promoted to Corporate Lawyer, and Regina was promoted to President of the company.
The promotions came at a good time. Regina was pretty sure that she was pregnant again. She would soon be able to use her maternity leave to work on the skills she would need to finally fulfill her dream.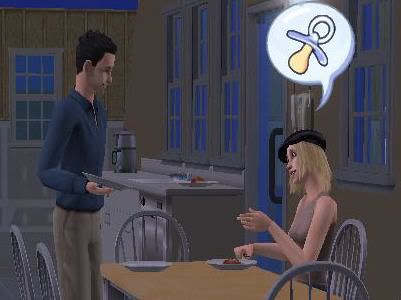 Season Recap
1. Regina gave birth to Ethan, her first child with Gary.
2. Gary encouraged Evan in neatness and activity. His new personality is Neat 7, Outgoing 5, Active 7, Playful 8, and Nice 6. Evan left for college with scholarships for grades and all skills.
3. Gary achieved his lifetime want of earning 100,000 simoleons and got his business to a level 8.
4. Gary took a new job in the law career while Regina took a new job in the business career.
Points Recap
Previous non-money points 100
Correction point +1 (somewhere I have an extra point in excel I forgot to record here)
Top of career, Regina +1
New sim, Ethan +1
Impossible want, Gary +3
New non-money points 106
New money total for this household to be added for neighborhood points 172,014 simoleons.
Author's Notes
I know that you can sit at a computer and buy a business and immediately resell it and immediately earn 100,000 simoleons. That seems a bit like cheating to me, so I decided not to let myself do that. However, the money bonuses earned as business level rewards DON'T count towards the lifetime earnings. That doesn't seem fair to me, because Gary DID work hard for those. So, I let him buy and sell a business the value of the money he earned from his business perks. That hit his 100,000 simoleons.