New Feature!
Check out the family trees I've made for the Turner and Windsor families. Now, even though the families aren't all living in the same house, you can still clearly see their relations.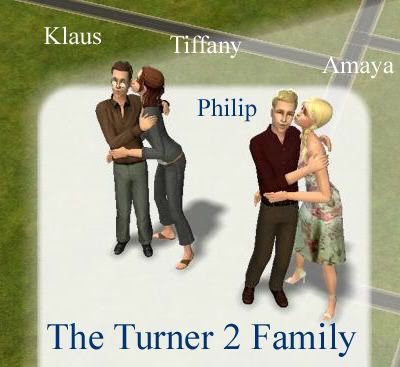 Klaus Turner—Adult male knowledge sim
Gemini personality
Sloppy 4, Outgoing 8, Active 8, Serious 3, Nice 7
Lifetime want—Max out 7 skills
Tiffany Sampson—Adult female knowledge sim
Aries personality
Sloppy 4, Outgoing 5, Lazy 4, Playful 6, Nice 6
Lifetime want—Reach top of Education Career
Philip Windsor—Adult male pleasure sim
Sagittarius personality
Sloppy 2, Shy 3, Active 9, Playful 7, Grumpy 4
Lifetime want—Fifty dream dates
Amaya Bachmann—Adult female romance sim
Taurus personality
Neat 5, Outgoing 5, Lazy 3, Playful 8, Grumpy 4
Lifetime want—Reach top of Slacker Career
In the last update—These sims just graduated from university. Philip and Amaya were high school sweethearts and managed to stay together despite the fact that Amaya is a romance sim. Klaus met Tiffany through his older brother, Will. They hooked up while at Academie Le Tour. Both couples got engaged during their senior year.
Season 6—Winter
Klaus and Tiffany decided to get married right out of college. Philip wanted to get married right away, too, so Amaya reluctantly agreed. She was still nervous about the idea of getting married. She wanted to stay with Philip, but marriage was such a commitment.
The first thing the girls did was pick out their wedding dresses and pose for their formal bridal portraits. Tiffany went with a slightly vintage dress. She liked the lace. Amaya couldn't really get into the whole wedding planning thing, so she chose a very simple gown. Unfortunately it was snowing outside, so all of the pictures had to be moved indoors.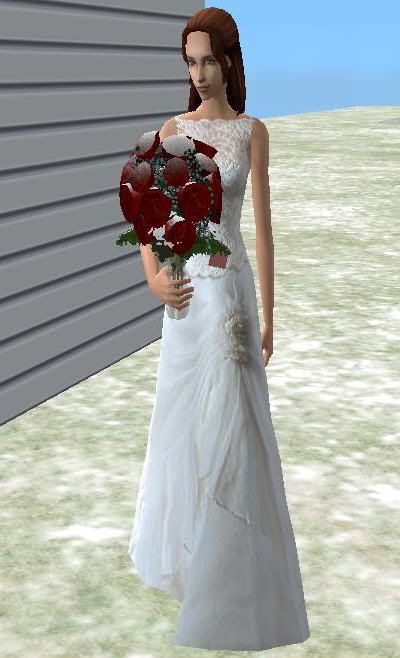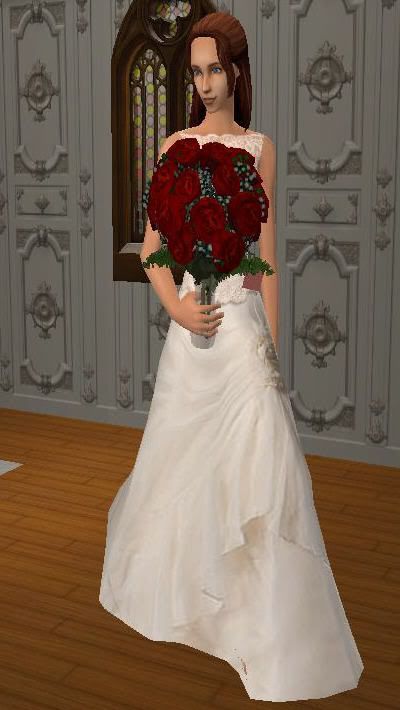 Klaus decided to have the wedding in the local church he had grown up at. It was the same one his brother had been married at just a few years before. As both grooms waited for their brides, they realized that it was much more nerve racking than they ever could have imagined. Klaus was very glad that he had chosen to have his brother, Will, stand by his side as his best man.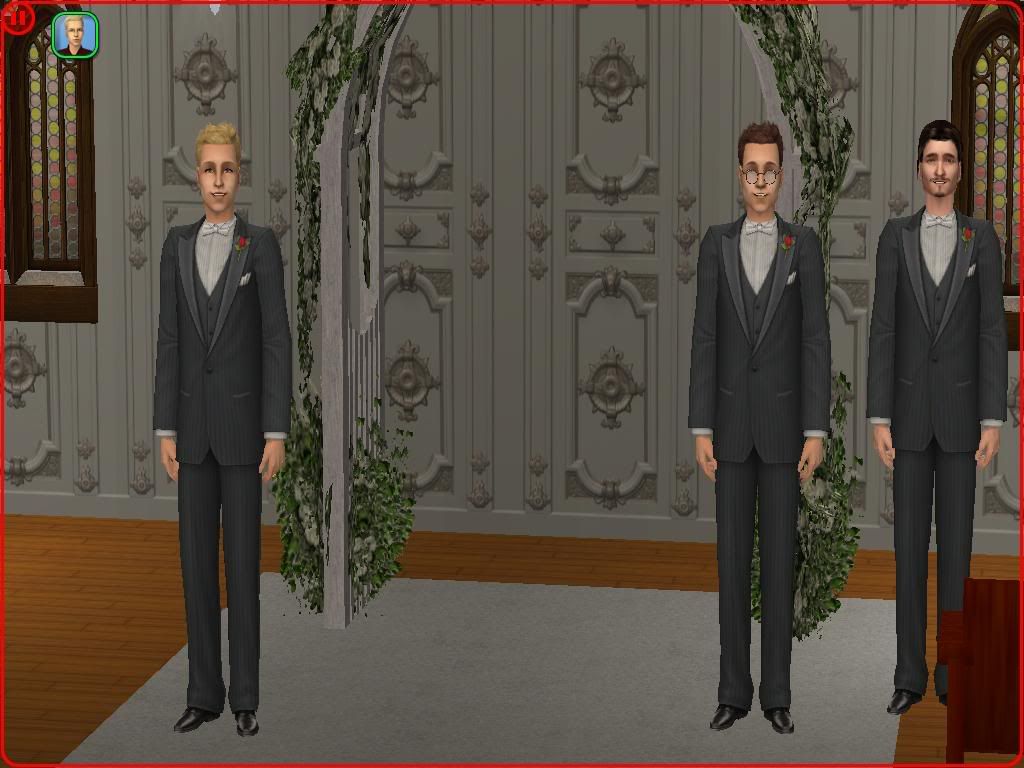 The processional began as Shenene, Will's wife, walked down the aisle. Both Tiffany and Amaya had chosen her to be their matron of honor. Shenene joined the boys at the front of the church.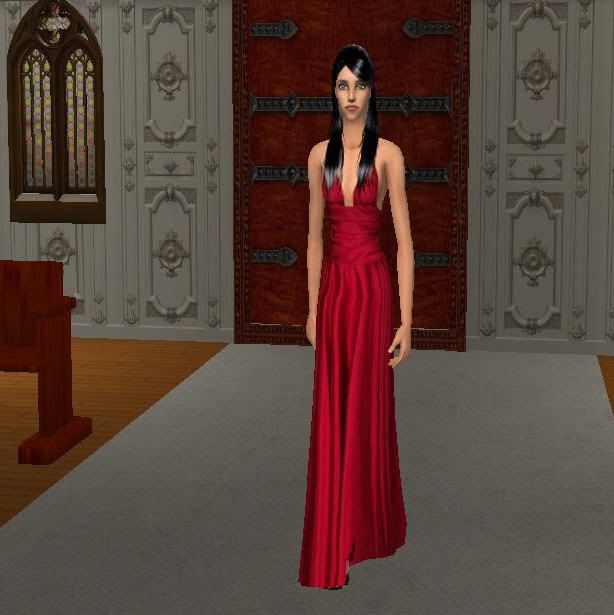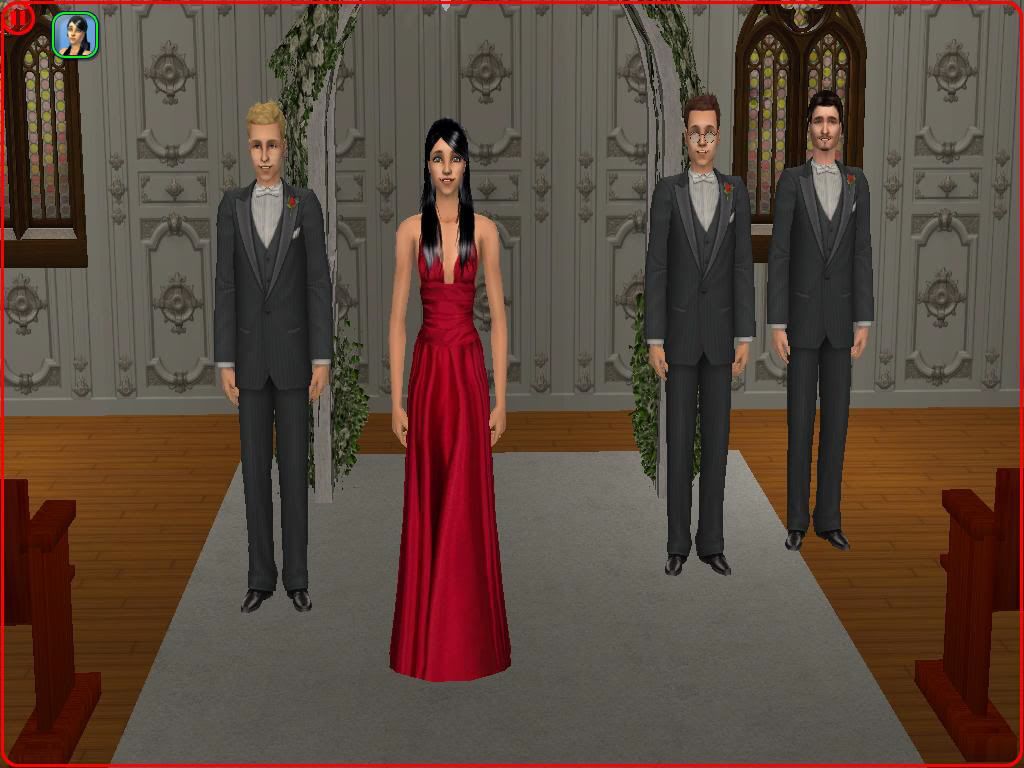 Next came the flower girls, who were Philip's little sisters, Victoria and Sophie. Philip wished that his littlest sister, Lily, was just a little bit older. It would have been nice to have all 3 of his sisters to participate. She was just too young to crawl down the aisle, though.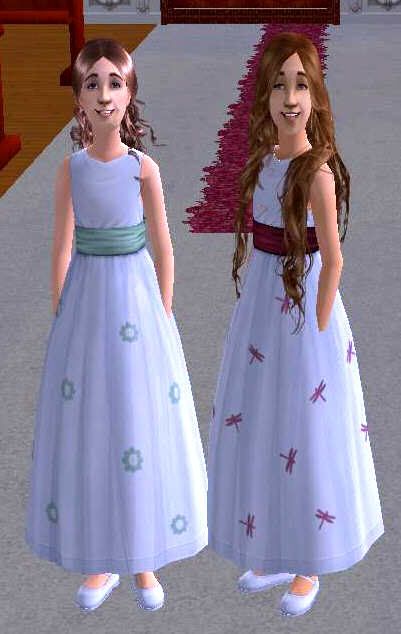 Finally, it was time for the brides to come down the aisle.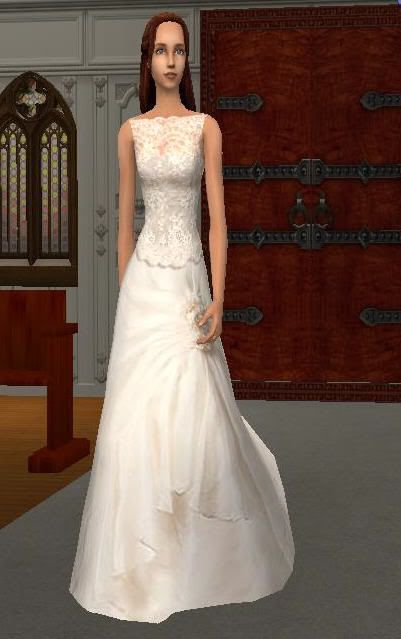 Klaus and Tiffany got married first. They went with the traditional Christian marriage vows. They would always love, honor, and cherish each other.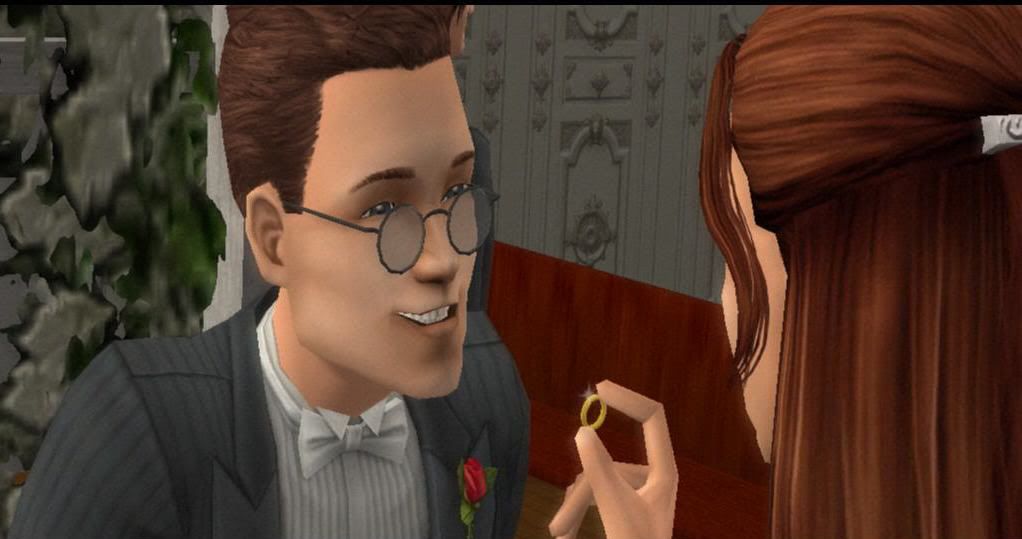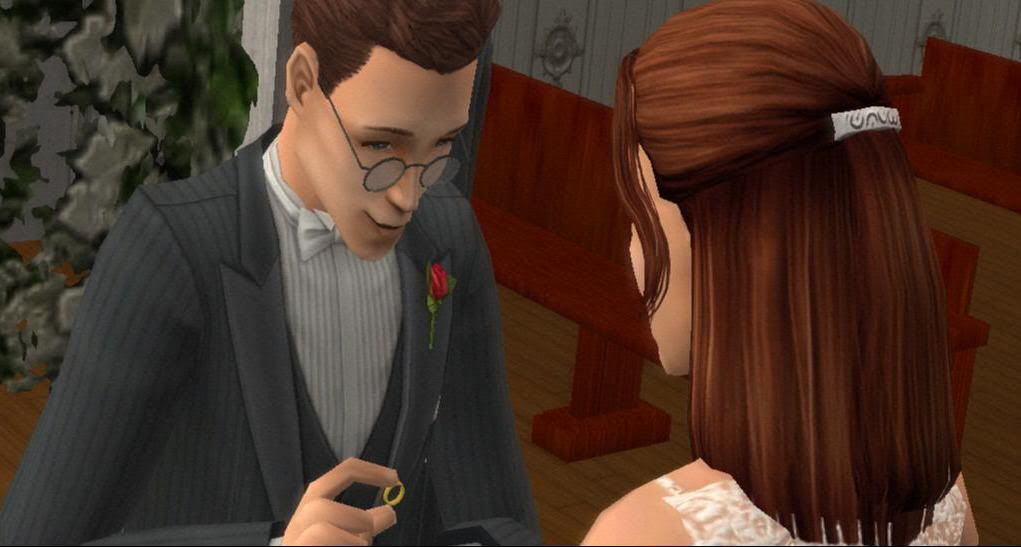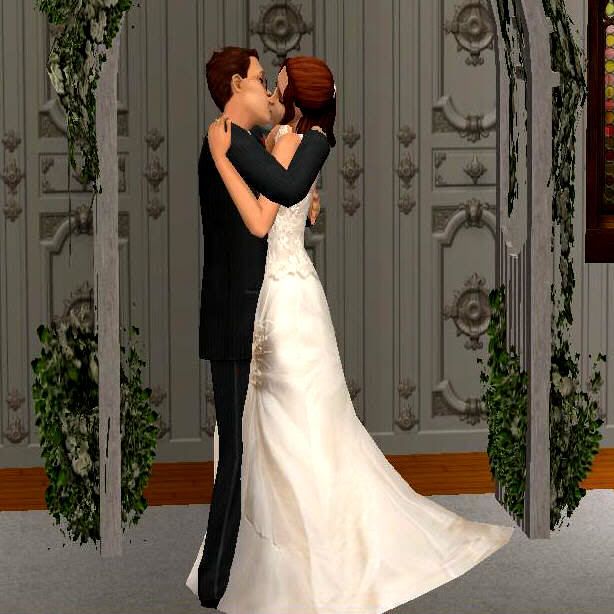 Then it was Philip and Amaya's turn to tie the knot. Amaya looked extremely nervous as she started her vows.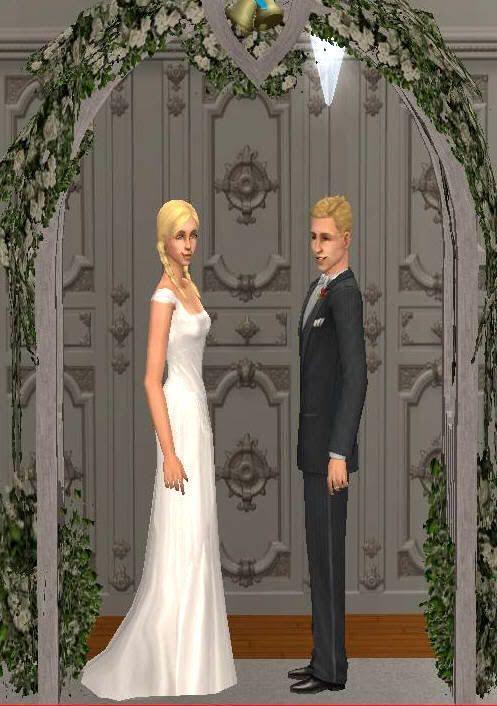 "Philip, I promise to always love you and stay with you for the rest of my life," she said weakly. She just could bring herself to promise fidelity. She didn't want to make a promise she couldn't keep.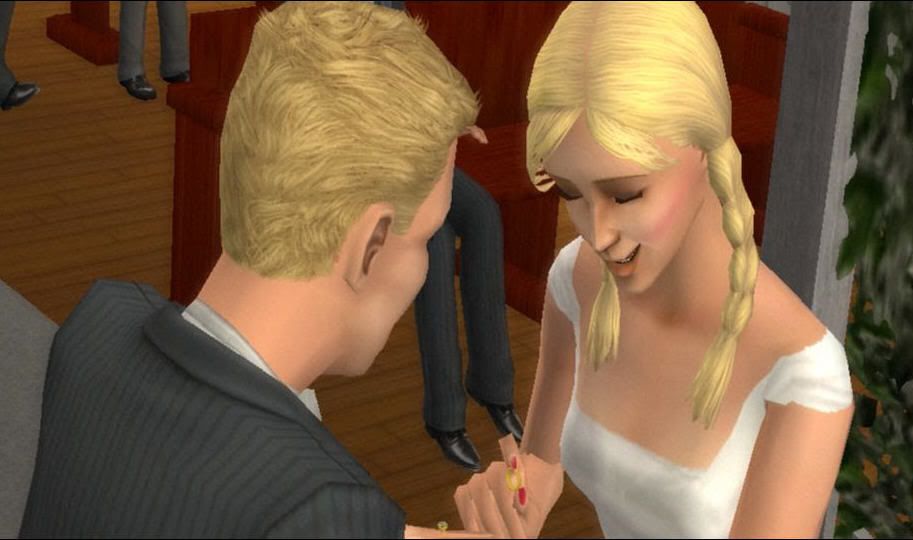 To her surprise, Philip didn't look upset at all. He winked at her and smiled. "Amaya, I promise to love and cherish you for the rest of our lives, 'till death do us part. I'll be with you no matter what may happen in the future. When I asked you to marry me I promised that I would make everyday romantic for you, and I'm renewing that pledge to you now." He got the oddest glimmer in his eye.
"What better time to start the fun and romance than right now?" he asked. Amaya started as Philip grabbed her by the waist and dipped her for a kiss right in front of the whole church.
She laughed and smiled. Philip didn't expect too much out of her. He knew there was a possibility she wouldn't be able to remain faithful, but he didn't care. He loved her and wanted to make her happy. He knew just how to do it, too. Blissfully happy, Amaya gave Philip his wedding kiss.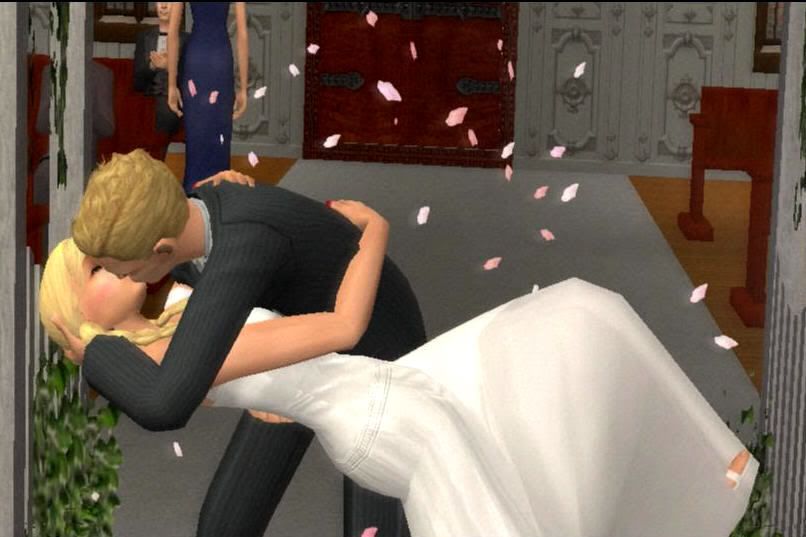 Both couples kissed again as the entire church clapped. Everyone loved a wedding. The only thing better than a wedding was a double wedding.
Philip's Grandpa George was particularly happy. He'd hoped for Philip to get married some day. When Philip had chosen pleasure as his aspiration, George had worried. He was so pleased to finally marry off his first grandchild.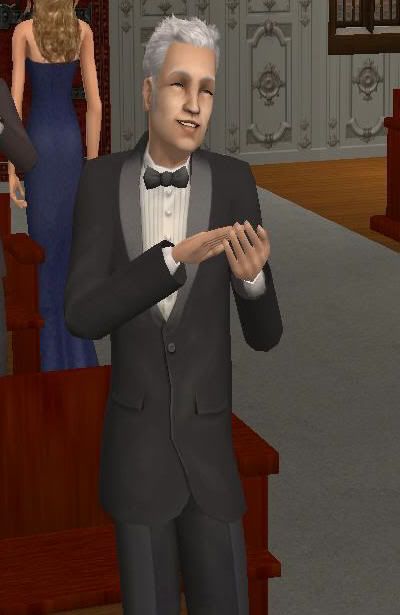 As George mingled with the guests, he found that everyone else was thrilled as well.
The couple took a moment to pose for some formal pictures before the reception started. First, the couples took a picture together.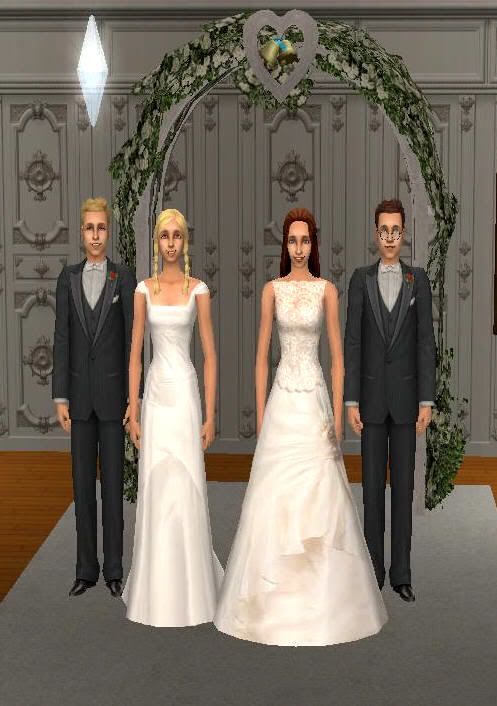 Then it was time for the Turner family portrait. Klaus had both of his brothers, Will and Daniel, at his side. Will's wife, Shenene, joined the picture as well. Unfortunately Will and Shenene's son, Harry, was too little to attend the wedding. It was a wonderful picture, nonetheless. Klaus knew that he would cherish that picture with both of his brothers and his lovely wife all in the same place. He went ahead and ordered prints for both of his brothers, too. Being family sims, Klaus was sure that Will and Daniel would want their own print of this photo for their houses, too.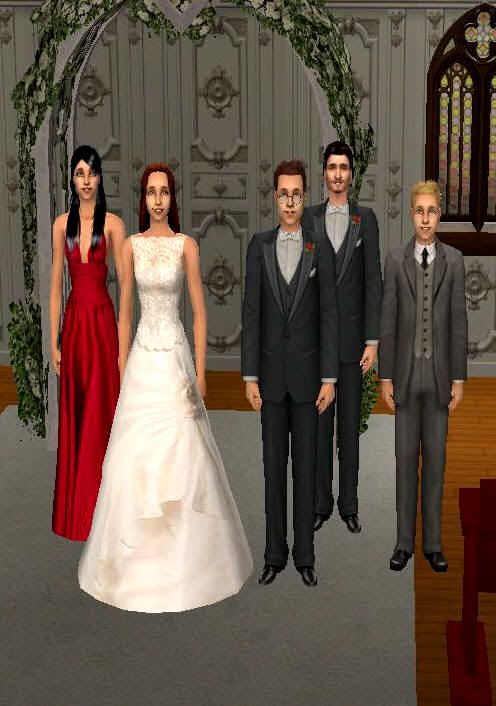 Philip posed for a couple of pictures with his parents, Andrew and Elizabeth. Amaya joined him for a few.
Then he had the photographer try for a picture of the entire Windsor clan. It was quite a task arranging all of those people. The girls kept getting antsy and moving out of the shot. Finally, there was one moment where they were all standing still, and the photographer managed to capture the shot. Proud Grandpa George was in the back. Philip and Amaya were joined by Philip's parents and Philip's little brothers, James and Edward. In the front were Philip's little sisters, Victoria and Sophie. The only Windsor missing was little Lily.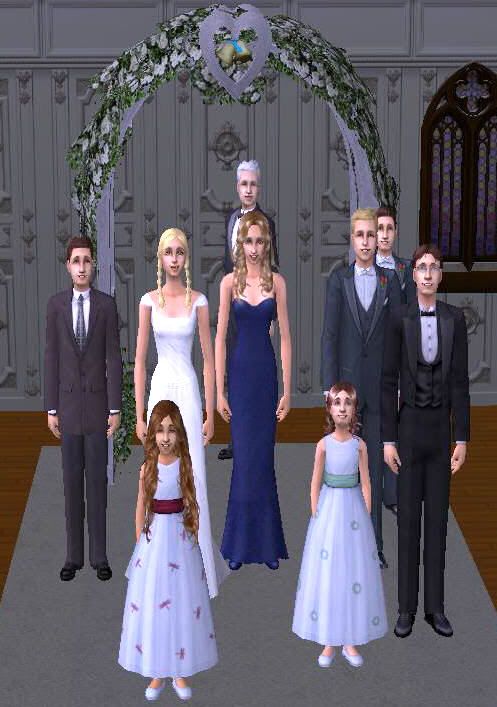 The reception started and Amaya started to freak out. "I just got married. I just got MARRIED!" As Philip joined her to cut the cake, she reminded herself that Philip was understanding, loving, romantic, and fun. Things were going to be okay.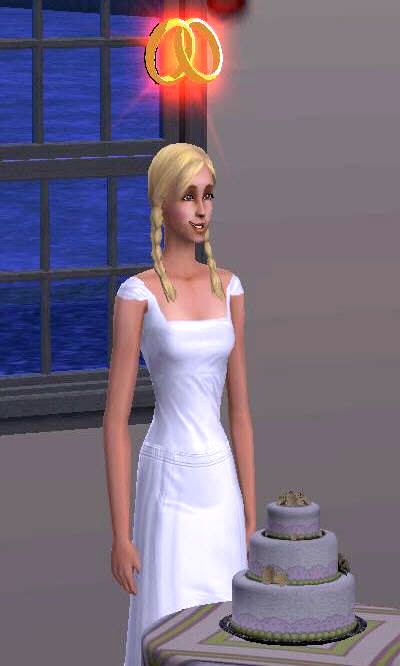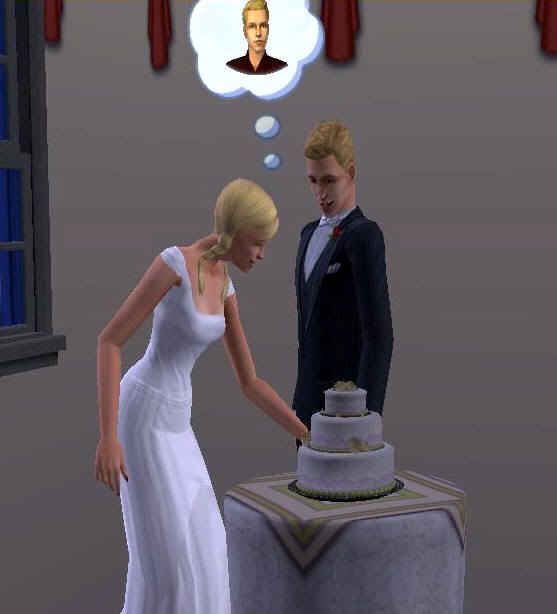 She decided to have a little bit of fun herself and shoved the cake right into Philip's face. He was the perfect match for her, because he swallowed the cake and licked the icing off his lips before he burst out laughing.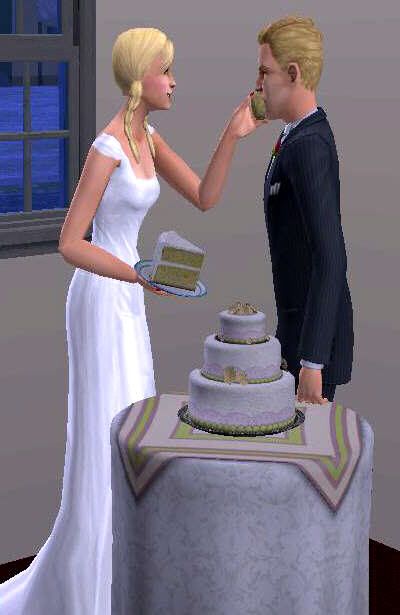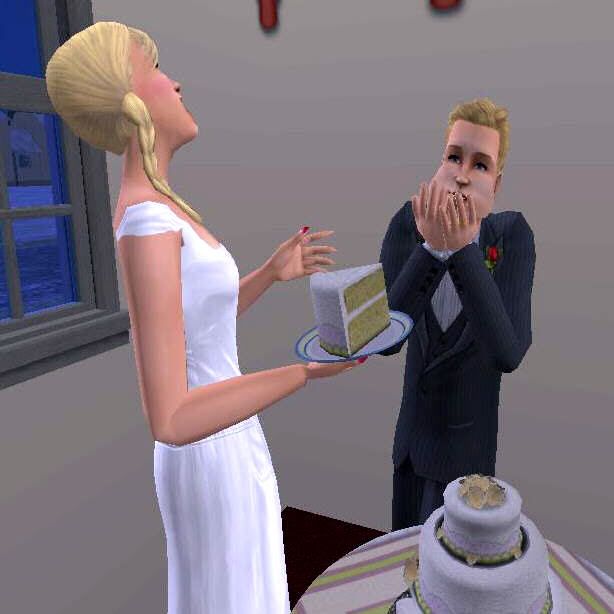 Klaus and Tiffany opted for the more traditional method of cutting the cake. They delicately fed each other using a fork. The cake was supposed to symbolize nourishing each other in the future. But, being knowledge sims, they were probably the only people at the reception that knew that.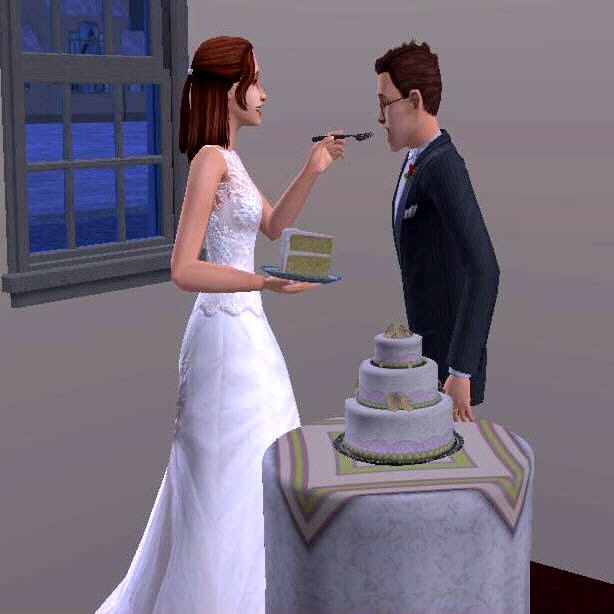 The couple's double first dance went very well. Philip and Amaya were always out dancing on their dates, and of course, Klaus and Tiffany had studied ballroom dancing for the occasion.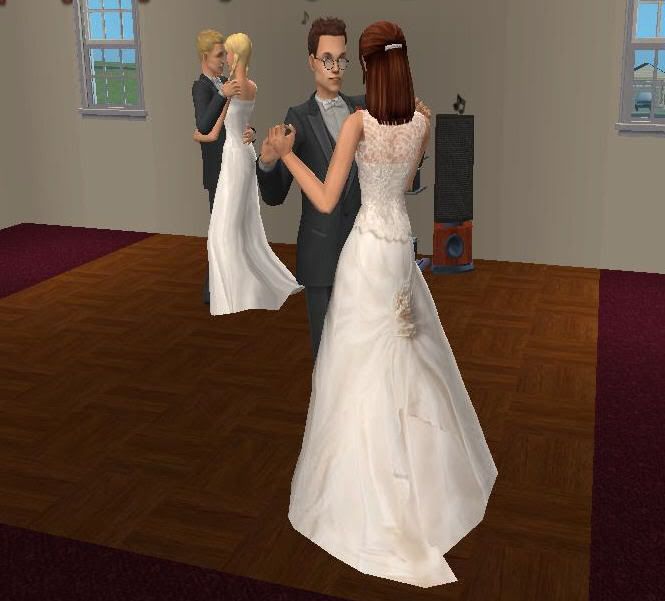 After that, the families welcomed the new brides into the family. Andrew hugged his new daughter-in-law while Will greeted Tiffany.
Then it was party time! Everybody got into the dancing.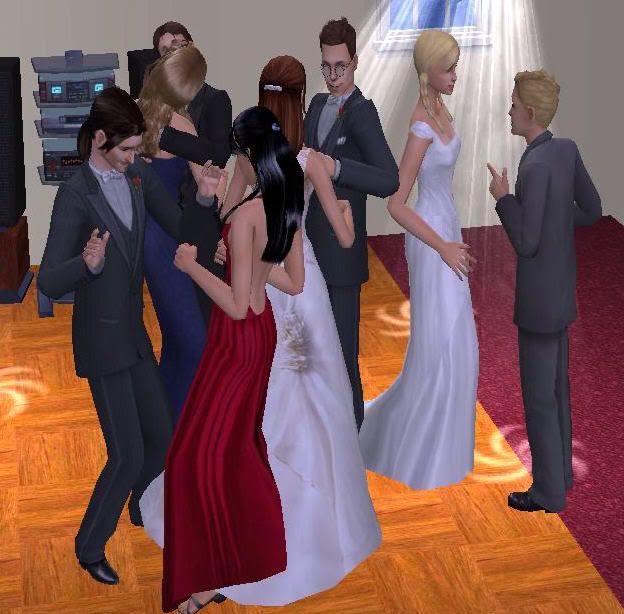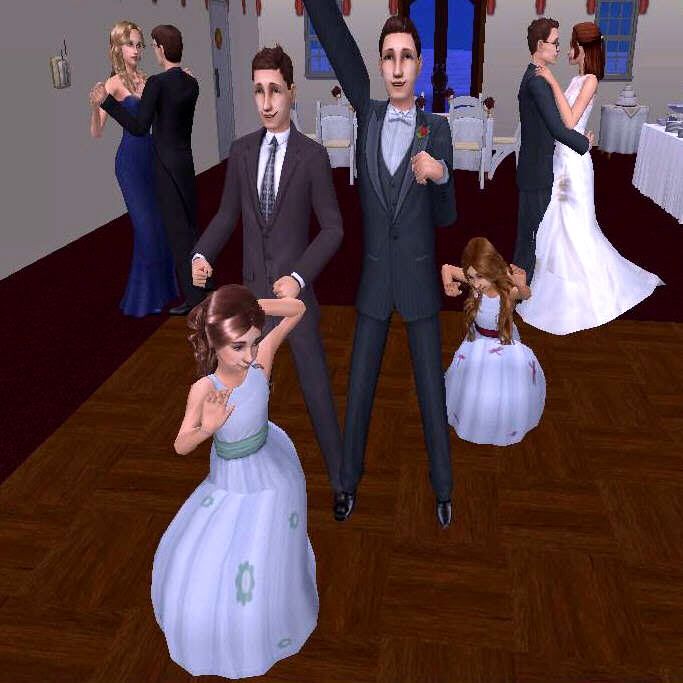 "Dance with me, Grandpa George," Victoria asked. George happily obliged. Of course Sophie had to have a dance partner, too, so Andrew danced with his daughter.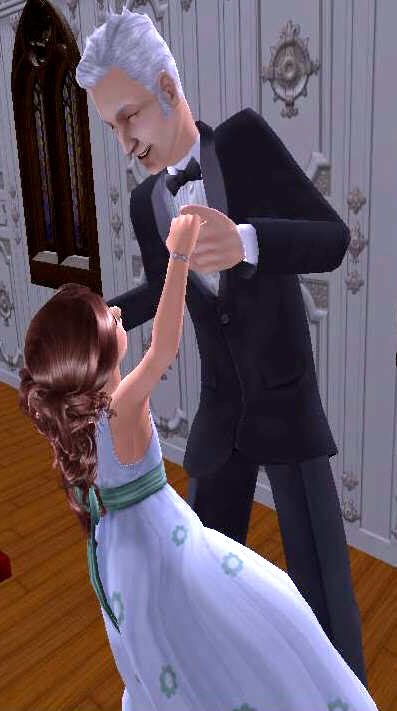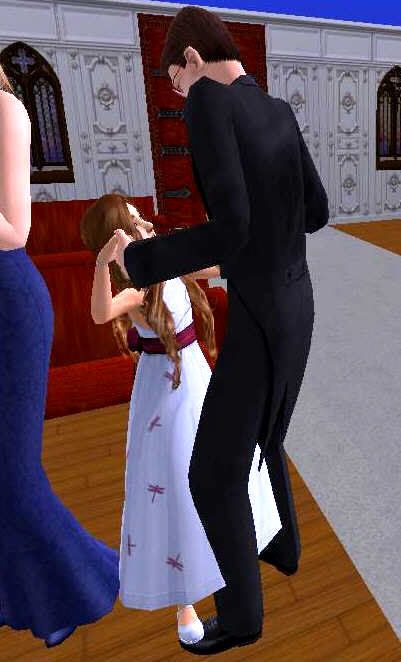 The final dance of the night was a couple's only dance. Klaus and Tiffany, Philip and Amaya, and Will and Shenene enjoyed the romantic song. Andrew kissed his wife Elizabeth as they celebrated marrying off their first child.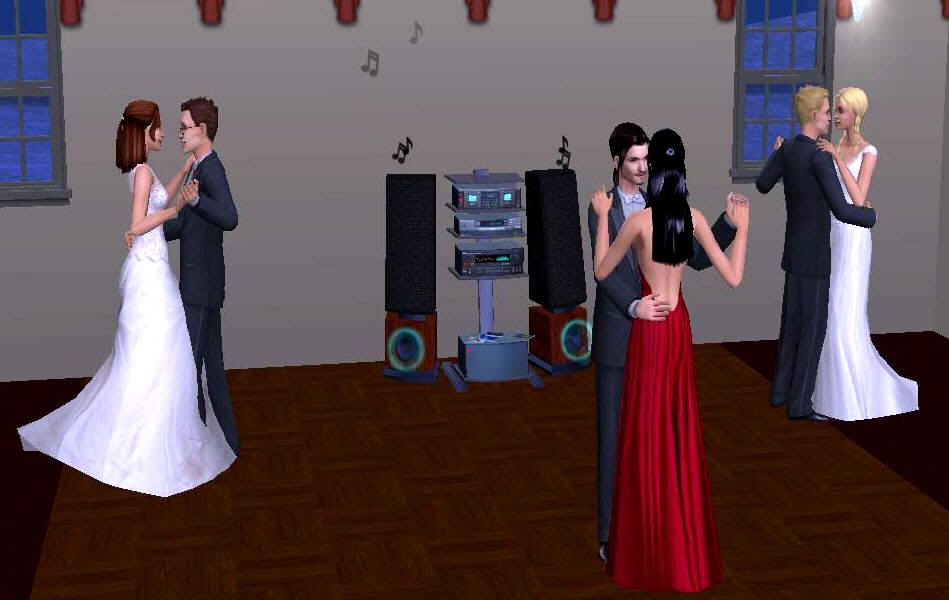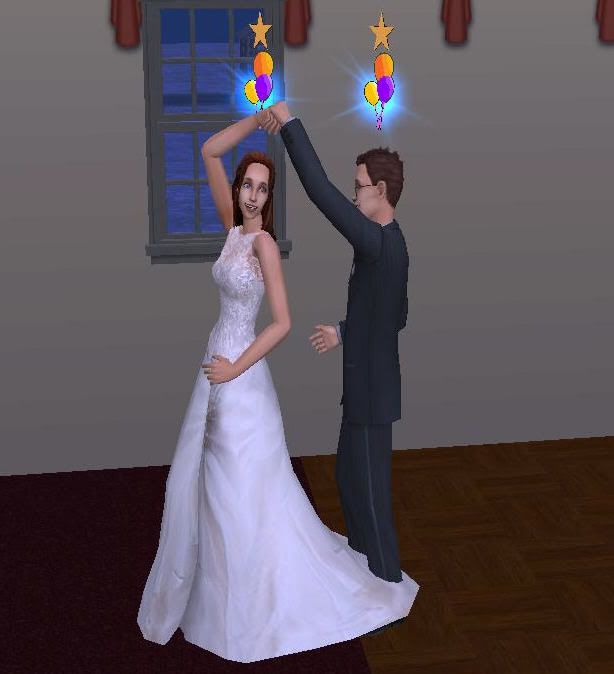 There was barely time for a toast to the happy couples before the party was over.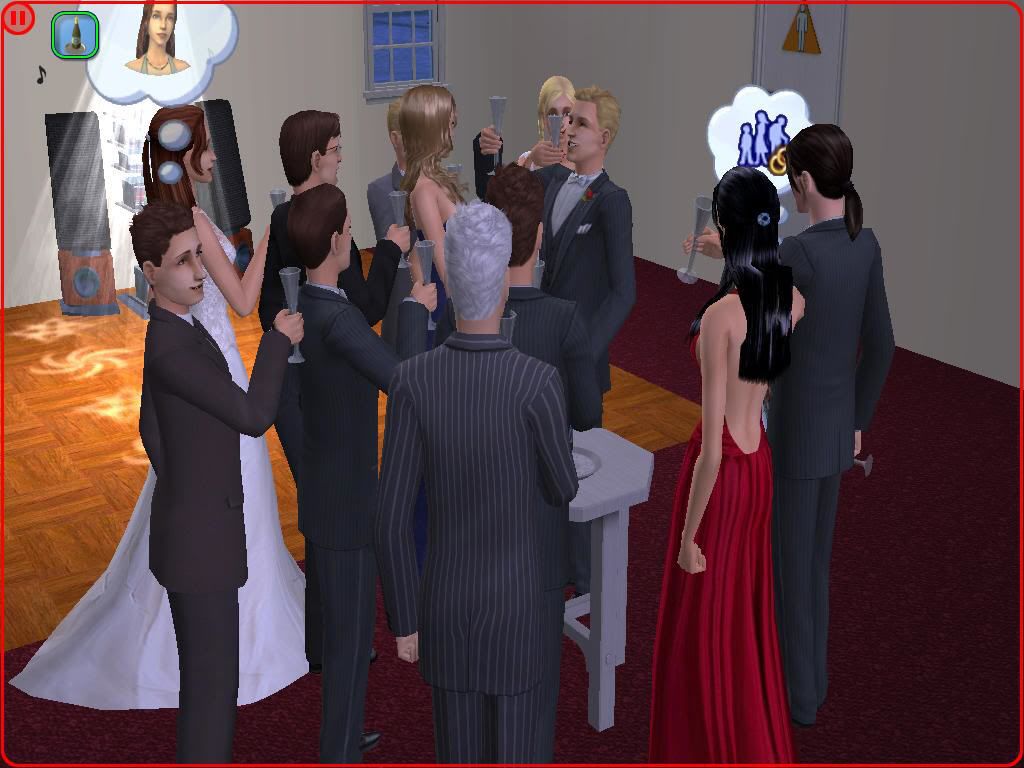 It had ended too quickly. The couples decided to hang around and have a toast for themselves.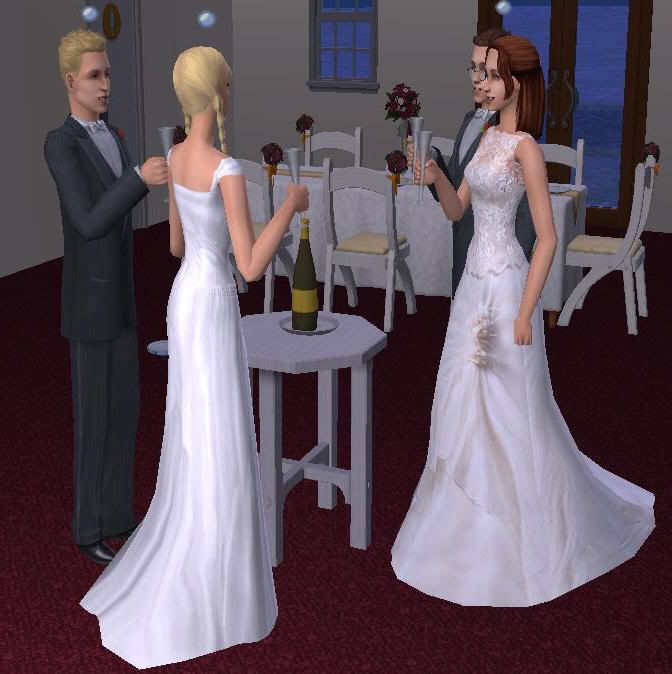 They hadn't even had time to use the sparklers they had planned for a send off. The four of them had fun playing with them anyway.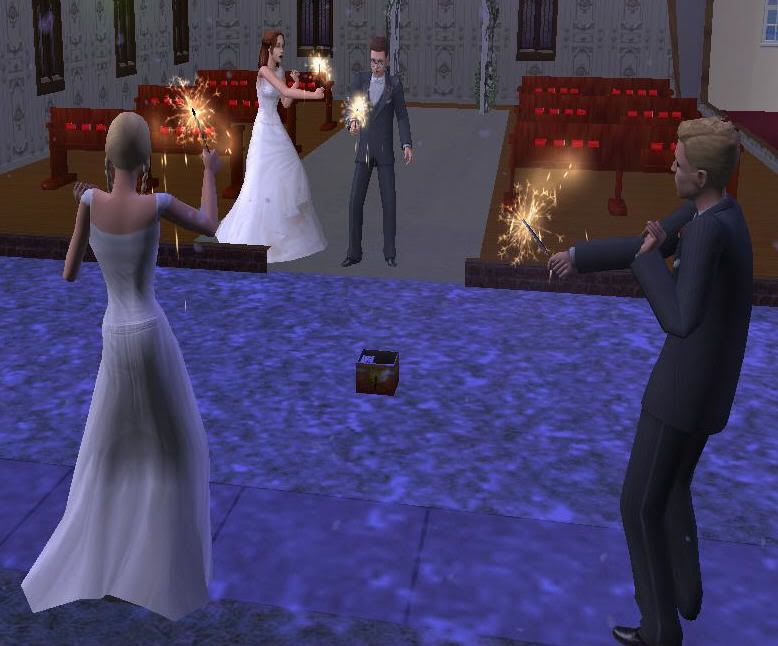 The couple left for a double honeymoon immediately after the wedding. They were going somewhere tropical, an island vacation. They were excited to be getting away from the winter.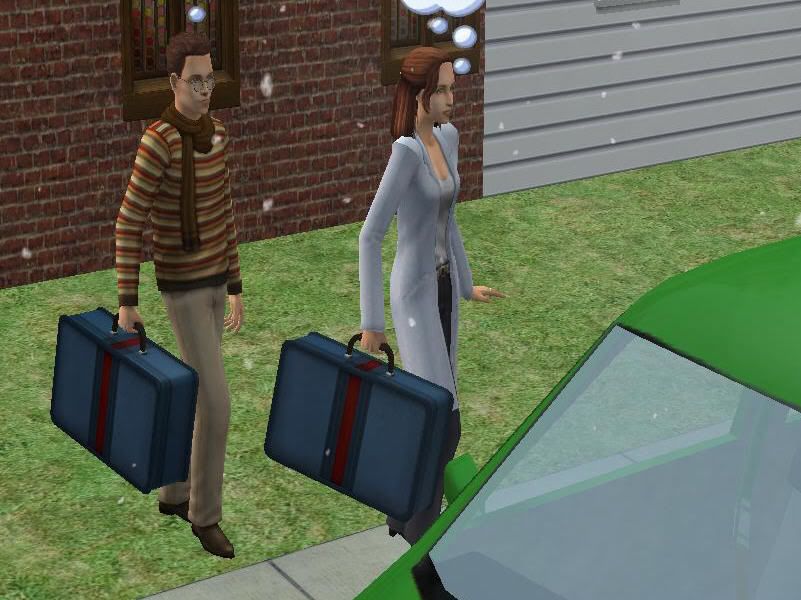 When they arrived, they checked into the most expensive hotel. It was their honeymoon after all!
They headed straight to the beach. Philip and Amaya wanted to do nothing besides sunbathe, but being the curious knowledge sims, Klaus and Tiffany wanted to beach comb. Klaus wasn't having much luck finding any decent shells, though.
Klaus had read a book on sandcastle building before they left, so Tiffany and Klaus decided to try out this new skill. It was a lot of fun, and they created a gorgeous sandcastle.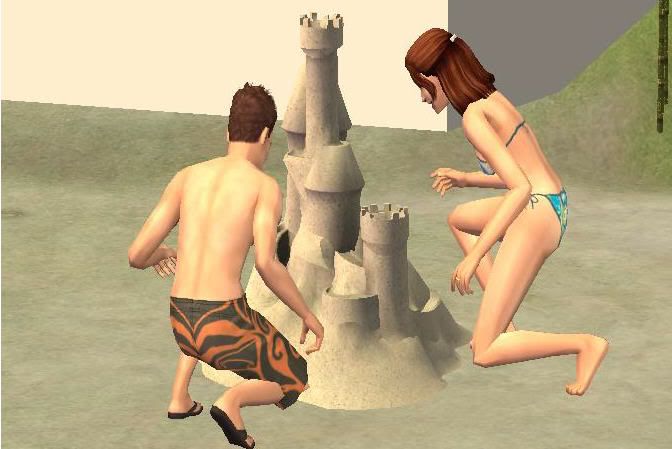 Once it grew dark, the couples went back to their rooms to change. Then, they had dinner at the fancy hotel restaurant that overlooked the water.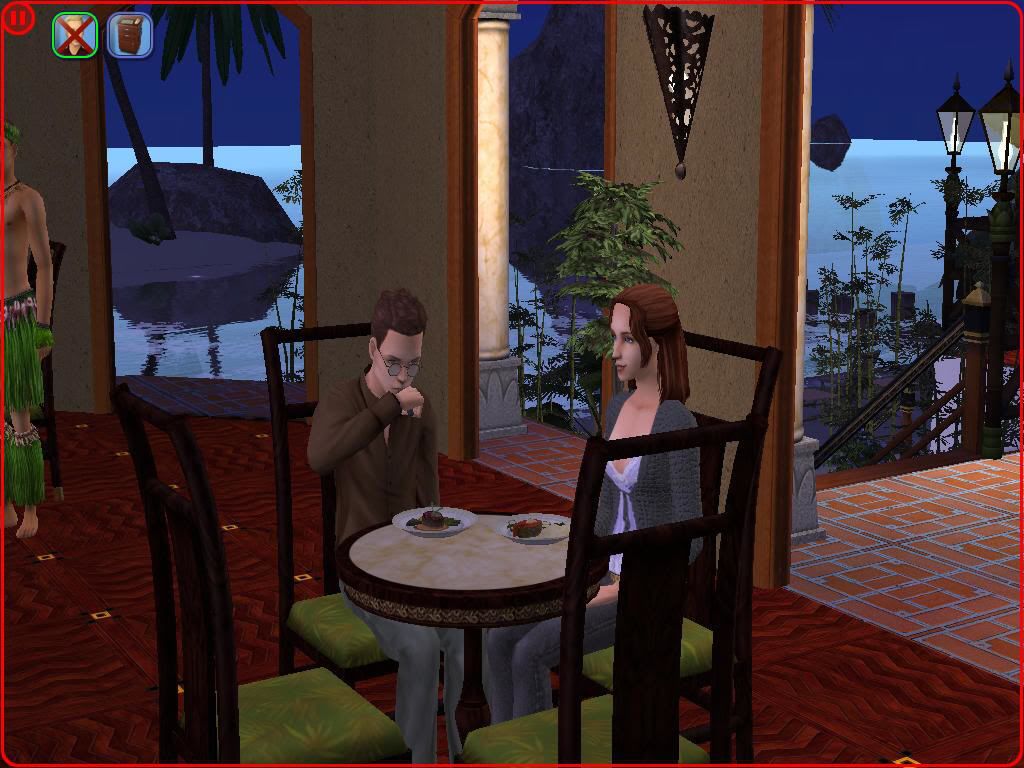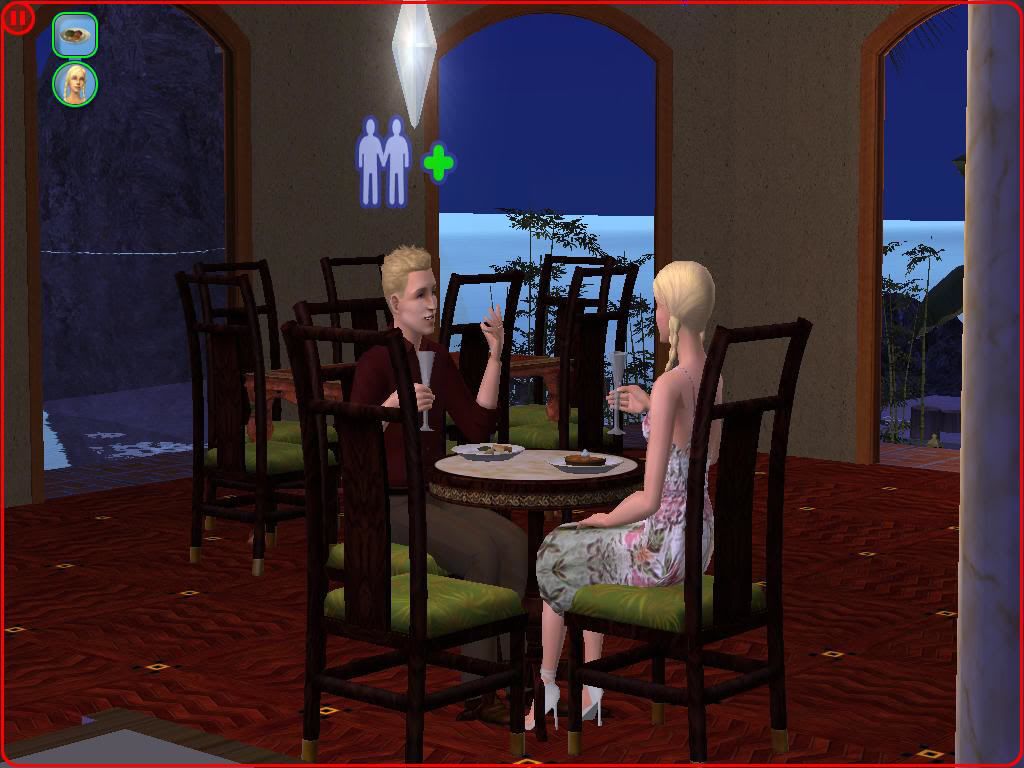 After dinner, they went dancing on the terrace. It had an amazing view as well.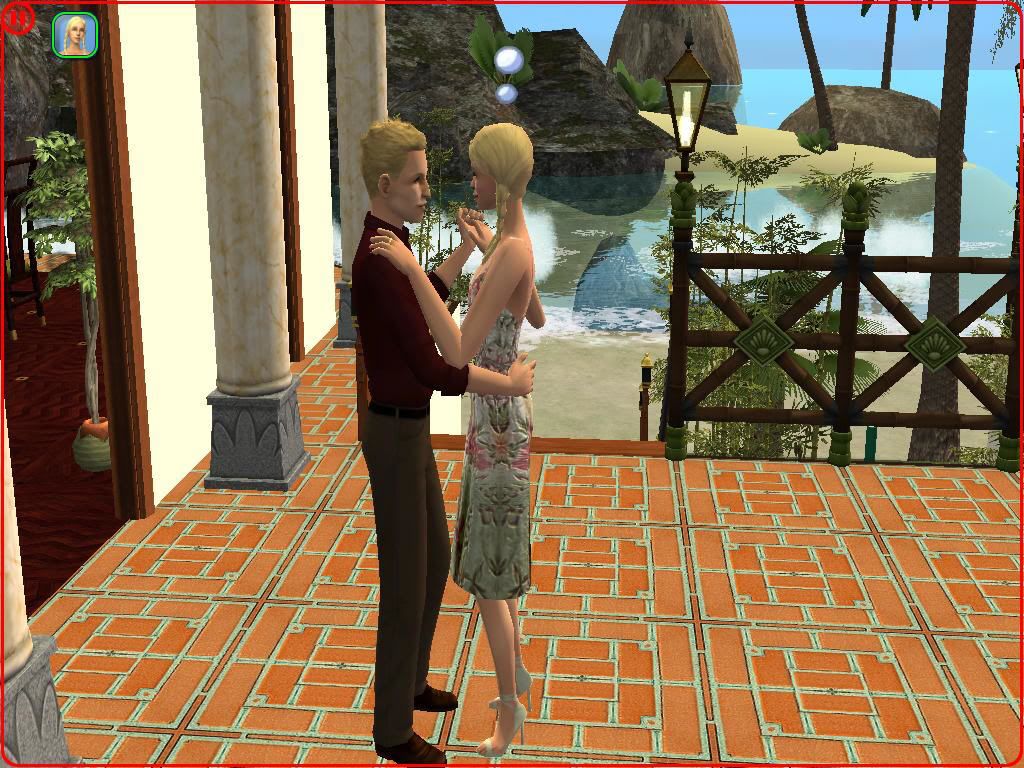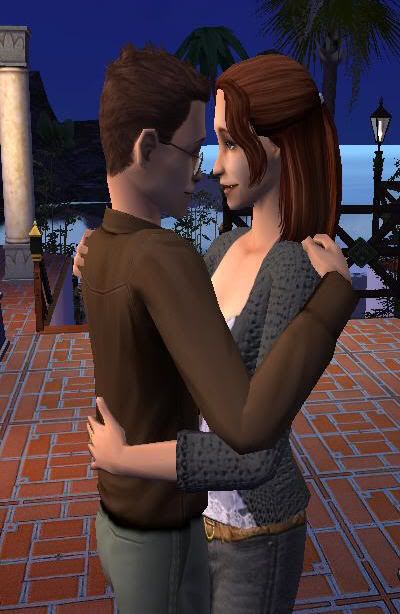 Back in the room, Klaus did not hesitate to consummate his marriage.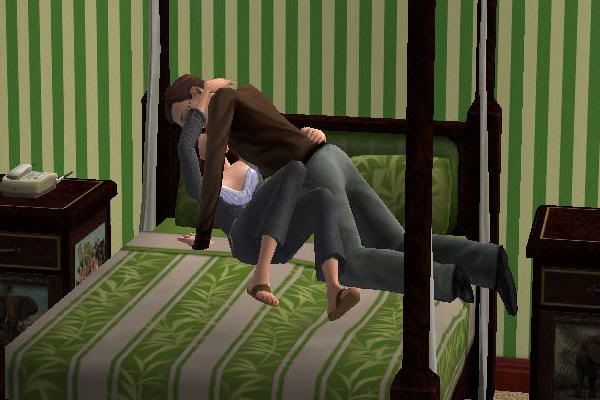 Of course, Philip and Amaya didn't have any problems there either. They woohooed three times that night.
Klaus and Tiffany had breakfast on their balcony the next morning. It was so beautiful on the island; they didn't want to ever leave.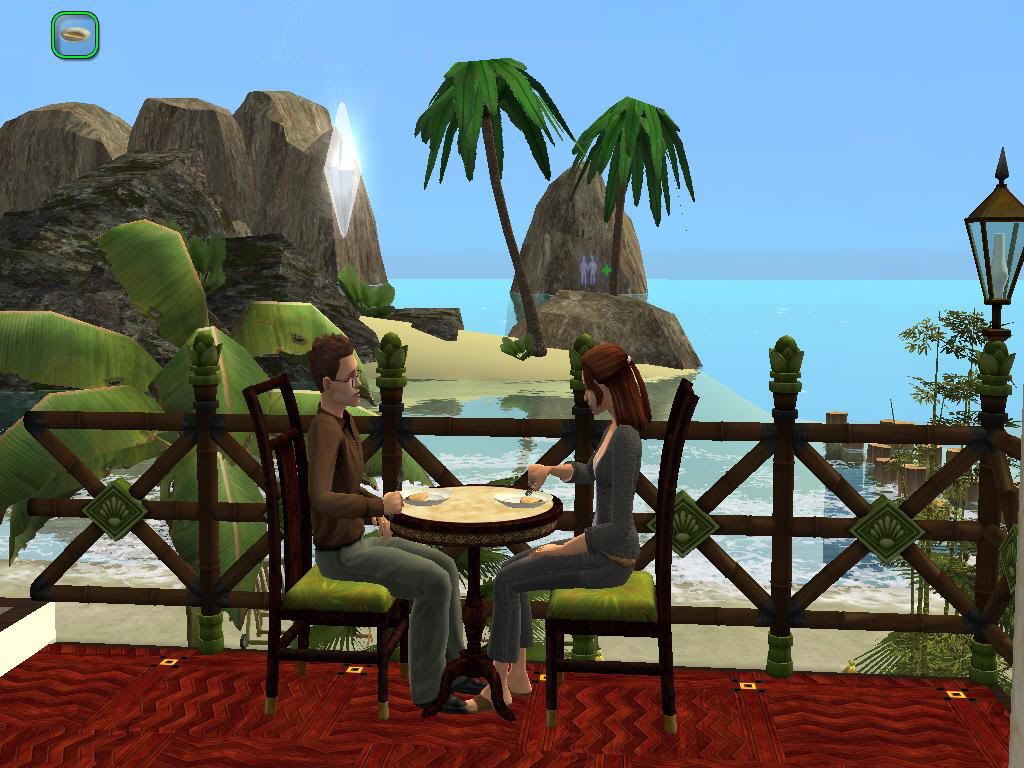 While upstairs, Amaya was having a hard time convincing Philip that they really did need to leave the room sometime. They couldn't woohoo the whole time.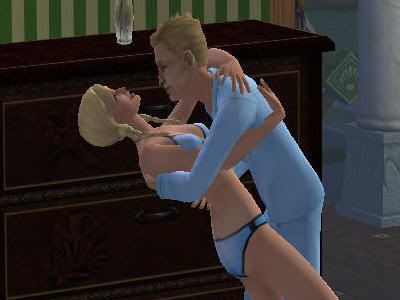 Making out on the beach, yes that was better. They needed to see the outdoors, but that didn't mean they needed to stop with the romantic interactions.
The couples posed for a quick snapshot before they had to checkout. The hotel was too expensive to stay at for more than one night, and there were other things on the island to explore.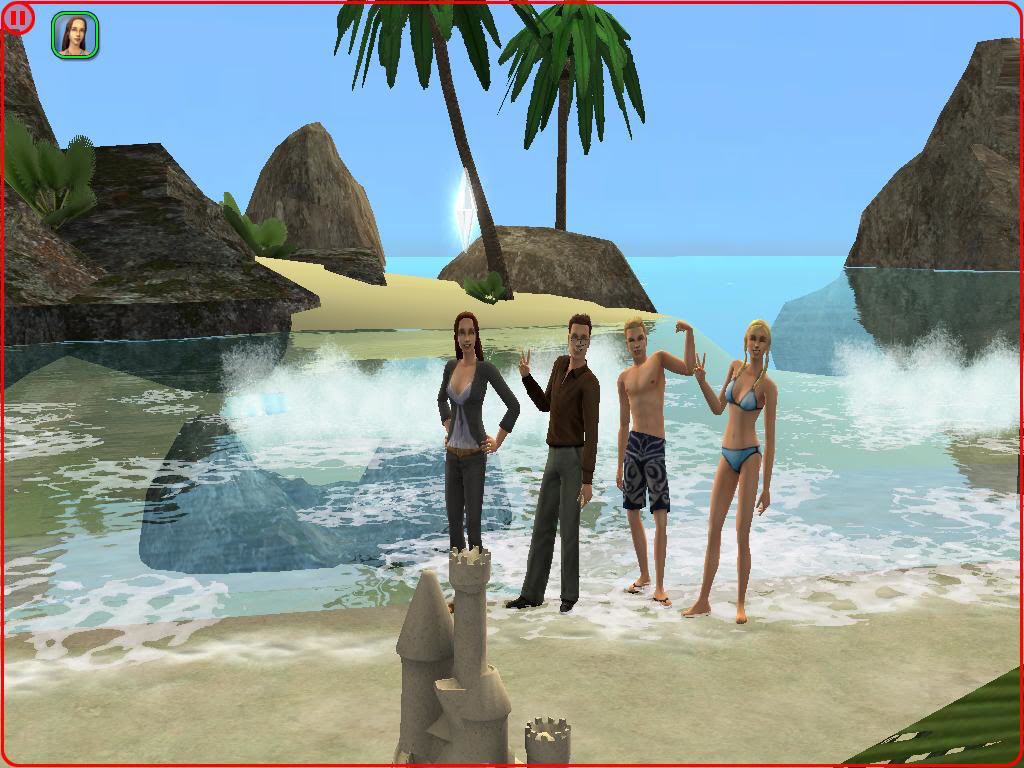 Tiffany wanted to learn all of the island's secrets and immerse herself in local culture. She wanted to try pineapple surprise and she wanted to learn how to fire dance.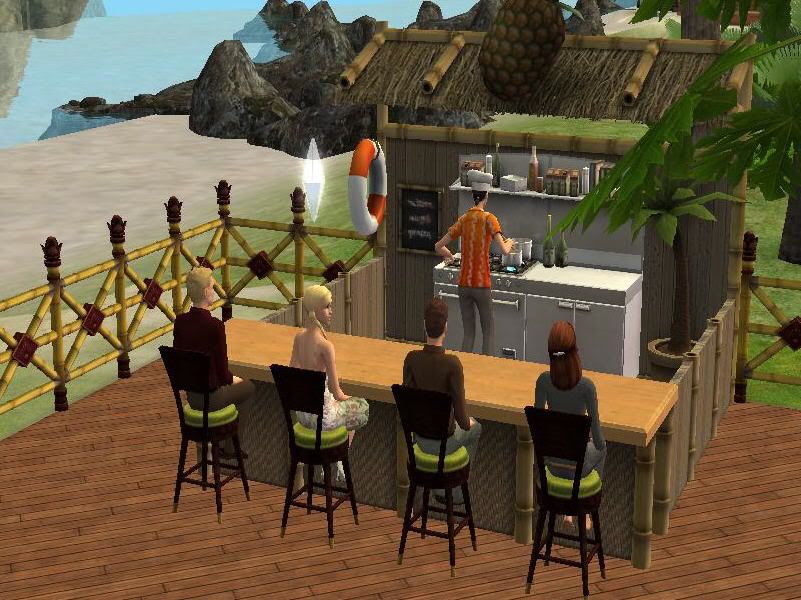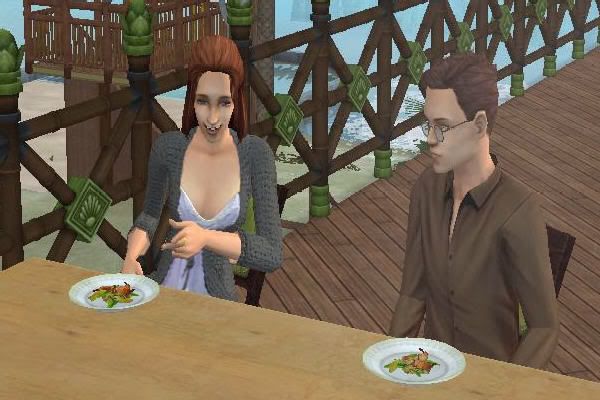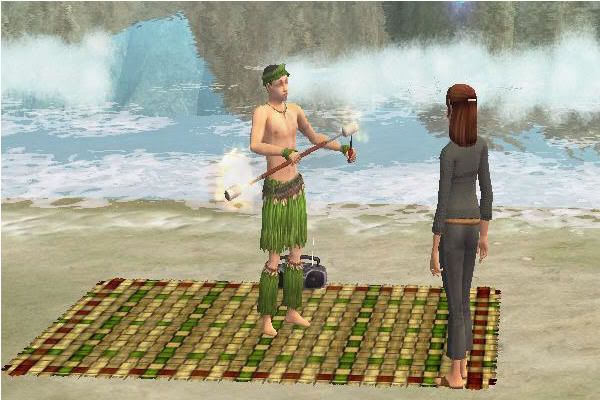 Everyone had fun at her next site to explore. The pirate ship was an awesome time for everyone.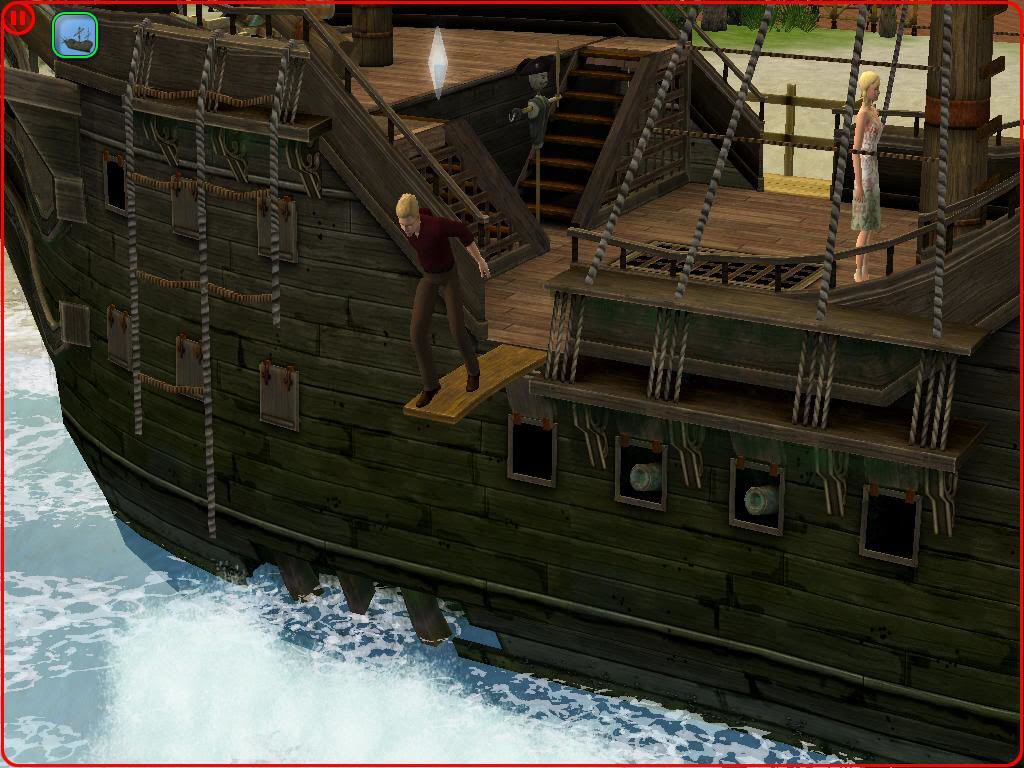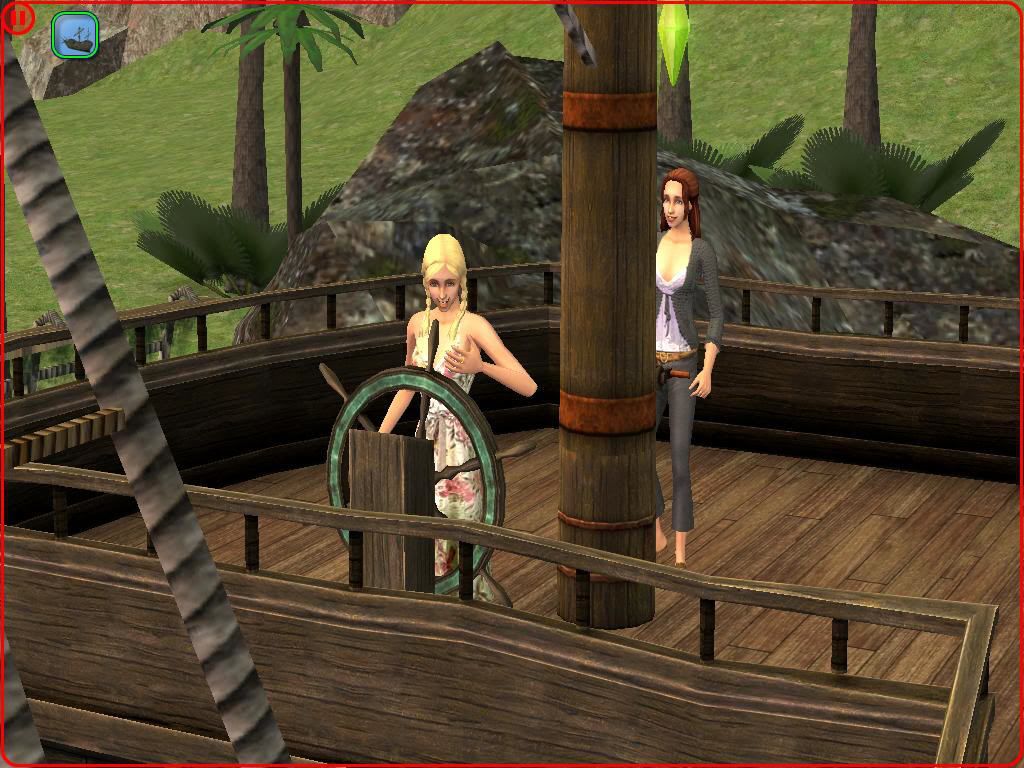 At the end of a long day, Philip wanted Amaya to try out the hammock with him. Tiffany and Klaus decided to sit around a campfire.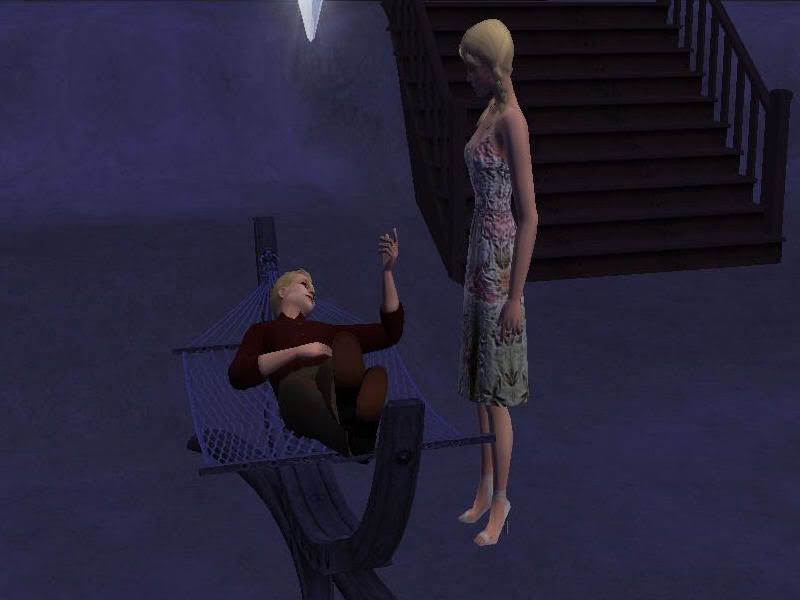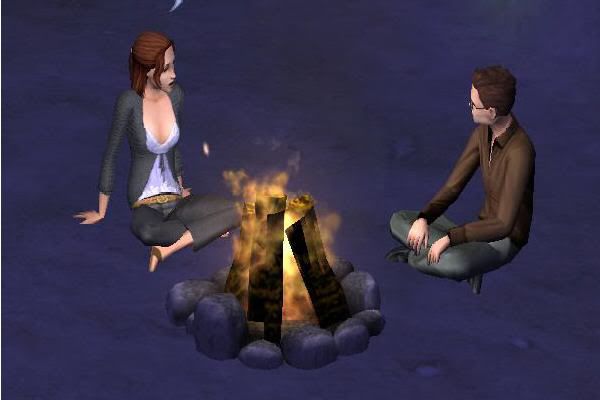 It was late when the couples checked into the next hotel, but they still wanted to partake of all of its luxuries. Tiffany and Klaus learned hot stone massage while Philip and Amaya checked out the sauna. The sauna was definitely good for more than one kind of sweating, but unfortunately, the soaking springs were not.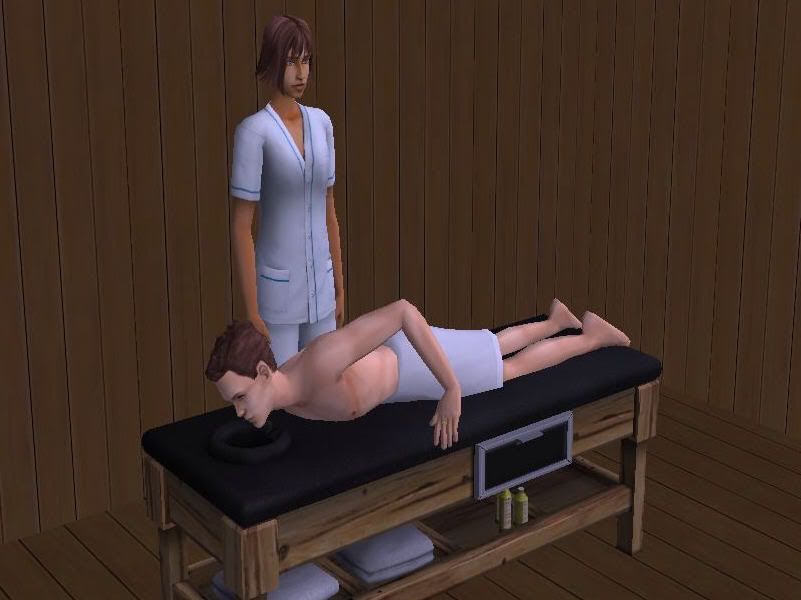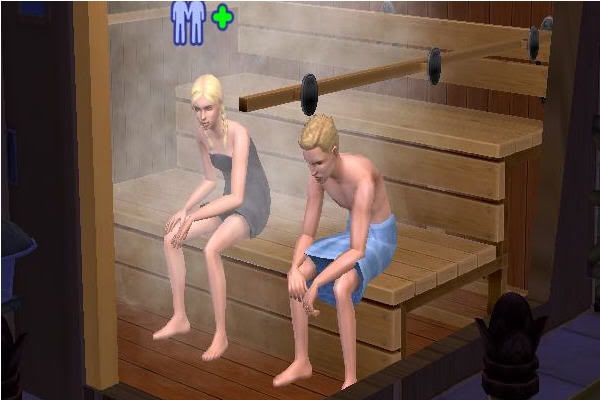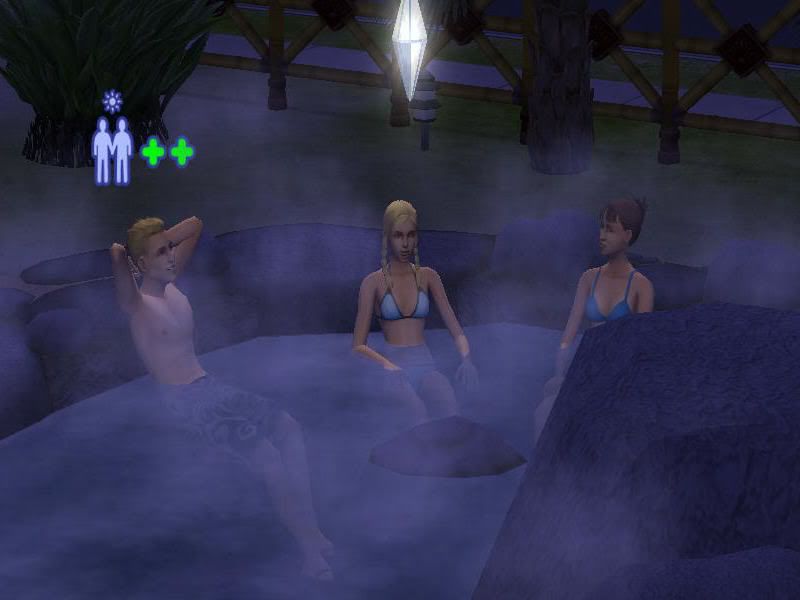 So, it was back up to the hotel room for some more woohoo. Philip was only 25 years old, but he had been with Amaya since he was a young teenager. They'd been dating ever since he got his first rush of hormones. Amaya loved dating and woohoo as much as he did, so they had a date and woohoo pretty much every night. As they made out in bed that night, Philip realized that this was his fiftieth dream date with Amaya. He'd already fulfilled his lifetime want. That wasn't going to stop him from having more dream dates with her, though. He had to keep his new wife happy.
The honeymoon took a downhill turn from there. They were spending too much money, so they had to check into the cheapest hotel on the island. Crammed with all four of them in the cheapest room in the cheapest place was not comfortable. To make matters worse, they went on a tour that left them all feeling nauseous and tired. Starving, they all huddled into the corner of the super cheap room as they fought over a couple pieces of pie.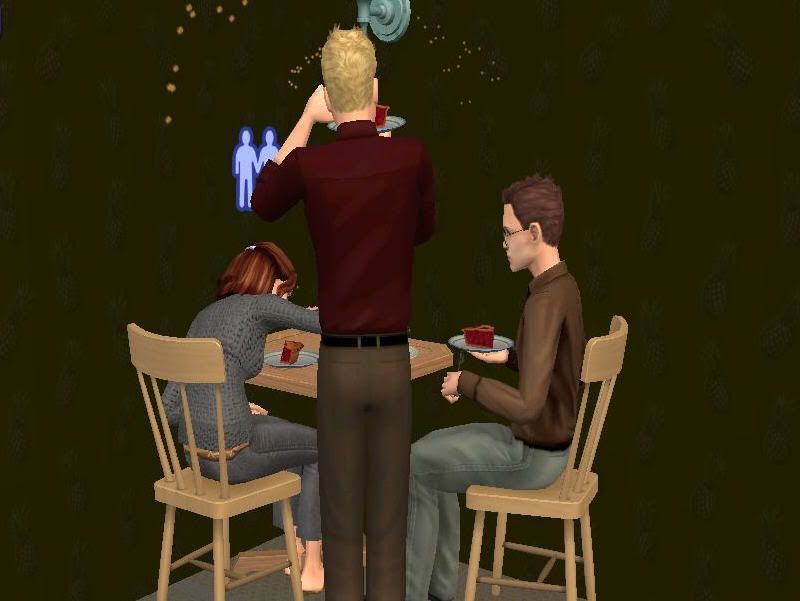 As they started off on more adventures the next day, Tiffany wished for better luck.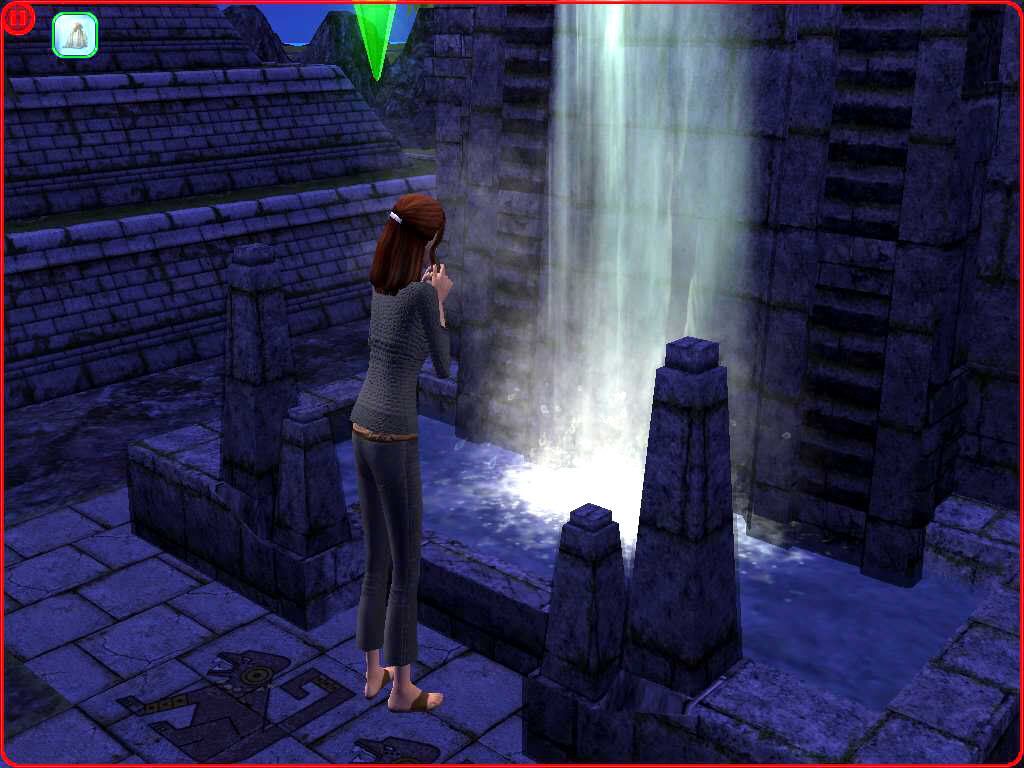 Tiffany had discovered an old map piece, and being the inquisitive sim that she was, she had to check it out. They found an old witch doctor. His hut was in shambles, but the boys were very skilled in mechanical, so they fixed it up for him. It was what any sim would have done. To their surprise, the witch doctor presented Tiffany with a present. After that, he offered them free food any time they wanted. They were all starving, as they had no money for food, so they gladly accepted his offer. The witch doctor even let them nap on his hammock and couch.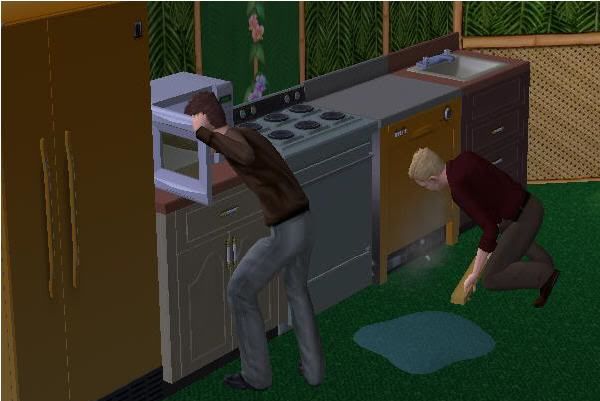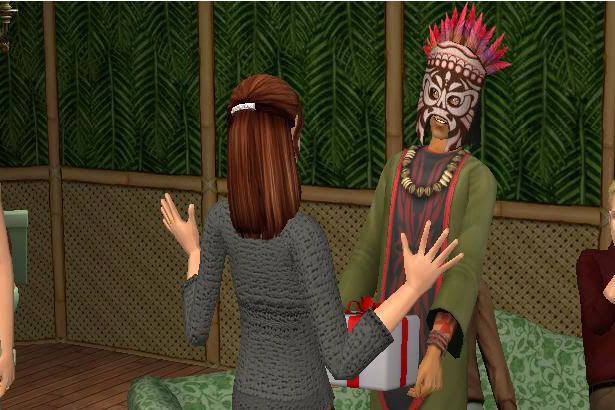 Their vacation was almost over, and the couples really wanted to end it on a good note. They decided to go visit the beach at the super awesome hotel where they had had so much fun.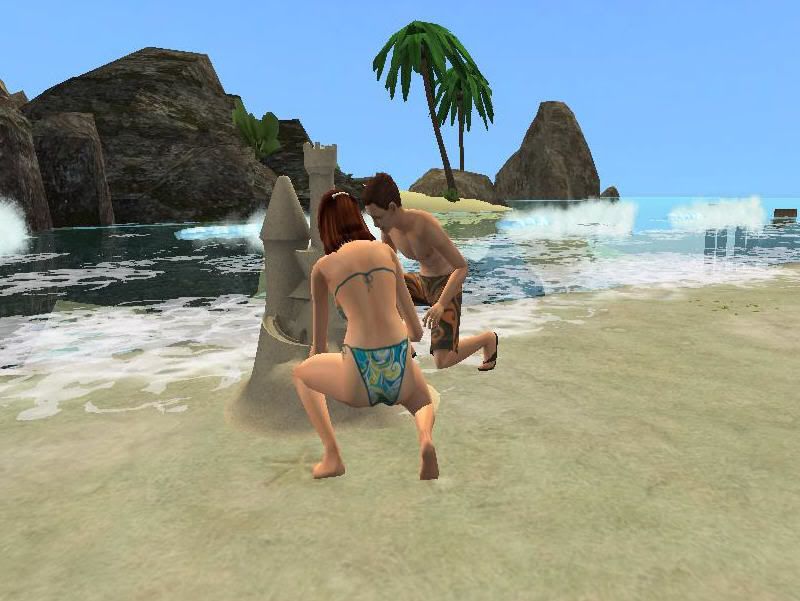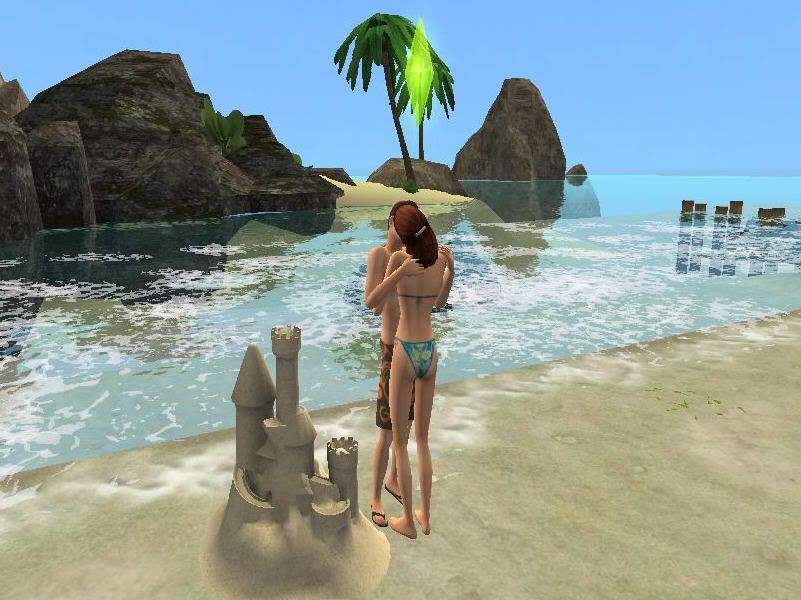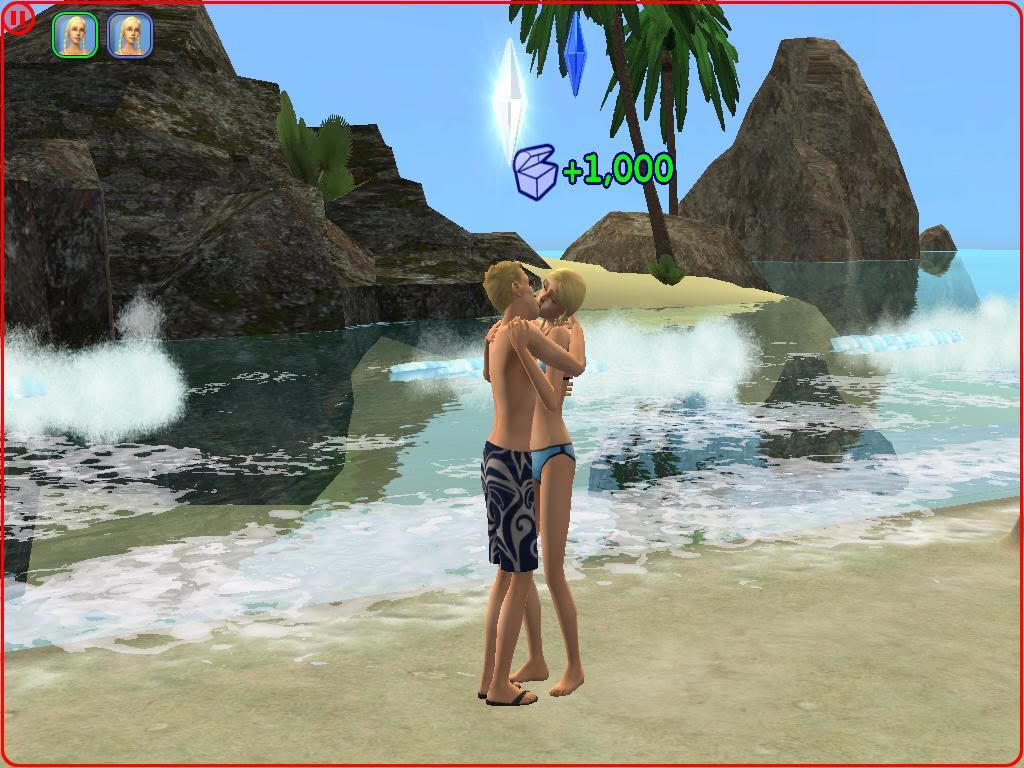 With barely time to spare for one last snapshot, the couples had to return home to Emerald Isle.
Klaus and Tiffany had a new home built right next to Will's. It was a small home and didn't have much room in the backyard, but it was a charming home nonetheless. Klaus loved the architecture. It was big enough to have a few children someday.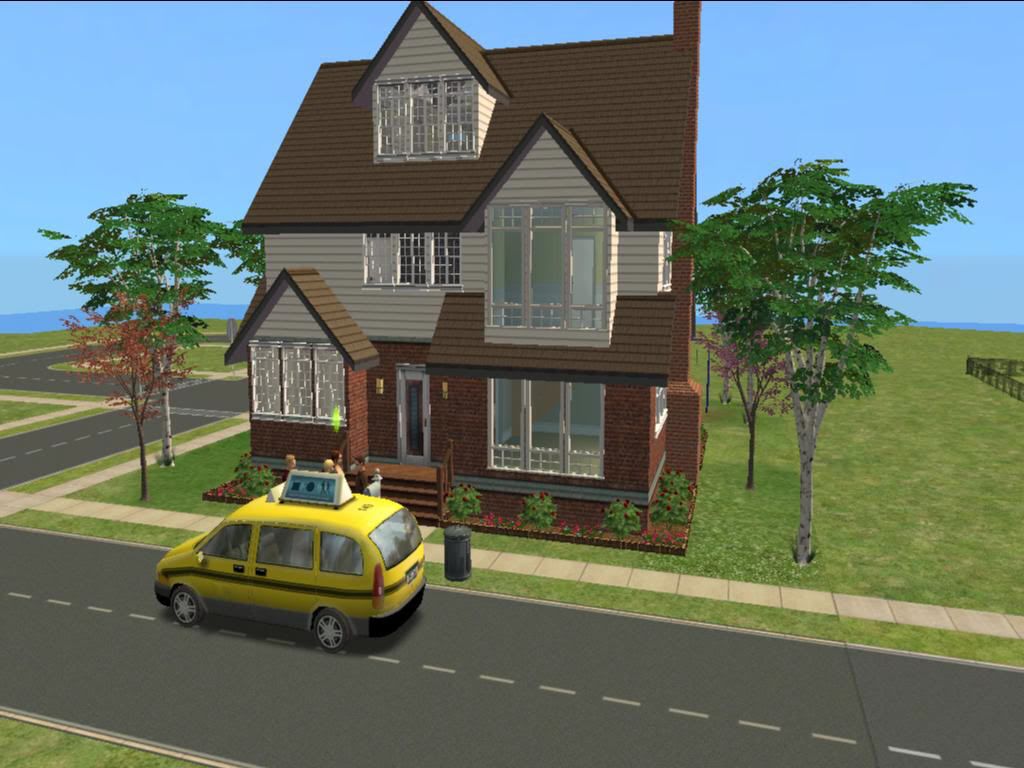 Philip nervously approached Klaus as the taxi departed. "Look man, umm, I don't want to be an imposition, but do you think that Amaya and I could crash here for a while? The thing is that my house is full. I'm going to inherit my parent's house someday, but I have so many brothers and sisters, I really don't think that Amaya would be happy there. All of the rooms are filled now anyway. So, what do you say? I mean, we'd help out with bills and everything. Could we just use one of your spare rooms for a few years until my house clears out?"
Klaus didn't think that he and Tiffany would be having children right away, and they'd enjoyed living with Philip and Amaya in college, so he agreed.
Klaus decorated his new home with his wedding pictures and some of the snapshots from their wonderful honeymoon. They also had lots of souvenirs from the beach. Although he was a knowledge sim, there was still a touch of a family sim to him. He really liked having pictures of him with Tiffany in every room. When he worked on his skills, he could always glance at the photos of his family.
Philip invited his family over for dinner. He didn't want them to think that he didn't love them. He still wanted to spend time with them. He cared about his brothers and sisters a lot. He just didn't want to live in a house that cramped.
That night, Klaus and Tiffany woohooed for the first time in their new bed. Thy had such a promising future ahead of them.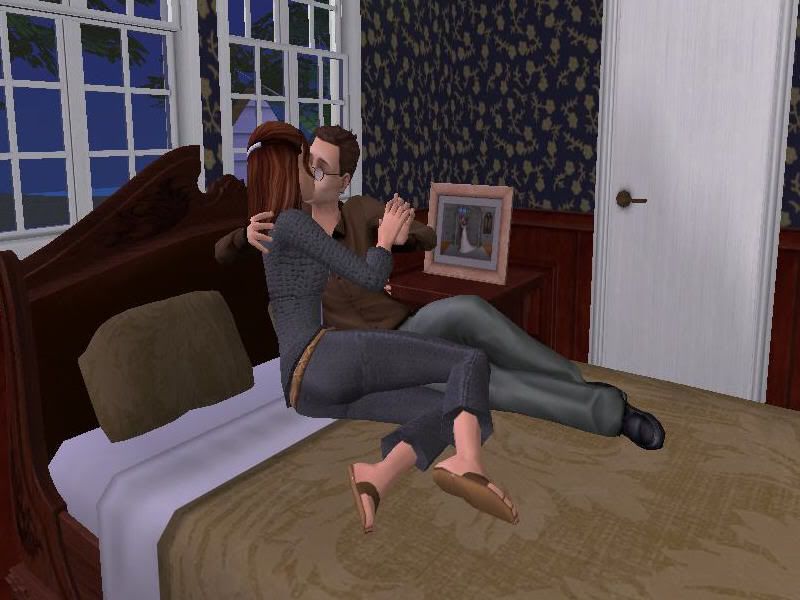 Season Recap
1. Klaus married Tiffany. Philip married Amaya.
2. The two couples went on Emerald Isle's first vacation. Tiffany and Klaus worked on collecting vacation mementos.
3. Philip fulfilled his lifetime want of fifty dream dates.
4. Philip and Amaya are going to live with Tiffany and Klaus until the Windsor house clears out some.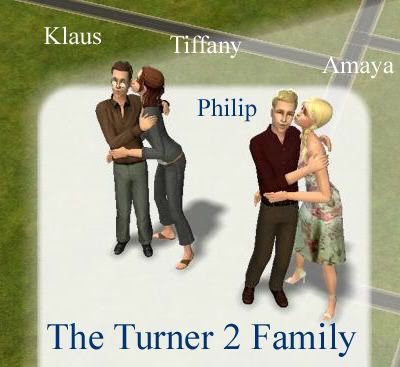 Points Recap
Previous non-money points 118
Impossible want, Philip +3
New non-money points 121
New money total for this household to be added for neighborhood points 148,099 simoleons.
Author's Notes
I spent a ton of time learning how to take family portraits in game and using the new Bon Voyage snapshot camera to get the photos in game. I'm not 100% happy with the shots. I needed more light. But, for a first attempt, I think I did pretty well. I wrote a tutorial on this that is in the files section of both the prosperity and sims2challenges yahoogroups.
I had so much fun on the island vacation. It was technically a vacation, not a honeymoon, in game so that all four could go. The scenery is just fantastic. I tried to conserve money as much as possible. I wanted the money to go back into building homes in the neighborhood. I had my sims dig for treasure the last day. They found two treasure chests and paid for the entire vacation that way.
By the way, this all took place in 2 sim days of calendar time. I originally was going to have Klaus move back into the neighborhood on the last day of the round, so he would have been gone to college for 4 years. Then I realized that wasn't really possible since he was starting his own house. So, I decided to just play the wedding and honeymoon this round. That would be the same thing. Then, I'm adopting the new university system in a couple of rounds anyway. The vacation made it feel like a full round.
Philip and Amaya will be living with Klaus and Tiffany for 7 days/years. I originally only intended for them to live there until George died and James went to college in the Windsor house, making room. Then I reread the rules, and uni grads moved in together have to stay for 7 days. So, they will be living together for that long, even though I didn't do it for money.