Daniel Turner—Adult male family sim
Libra personality
Sloppy 4, Outgoing 8, Lazy 4, Playful 6, Nice 7
Lifetime want—Raise 20 puppies or kittens
Chosen hobby—Film and literature
Ashlee Reamon—Adult female family sim
Aquarius personality
Sloppy 4, Shy 4, Lazy 4, Playful 7, Nice 6
Lifetime want—Raise 20 puppies or kittens
Chosen hobby—Nature
Check out the Turner family tree if you need help remembering the extended family.

In the last update—Distraught over the death of his grandfather, family sim Daniel was near aspiration failure until he met the love of his life, Ashlee Reamon. Ashlee moved into a house at Uni with Daniel and his best friends, Alyssa Cory and Evan Sinclair. Ashlee spent a significant amount of her time at Uni earning a gold badge in gardening and managed to score herself a wishing well. Daniel and Ashlee graduated summa cum laude in psychology and philosophy, respectively.
Season 7—Spring
Daniel purchased an acre of land next to his brother's home. He had a large house built there with plenty of room for a growing family. The best part, though, was the side building he had built to run as an animal shelter of sorts. He and Ashlee both wanted to raise twenty puppies or kittens, and Emerald Isle had plenty of strays that they could take in. Behind the house there was a lovely lake and significant space for Ashlee to establish the farm she wanted. Ashlee was thrilled with the natural beauty of the place, and Daniel was happy to be living next to his brothers.
Daniel wanted to have a large church wedding like both of his brothers had done, but he knew that Ashlee loved the outdoors. They had such lovely scenery in their own yard; it would be the perfect location for a wedding. Since purchasing the large acreage had used up almost all of the money they had worked so hard in university to earn, Daniel decided that a cheap home wedding would be just perfect for them.
It didn't take much time to plan. Just like that, Daniel was nervously standing next to his brothers at the wedding arch awaiting his bride. At least he'd stood along side both Will and Klaus at their weddings, so he knew what to expect. They were there to support him now, as he'd been there to support them in their own nuptials.
Daniel asked his best friend, Evan Sinclair, to be his third groomsman. Evan had been the most wonderful friend a guy could ask for. He'd helped Daniel through his crisis when his grandfather died, and Evan had helped smooth things over with Ashlee after the whole cow mascot incident. He had definitely earned his place at Daniel's side.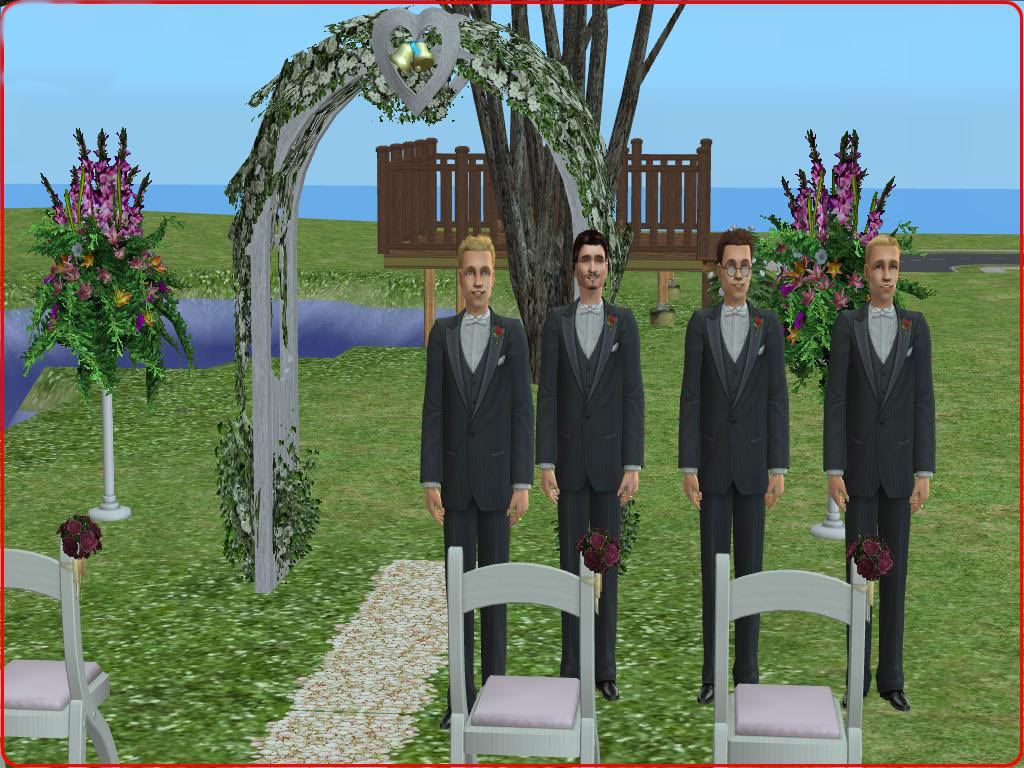 It took a little bit of encouraging from their mother, but Daniel's nephews finally walked down the aisle as ring bearers. It was too much to ask Harry and Severus to stand still through the whole ceremony, so the boys were allowed to sit after they reached the front.
Ashlee chose her soon to be sister-in-laws, Tiffany and Shenene, to be her bridesmaids. Ashlee's best friend, Alyssa Cory, was the maid of honor. They each proceeded down the aisle until finally they were all waiting for the bride.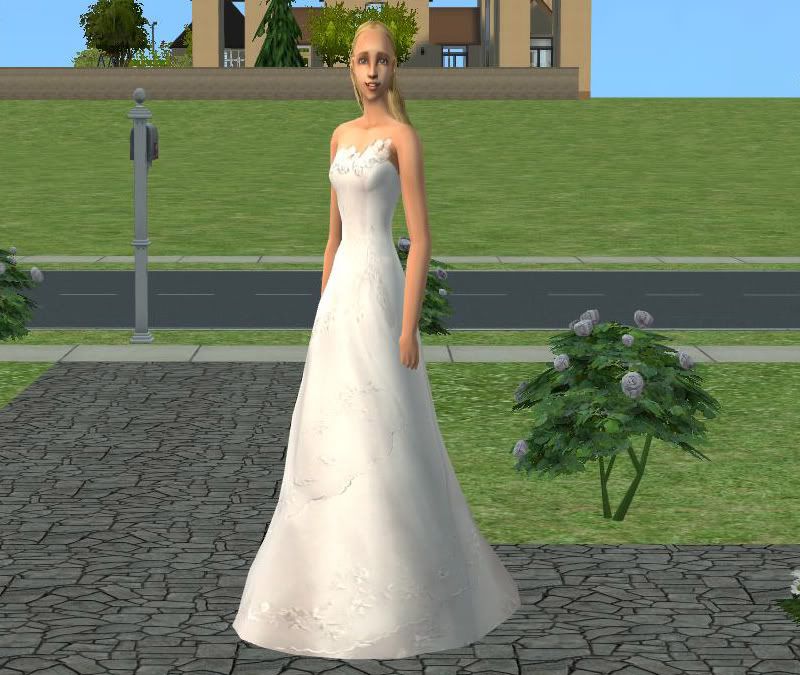 The ceremony was beautiful. It wasn't fancy, but it was heartfelt. Daniel and Ashlee were completely in love. That was obvious to anyone in attendance at the ceremony. It was the little things that said so much; the way they looked into each other's eyes, the way Daniel's voice cracked just the slightest bit as he started his vows, the genuine smiles on their faces when they finally got to say "I do."
Will and Shenene and Klaus and Tiffany were reminded of their own weddings, when they had exchanged their own vows to always love and cherish. Evan and Alyssa could only hope that their own wedding would be as romantic. Alyssa was wearing her hair different than normal to try out a new hairdo for her own wedding. Evan hadn't been able to take his eyes off of her throughout the entire ceremony. Daniel and Ashlee had found true love, but amazingly, so had Evan and Alyssa. They were simply destined to be together. Evan had tried his entire life to earn love, but now he had a beautiful girl that loved him unconditionally. Overcome with emotion, Evan kissed his fiancée with a few unshed tears threatening to escape his eyes. Daniel and Ashlee's wedding had been that moving.
The Turner family posed for a couple of family photos at the end of the ceremony before the reception. All three of the orphaned Turner boys had found love. It was time to start sharing that love with the next generation.
The reception was as simple as the ceremony had been. Ashlee catered the meal herself. What kind of chef would she be if she couldn't cook her own backyard barbeque for her wedding?
Daniel and Ashlee cut the cake and everyone quickly gathered to get their own piece of Ashlee's delicious lemon cake. It was so good; Will had to remind Harry that shoveling cake into your mouth with your hands was not appropriate.
Daniel was extremely nervous about his first dance with his new bride. He wasn't much of a dancer. But, in the end it didn't matter. All anyone talked about afterwards was the passion they displayed in their kiss at the end.
Daniel wasn't the only one nervous about dancing. When the party started swinging full force with an open dance floor, Harry noticed that his brother was nowhere around. Concerned, Harry finally tracked Severus down. He'd locked himself in the bathroom. It took some talking to get him to even open the door.
"What's wrong?" Harry asked.
After making Harry promise not to laugh, Severus finally confided that he was embarrassed that he didn't know how to dance. Harry hugged his brother. He would never understand why Severus was always so shy and scared, but he loved him anyway. "It doesn't matter; neither do I. Let's just go have fun together. I tell you what, I'll be sure to really make a fool of myself, that way you'll look good in comparison."
Severus finally laughed and hugged his brother back in earnest. He realized that he was being rather silly. It was just dancing.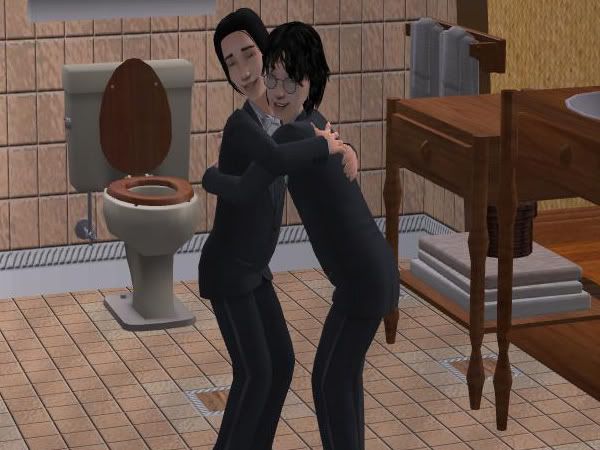 They ran into Uncle Klaus on their way back outside. Apparently Harry wasn't the only one that had noticed Severus' absence. Klaus gave Severus a hug as well and told him that he was an awful dancer himself. He made Severus promise to come over for another chess rematch soon before they all finally made their way to the dance floor.
Harry ran out into the middle of the dance floor and started busting some moves. Severus and Klaus joined him and the rest of wedding party soon after. They had everybody grooving to the beat; although, their dance moves did leave a little bit to be desired.
At the end of the night, Will gave a touching toast. He said how proud he was of his baby brother and commented on how far the Turner orphans had come. Everyone agreed with that and joined him in a toast to the happy couple.
When all of the guests were finally gone, Daniel had a moment alone to think. He was a happily married man, which was a major moment in any family sim's life. More than that, he wasn't alone anymore. He had someone that he knew would be his partner through all of life. He made his way over to their wishing well. He had everything he'd ever wanted. There was just one more thing to wish for: money. Daniel had grown up extremely poor, and money didn't mean that much to him, but he wanted Ashlee to have everything that she'd ever dreamed of. The house and farm had cost all of their savings. Even as cheap as they had thrown the wedding, they still didn't have enough left over to go on a honeymoon. There was no point on dwelling on it, though. He had to break the news to his wife.
"Ashlee, can I talk to you?" Daniel asked when he found Ashlee in the hallway of their new house. He grasped her hands as he tried to find the words. "I'm sorry; I feel awful for letting you down. You deserve the most spectacular honeymoon any couple has ever been on, but I'm afraid we simply don't have the money. I really want to get our animal shelter started right away, and with the farm . . . we just can't afford it."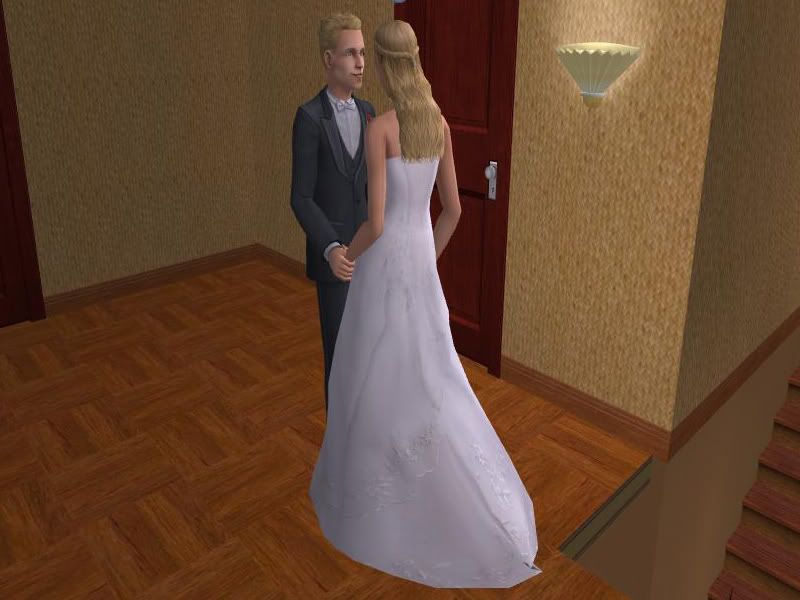 Ashlee smiled. "Daniel, I WANT to run the animal rescue center. That's what we both really want out of life, and I never thought I'd meet a guy that would not only be supportive, but who would actually enjoy that idea as well. And I know that you bought the farm for me. You're giving me my dreams, the things I really want. We don't need a honeymoon. We're happy just where we are, together." She leaned in and hugged her husband.
"Well, then perhaps I can convince you to enjoy our wedding night after all?" Daniel asked as he raised an eyebrow at her. She giggled as he picked her up and carried her across the threshold of their new bedroom.
Since they were in agreement, Daniel wasted no time. He called the local police department first thing the next morning and let them know that he and Ashlee were interested in taking in any strays that might be taken by animal control.
Daniel and Ashlee greeted their first kitten together. Daniel named her Isis after an Egyptian goddess. She looked like the type of cat the Egyptians would have worshipped.
Daniel and Ashlee celebrated this momentous step toward their joint goals the only way newlyweds can, with a loving kiss.
While working out in the garden Ashlee met a neighbor, Rachel Ziese-Lecy. Rachel loved breeding pets and volunteered to help out if Ashlee needed assistance with the animal shelter. They talked about it over lunch. Ashlee wanted the house full of kittens and puppies, and she was certainly going to need a friend to help if she was going to work on her gardening, too.
Daniel looked for his first job out of college. He was surprised to be offered a job at the local college as the dean of the languages department. It was a very high position to be offered as his first job, but he learned that the school was very impressed that he spoke 13 different languages fluently. Daniel loved teaching and he especially loved teaching about languages, so Daniel happily accepted the job.
The president of the university was pleased with Daniel's work, and he reached the top of the education career faster than any professor ever had.
Ashlee was enjoying working in her garden and running the animal shelter. There always seemed to be one more kitten that needed a home. Isis was joined by Osiris, Hathor, Nephthys, and Seth.
The cats ate a lot more than Ashlee had imagined. She was constantly feeding them and changing the litter box. That was a problem, because all of those pet supplies were costing a lot of money. Daniel made enough to pay the household bills, but if Ashlee wanted to continue to grow her farm and keep up with the constant influx of strays, she would have to add to their income. Nobody seemed to want to hire a chef, so she was forced to take a job as a Sim Jazzer Instructor. It wasn't much, but it paid for the pet bills.
The police asked Daniel if he wouldn't mind taking in a few puppies as well as kittens. Daniel was happy to accept their offer, although, the dog was a bit concerned about living in a place full of cats.
Luckily, the puppy, Maxx, found that he enjoyed play-fighting with the kittens. They quickly became friends.
Ashlee's friend, Rachel, helped out with watching the pets while Daniel and Ashlee were at work. She was happy to play with them and keep them happy.
Even with the help, running the animal shelter was a lot more work than Daniel or Ashlee had realized it would be. The food bowls constantly needed filling. It was really hard keeping up with so many animals, but Daniel relished every moment he got to spend caring for them. They were animals that society had given up on. Nobody cared about them, but now they had Daniel to look out for them. That was a very rewarding feeling.
Daniel and Ashlee were so busy working and caring for their animals that they hardly had any time for their hobbies. Daniel enjoyed reading the most. As a child, books had transported him away to other worlds. The hobby stuck with him, and he spent any free moment he had with his nose in a book. He even decided to try his hand writing his own book about aliens and space travel.
Ashlee enjoyed the outdoors. She liked fishing and chasing butterflies. Nothing pleased her more than spending an afternoon fishing and then using fresh herbs from her garden along with her catch to grill out a delicious meal for her and Daniel. They could eat out on their patio and enjoy the nature around them.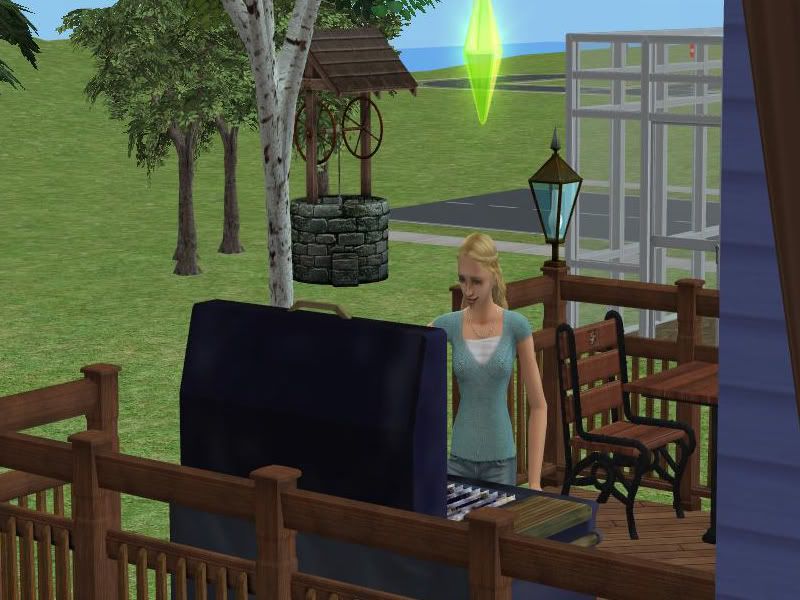 Then they could end the evening with a quick movie of Daniel's choosing. It was the perfect way to spend their time together. Finding time for their hobbies was extremely difficult, but Ashlee did earn membership into the nature club, and Daniel was granted admission into the literary club as well.
Their animal rescue operation continued to grow as another puppy, Molly, joined the family. Ashlee couldn't have been happier, though. Even having to get up in the middle of the night to clean out the pet house was worth it. Ashlee loved animals and loved helping them. Having Daniel to share it with her only made it better.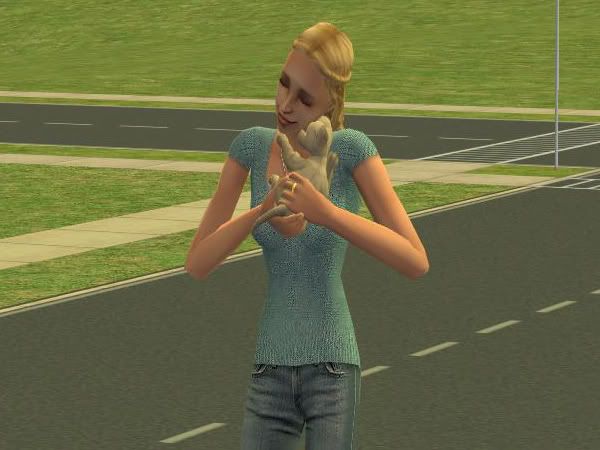 Ashlee's small farm was coming along nicely. Daniel even earned a silver gardening badge by helping her. Come harvest time, Ashlee had trees full of mouthwatering lemons and apples and a greenhouse full of top quality organic vegetables.
It was a good thing that they were able to complete the harvest when they did. A freak thunderstorm hit Emerald Isle one night. Lightning struck not one, but two trees at the Turner farm. Luckily, the fires that erupted caused little damage.
Ashlee got to live another one of her dreams when she bought a small business to run as an organic grocery. Her mouthwatering produce grown without pesticides or artificial fertilizer just flew off the shelves. Of course, it helped that her husband was so charismatic. Daniel could sell anyone anything. He had a gold sales talent badge after only a few sales. The quality of the produce spoke for itself, but Daniel was amazing at talking people into buying more. Before long, people were lining up to come buy Ashlee's food. Ashlee owned a level five business, and it was making her a small fortune. Not to mention that half of Emerald Isle was now eating much healthier food.
Back at the animal shelter, their kittens were starting to grow-up. Isis became a cat first and helped care for the other kittens.
Hathor and Nephthys grew up next. Klaus and Will came over with Liebe to celebrate the first successful kittens to grow-up at the Turner rescue home.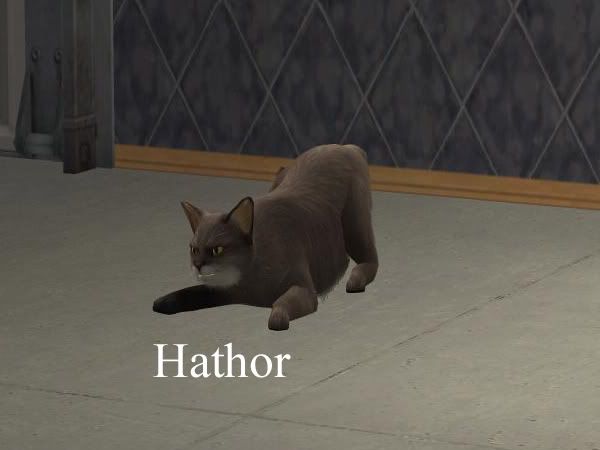 Season Recap
1. Daniel and Ashlee got married in a back-yard ceremony.
2. The Turners established an animal rescue shelter and adopted seven pets.
3. Ashlee opened an organic grocery store to sell her farm-grown produce. It earned them a ton of cash and reached a level 5.
4. Daniel reached the top of the education career.
Points Recap
Previous non-money points 149
+1 top of career, Daniel
New non-money points 150
New money total for this household to be added for neighborhood points 201,915 simoleons plus 74,657 simoleons for the business.
Author's Notes
Daniel and Ashlee had managed to save a ton of money while in university, see the previous season for information on that. Even so, I spent all of their money on the house and farm. It was the business, Town Center Grocery, which really earned me the obscene amount of money they have now. Daniel has high charisma and earned his gold sales badge amazingly fast. I had Daniel invite over friends and family and then use the "Dazzle" interaction on them all. That quickly earned more business levels and business perks, which I used entirely for the money rewards. Then right after I got the top money amount, I hired an employee and promoted him to management (the employee needs to have several badges). Then I immediately saved and exited the lot. With calling to check in on the business, my sims earned about 12,000 simoleons a day. The reason is that it averages your previous income for the days before you left the lot, and that includes the bonus money you got. So, the business venture earned them a ton. That's good, because raising the pets is draining and expensive.
Adopting all of those puppies and kittens proved more of a challenge than I expected. I couldn't let them have any kids this round, because I was trying to fill the house full of as many pets as I could. Soon, once this round of animals is raised, I'll pick two to breed and let the Turners have G2.