Elizabeth Windsor—Elder female family sim
Cancer personality
Neat 6, Shy 3, Active 6, Serious 4, Nice 6
Lifetime want—reach top of education career—Achieved!
Preferred hobby--Nature
Philip Windsor—Adult male pleasure sim
Sagittarius personality
Sloppy 2, Shy 3, Active 9, Playful 7, Grumpy 4
Lifetime want—Fifty dream dates—Achieved!
Preferred hobby—Sports
Amaya Windsor—Adult female romance sim
Taurus personality
Neat 5, Outgoing 5, Lazy 3, Playful 8, Grumpy 4
Lifetime want—Reach top of Slacker Career—Achieved!
Preferred hobby—Games
Lily Windsor—Teen female sim
Cancer personality
Neat 6, Shy 3, Active 6, Serious 4, Nice 6
Lifetime want—Become Mayor
Preferred hobby—Arts and Crafts
Caroline Windsor—Toddler female sim
Sagittarius personality
Sloppy 3, Outgoing 5, Active 9, Playful 8, Nice 9
Check out the Windsor Family Tree.
In the last update—The Windsor house was divided in two. Andrew moved out with Edward, Victoria, and Sophie to make room for Philip and Amaya. Amaya gave birth to her first child, Caroline. Philip informed her that they had to have another baby to try for a male heir. Elizabeth, now a proud grandmother, became and elder. Lily became a teenager and chose the lifetime want of becoming Mayor within the popularity aspiration. Caroline became a toddler.
Season 9—Fall
Since they were officially a couple now, Lily decided it would be a good idea to invite Severus and his family over for a small get-together. Severus' adopted family was very important to him, and Lily wanted to get to know them all better. Severus was obviously very proud and happy about having his family over for an official visit.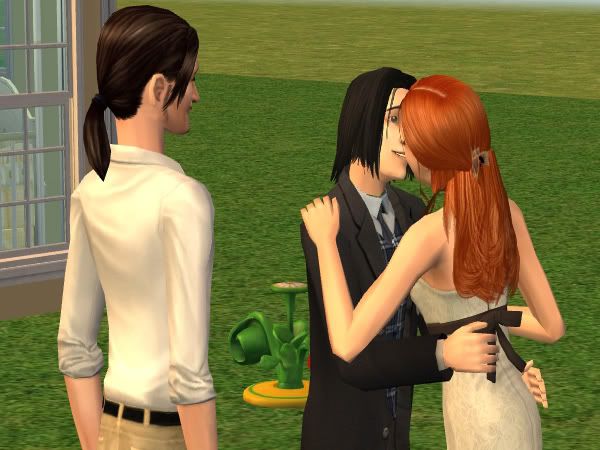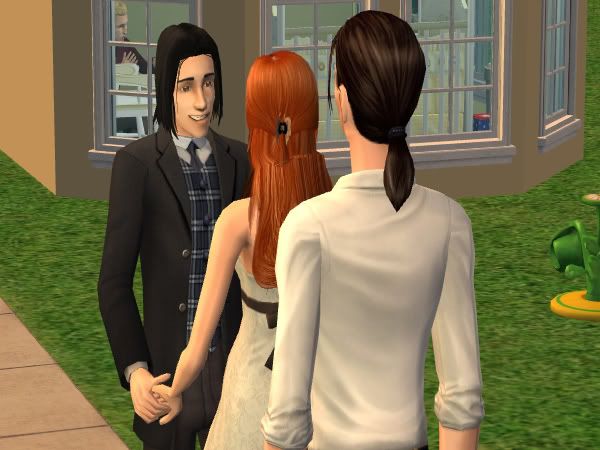 It took Sev's little brother, Jeremy, about 2 minutes to find Philip's teleprompter. He was a very loquacious and charismatic child. Sev's quiet, little adopted brother, Gaston, laughed and smiled as Jeremy pretended to give speeches. Lily could tell a lot about both boy's personalities and upbringing just from observing them for a few minutes.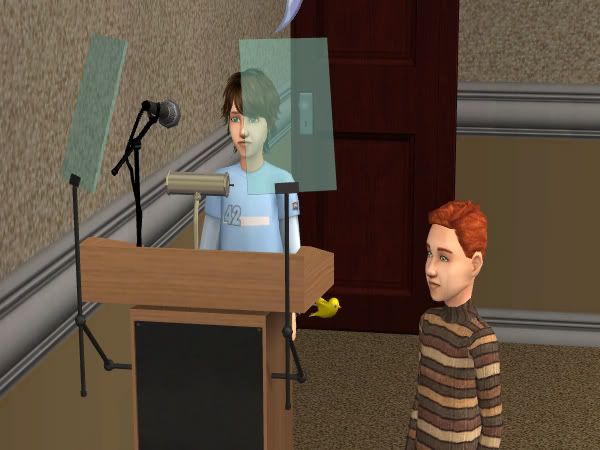 Lily suggested that they all go out to Windsor Lake for a little fishing. Fishing was an activity perfectly suited for a little bit of family bonding.
No one planned on Amaya going into labor while all of the guests were over. Her screams brought everyone inside. The boys were terrified, unsure of what to do; but Elizabeth quickly took control of the situation.
Amaya gave birth to a healthy baby boy, which gave the Windsors the male heir they desperately wanted. She named him Richard.
"A boy! I have a son!" Philip cried with joy as Amaya handed Richard to him.
"Ut-oh. Oh no!" Amaya suddenly screamed.
"What? What's uh-oh?" Philip worried.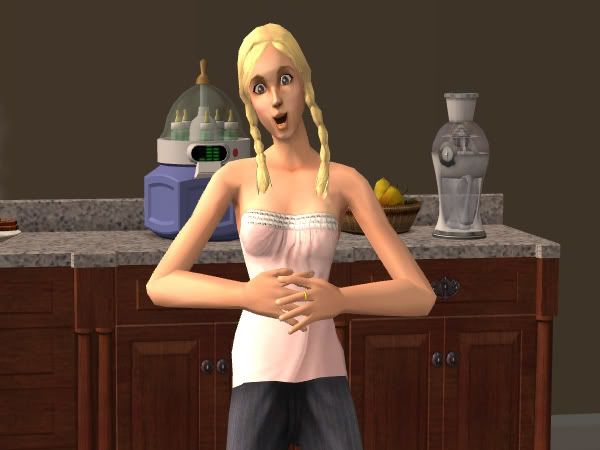 Her contractions had started again. They were about to have their third child! Amaya gave birth to another boy, Henry.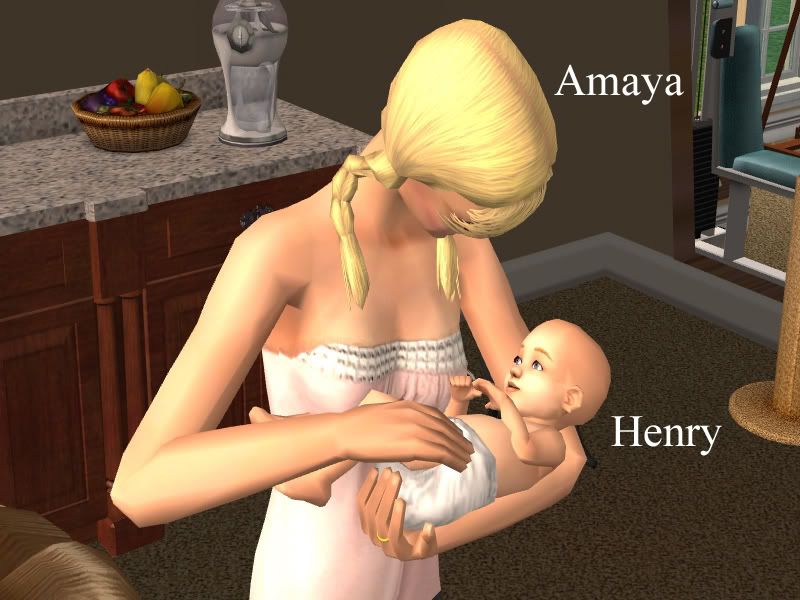 The Windsor family was very happy to have the twin boys. They had an heir and a spare. Amaya, however, was not to thrilled about having another kid to take care of.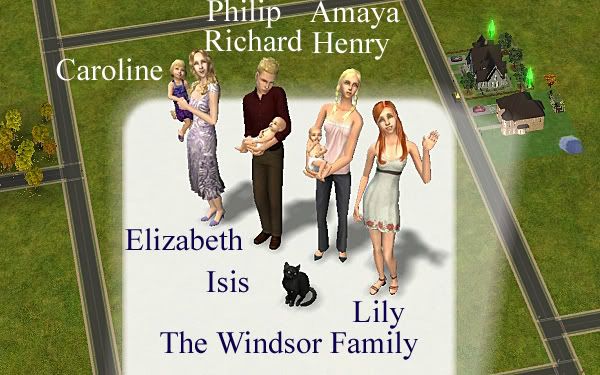 The Windsors didn't let the arrival of the new family members stop them from being good hosts and hostesses. They still had a nice family lunch with the Turner family.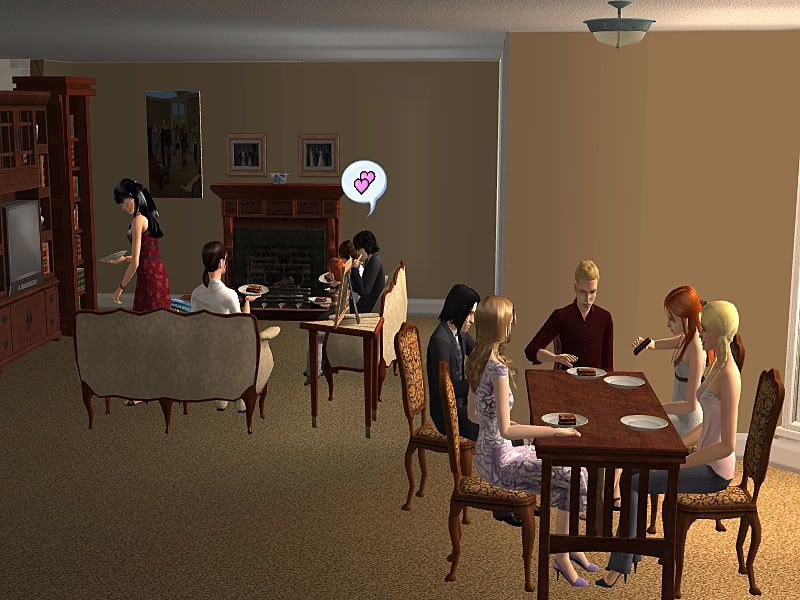 After lunch, Lily decided to spend some time alone with Severus' little brothers. Jeremy wanted to play her at chess since Severus talked about playing with her all of the time. Gaston was content to quietly watch. Lily felt like the time was well spent getting to know Severus' brothers better.
Philip was so excited about the arrival of his sons that he was actually a very doting father that night. He tucked in each of the boys personally.
Finally, Severus got a little bit of alone time with Lily. He invited her out to look at the stars with him. You couldn't see anything very clearly without a telescope, but the stars had never looked as beautiful as they looked that night, while lying next to Lily.
"Let me tell you all about the stars," Severus said as he began to tell her some of the ancient theories about the heavens. "That constellation right there is Orion," Severus told her. He nervously put his hand on Lily's stomach as he talked. She sighed happily. It still amazed Severus that Lily was happy to be with him, that she enjoyed having him touch her. It was like a dream come true.
"Tell me about that couple?" Lily asked as she pointed out another constellation.
Severus really wanted to make-out with Lily. She was so gorgeous and sexy, and she was right there in his arms. But he couldn't quite come up with the courage to make a move on her. He was still worried about scaring her away. In the end, it was Lily that initiated things. She had to encourage Severus by moving his hand to even get him to go to second base with her. It didn't annoy Lily, though. Actually, she found it very endearing. She kissed him playfully on the nose. He was such a sweet boyfriend.
After the birth of her sons, Amaya was no more interested in family life than she had been. She cared about her career as a rock star and her video gaming hobby. She really hated dealing with the children.
But she did take the initiative to teach Caroline to talk. That wasn't too bad a baby chore, she decided.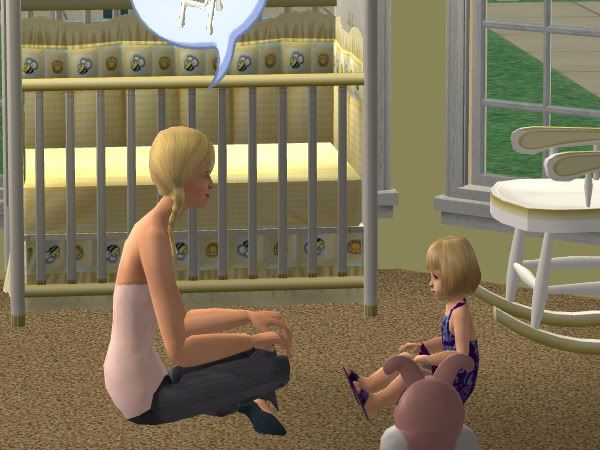 The rest of the family was also really busy. Philip was still working on his career in politics. He was a senator. In his spare time, he liked to shoot hoops.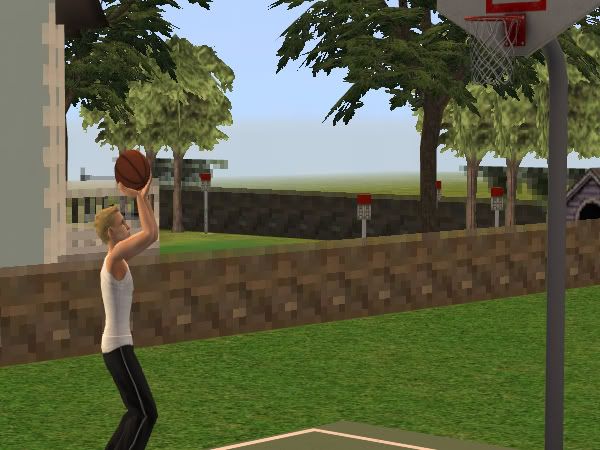 Lily managed to squeeze in some time for her art between homework, family time, and spending time with Severus.
A huge party was looming in the horizon for the Windsors. Not only was it Caroline's 5th birthday, but it was also the twin's 3rd. Philip was very upset when his wife, normally THE party girl, announced that she wouldn't be there for the event. She was going to be on tour with her band. Her career was much more important to her. Lily saved the party. She assured Philip that she could throw an amazing party for her niece and nephews. Even if only their family showed up, it would be a HUGE party.
Birthday Party Guests
Sophie Windsor—the children's aunt
Victoria Windsor—the children's aunt
James Windsor—the children's uncle
Klaus Turner—Philip's best friend from college
Andrew Windsor—the children's grandfather
Edward Windsor—the children's uncle
Severus Turner—Lily's boyfriend
Tiffany Turner—Philip's college friend and Klaus' wife
Joshua Jennings—Edward's boyfriend
Philip tried to make sure that the kids were happy and having a good birthday, even though their mother had deserted them. He spent time playing with Caroline before the party officially started.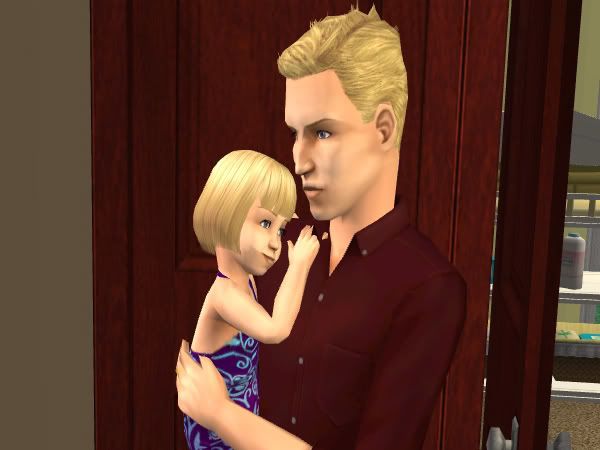 The two halves of the Windsor family were happy to have an occasion to be reunited. Elizabeth and Andrew were especially happy to see each other, although the kids weren't that happy about that!
Philip was still really angry that Amaya had ditched her own children's birthday party. "How are we even going to do this? I can't bring three kids to the cake!"
"It's going to be fine," Lily reassured her big brother. "I'll take Caroline. You can take Richard, and I'm sure that Mom would be happy to take Henry to the cake." With that decided, they all took turns growing-up the children at the birthday cake.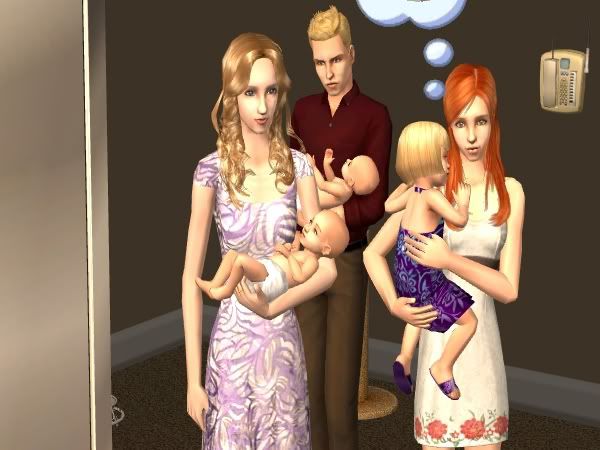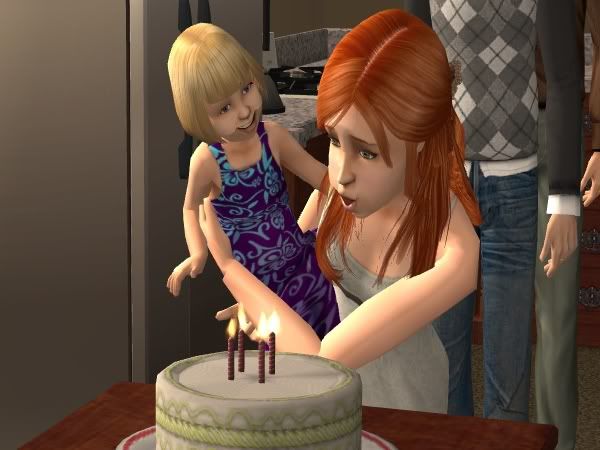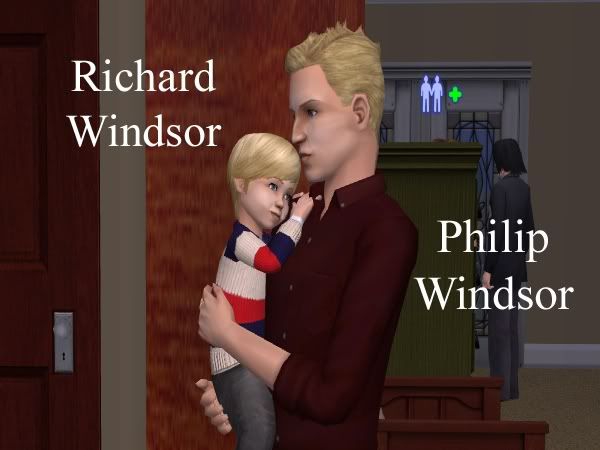 Richard Windsor—Toddler male sim
Pisces personality
Neat 5, Shy 2, Active 9, Playful 8, Nice 10
Henry Windsor—Toddler male sim
Sagittarius personality
Neat 5, Shy 4, Active 9, Playful 7, Grumpy 4
As promised, Lily knew how to get a party going. Soon, she had everyone dancing, even the elders.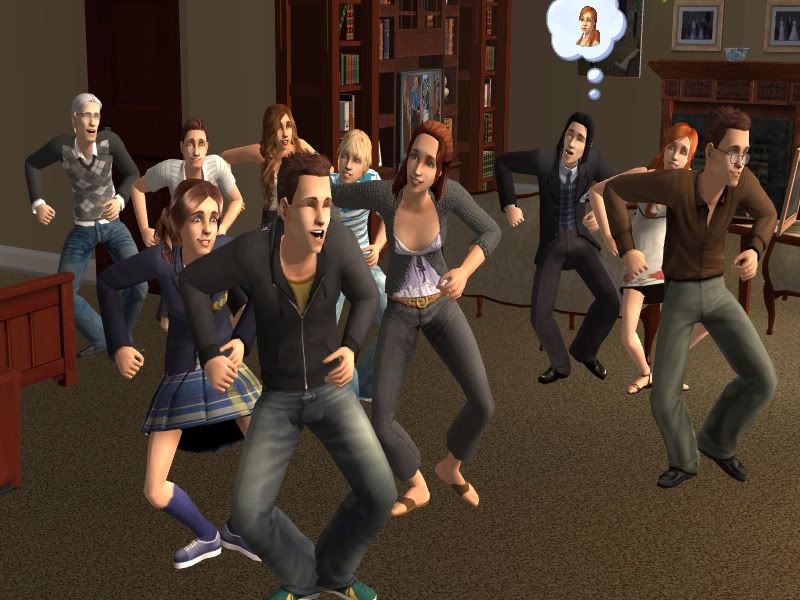 Dancing also led to a little bit of kissing and making out for the couples.
"Okay, Lily, that's enough! Daddy's not ready to see his little girl kissing like that!" Andrew chastised her.
"Sorry, Daddy." Lily blushed.
Andrew did enjoy having the time to get to know his granddaughter. Living in separate houses hadn't given him much time to talk to her.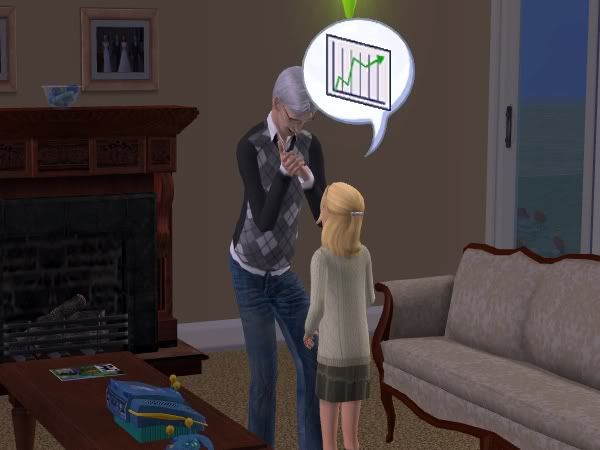 And Sophie spent some time talking to Joshua. She wanted to be sure that he was really okay with her secretly dating Loren. She really did like Joshua, but she wanted to be sure he wasn't going to rat her out to her parents.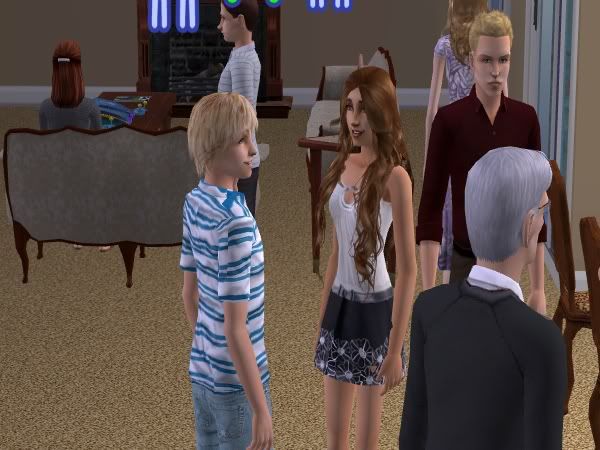 Finally, very late into the night, Amaya arrived at her own children's birthday party. She was done touring because she'd finally become a Rock God, the top of the music career.
Elizabeth wanted to try to get a few family photos with the kids, but staying up to wait for mommy to get home had made the boys very cranky.
"Perhaps tomorrow," Elizabeth finally conceded.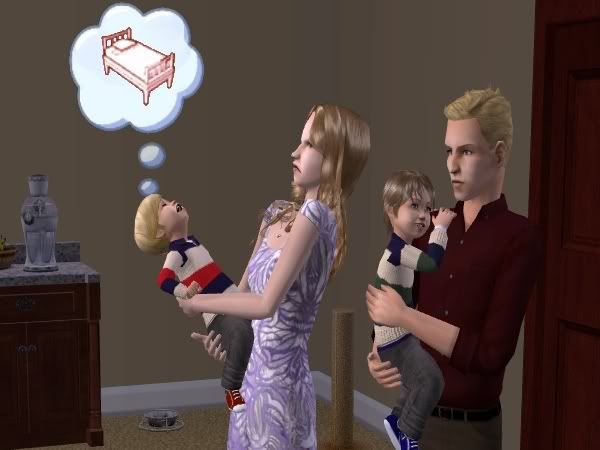 She was at least able to snap a cute shot of the boys at bottle time the next morning.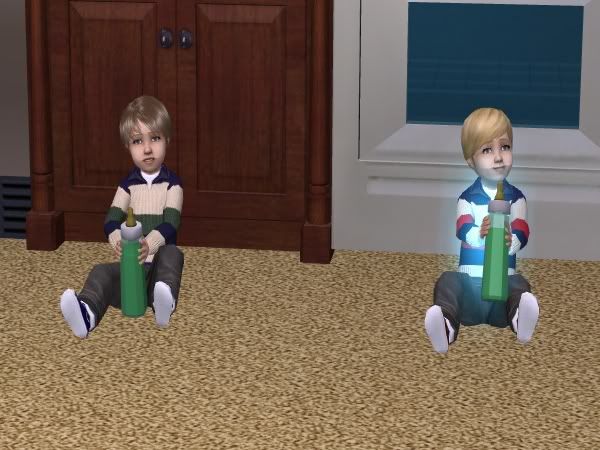 With three young children in the house, everyone had to pitch in to help out. There were diapers to change, homework to do, baths to take, and skills to learn.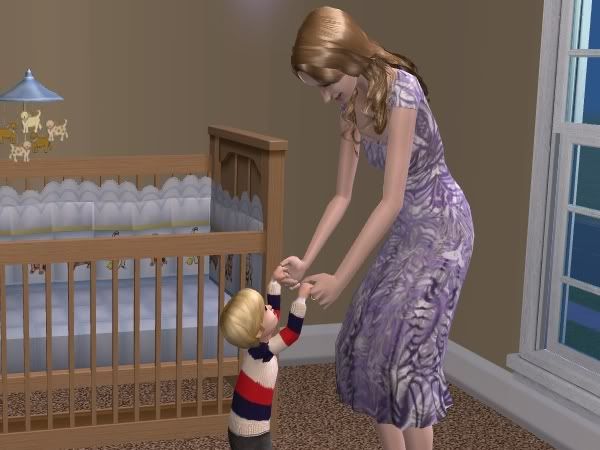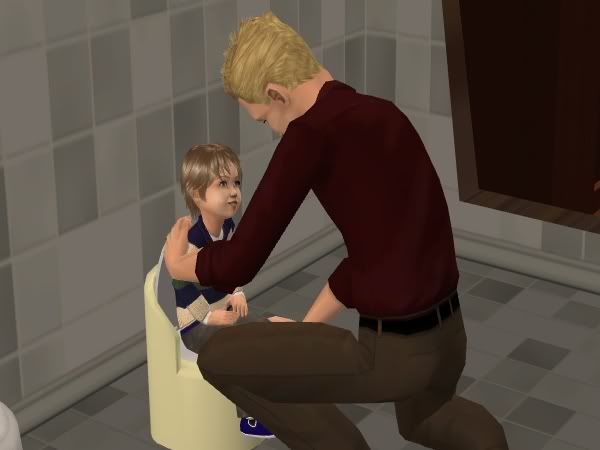 There was still plenty of fun time, too. The children liked playing together and with their relatives.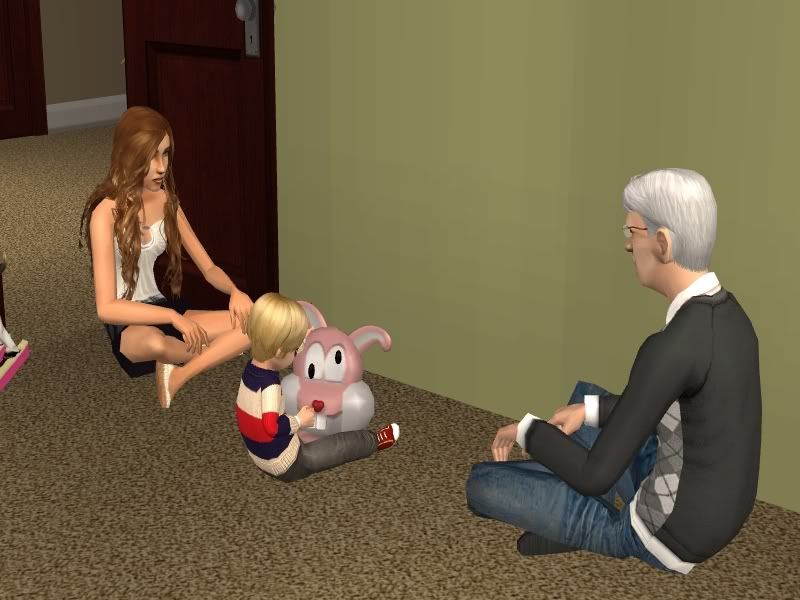 It was fall, and soon it was time for Halloween. Caroline, of course, wanted to be a princess. Richard went as a teddy bear, and Henry was a mummy. Philip and Amaya took the children around to all of the houses in Emerald Isle for lots of candy.
They also took a moment to finally get a nice family photo. After Halloween, Caroline insisted on wearing her hair like a princess. It was a pain to constantly style it like that, but Amaya caved in. She could only listen to "princess hair, Mommy!" so many times. Even Amaya had to admit that they were a very adorable family.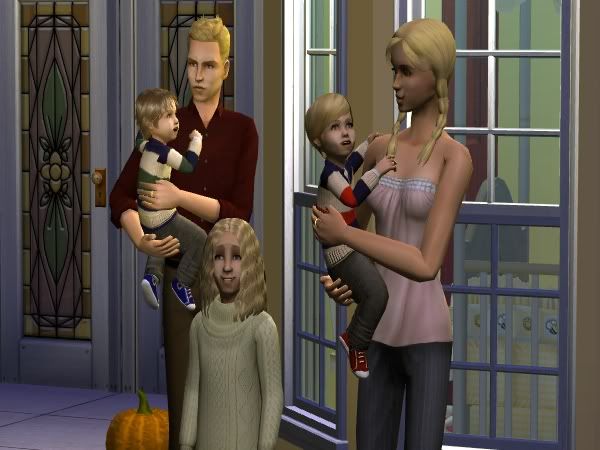 Thanksgiving always seems to come just a moment after Halloween. The Windsors used the holiday to spend some together as one big family.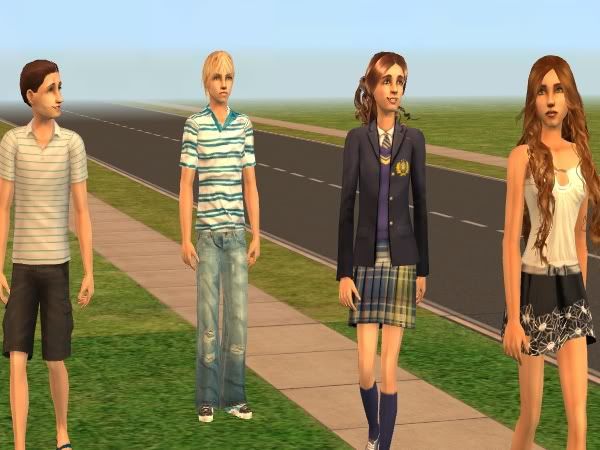 Watching football was the first thing on the agenda for most of the family while Elizabeth prepared the turkey. She loved cooking for her family.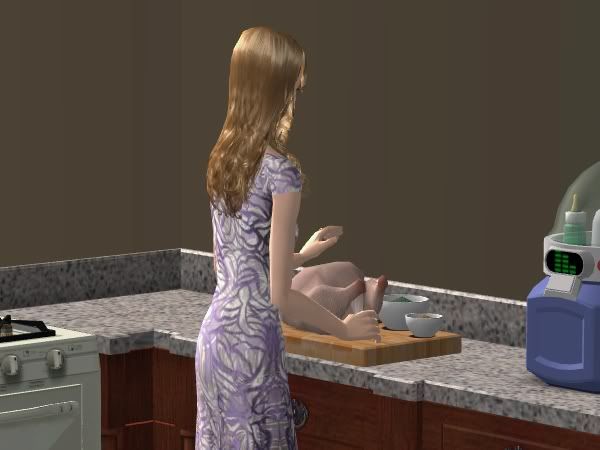 Nothing brings a family together faster than good food. Everyone had a great time bonding at the dinner table.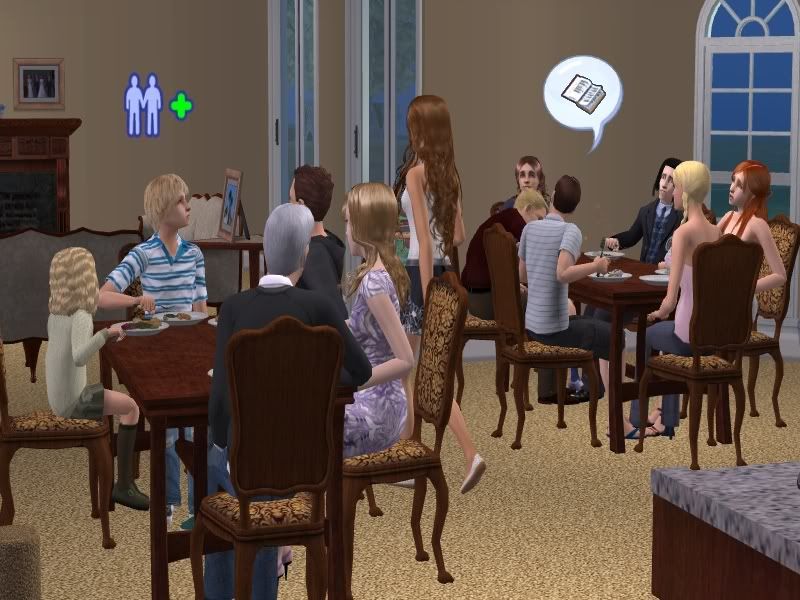 Then it was back to normal life with homework, bottles, and messy diapers.
Season Recap
1. Amaya and Philip had twin boys, Richard and Henry.
2. Caroline, Richard, and Henry shared a large birthday party. Caroline is now a child, while the boys are toddlers.
3. Amaya reached the top of the music career.
Points Recap
Previous non-money points 183
New sims, Richard and Henry +2
Top of career, Amaya +1
New non-money points 186
New money total for this household to be added for neighborhood points 194,135 simoleons.
Author's Notes
My apologies for the long break. I hope to update more frequently now.