Evan Sinclair—Adult male knowledge sim
Taurus personality
Neat 5, Outgoing 5, Lazy 3, Fun 8, Nice 6
Lifetime want—Reach top of journalism career
Preferred hobby—Arts and crafts
Alyssa Cory—Adult female family sim
Cancer personality
Neat 6, Shy 4, Active 6, Serious 4, Nice 6
Lifetime want—Reach top of education career—Achieved
Preferred hobby—Arts and crafts
Christopher Sinclair—Baby male sim
Rose Sinclair—Baby female sim
Check out the Cory-Sinclair Family Tree.
In the last update—Evan and Alyssa were married in a beautiful, formal ceremony at their church. Evan purchased a mansion right next to Cory manor so that he and Alyssa could live next to the Cory family. The house put a strain on their finances, but Evan insisted upon giving Alyssa a great beach honeymoon. After returning to the neighborhood, Alyssa immediately found a job in education and reached the top of her career. That was a good thing, because she realized that she got pregnant on her honeymoon. Alyssa's mom, Amanda, refused to let Evan work for her at Cory publishing. Disheartened, Evan took Alyssa's advice and decided to find a career that would allow him to use his creativity: architecture. Evan excelled in it and reached the top of his career. Evan came home from work one day to discover that Alyssa had given birth to not one baby, but natural twins. The entire family celebrated the birth of Christopher and Rose.
Season 8—Summer
Alyssa and Evan had agreed years ago that their children would never be left to be raised by a nanny. Alyssa had grown-up with a relatively nice nanny, but she had always missed having a mommy or daddy around. Alyssa was overcome with joy when Evan offered to stay home with the children some days. Evan and Alyssa took turns staying home with their babies and going to work. It gave both of them time to bond with their infants and to succeed in their career.
When he was home and the babies were napping, Evan liked to work on his sewing ability. He really loved crafting teddy bears. Evan spent so much time working on his crafts that he earned a hobby plaque in arts and crafts. It was no surprise considering that he was an architect for a living and liked to paint and sew in his free time, but Evan was still very proud of his achievement.
Alyssa loved spending time with her family, not just her immediate family, but the whole Cory and Sinclair family clans. Rachel and Eli liked to come over after school for snacks. Of course Christopher and Rose's grandparents came to visit often as well.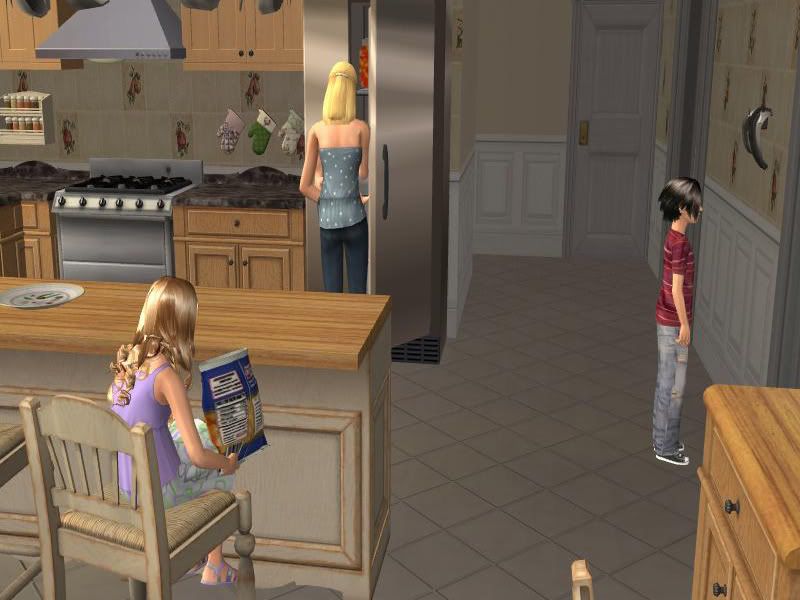 Evan's half-brother, Ethan, was particularly interested in babies now. He told Alyssa that he wanted six of his own someday, so Alyssa agreed to let him get some practice. She needed all the help she could get caring for the twins anyway.
Alyssa also focused on getting to know her youngest half-brother better, Sandy, as well. He was born after Alyssa had already left home, so she'd never had a chance to bond with him. Family gatherings for dinner or a pool party were the perfect chance.
Babies didn't stay babies for long. Soon, it was Christopher and Rose's birthday and time for them to become toddlers.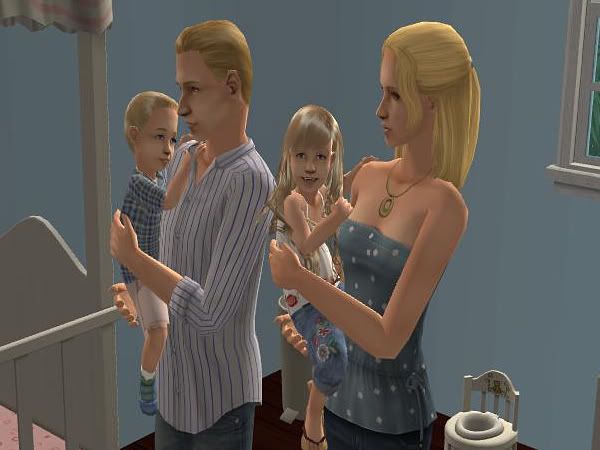 Christopher Sinclair—Toddler male sim
Aquarius personality
Neat 7, Shy 4, Active 6, Playful 8, Nice 6
Preferred hobby—Games
Rose Sinclair—Toddler female sim
Cancer personality
Neat 7, Shy 4, Active 6, Serious 4, Nice 8
Preferred hobby—Tinkering
The frequency of family visits only increased after Christopher and Rose became toddlers. Cameron loved sharing his love of music with his great-nephew. Everyone loved talking with the super-adorable Rose.
Gary, however, was concerned about his grandchildren's future. He finally pulled Evan aside to discuss it with him. "I don't think Christopher and Rose are where they should be with their language skills. Christopher said rat when his bunny spun to an elephant. I don't think you're pushing them hard enough to learn. You know how important it is for a child to learn charisma and language skills at a young age. If they don't master basic language skills now, they'll never excel in elementary school. I'm sure you remember how important A+s are to a child's future."
"Look, Dad," Evan sighed. "Alyssa and I have decided to raise our children differently. We've read a lot about parenting, and we're making educated decisions on how to raise them ourselves. I don't want Christopher and Rose to grow-up under pressure like that. If they want to play with the charisma bunny and work on skills, that's fine, but it's also okay if Christopher wants to draw or play with his horse. He's very creative and fun-loving, and I'm not going to try and suppress that in him. Rose likes playing with her blocks and figuring things out. Whatever skills they want to work on is fine."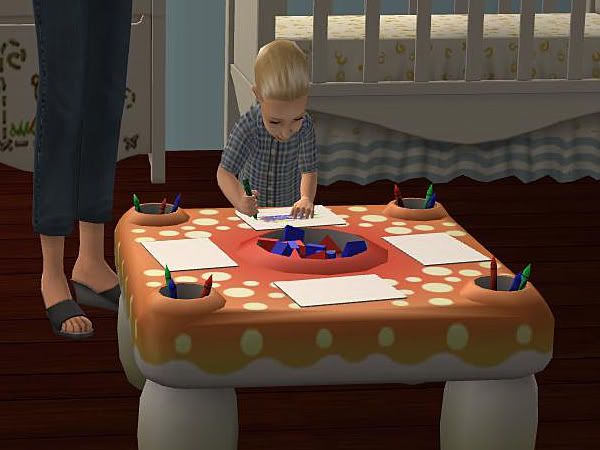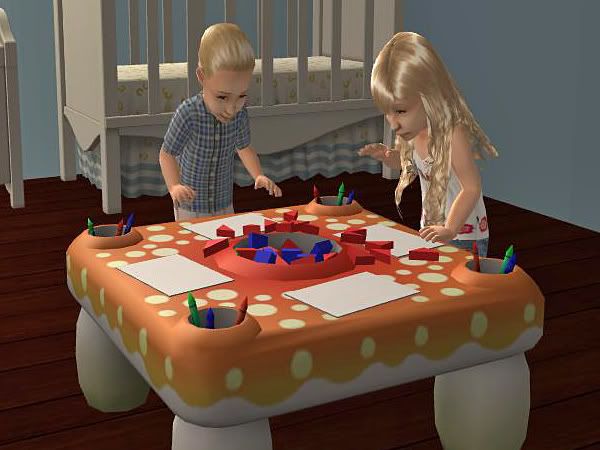 "Don't you want them to grow-up well?" Gary asked with sincere concern.
"They'll grow-up well if they know that they're loved just the way they are. Alyssa and I will always be there for them and support them in whatever they want to do. That's what's important for a child to grow-up well," Evan explained.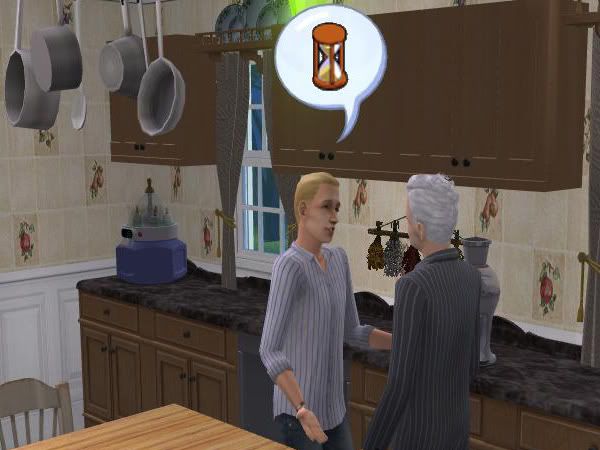 Gary shook his head. "I'm still concerned, but I'll let you try it your way. You were right about your brother, Ethan. Ever since I've let him have a bit of a break to watch some ESPN after school, his performance has drastically improved."
Once his father left, Evan went to check on his children. He was not surprised to find Christopher and Rose playing with their blocks. They were inseparable. They always played everything together, but they each brought their own things to their play. Rose loved putting the blocks together, but Christopher would come up with complicated stories, like a blue box that could transport them anywhere. The creative stories would inspire Rose to build more complicated objects.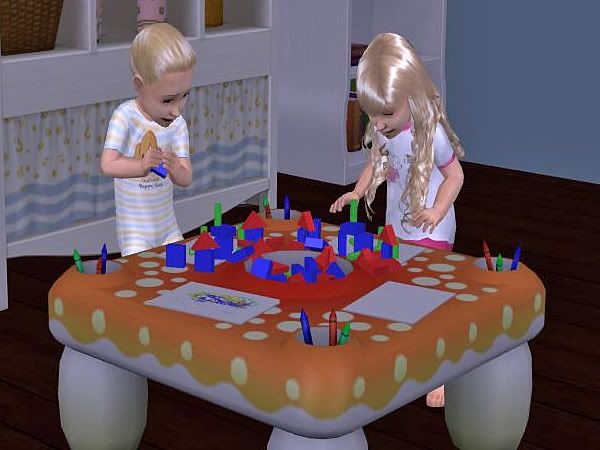 After finally standing up to his father, Evan needed to cuddle his son. "Daddy's so proud of you, Christopher, just the way you are. You're really playful like Daddy, but there's nothing wrong with that. Mommy and Daddy love you." Alyssa was so proud of her husband as they each gave one of the children a bottle before bed and tucked them in for sleep.
Alyssa and Evan spent all of their time making sure that their children did grow-up well. They were careful to never be pushy. Alyssa made a game of teaching the children to walk while Evan used nursery rhymes to making learning new words fun. There was also plenty of time set aside for play.
Since Evan was so good at sewing teddy bears and Alyssa had a gold badge in toy crafting, Alyssa had a neat idea. She bought Inner Child Toys and Gifts. She quickly filled the store with inventory from Evan's teddy bears, common children's toys, and toys that Alyssa herself had made. She wanted Emerald Isle to have access to unique, hand-crafted toys. Someday she hoped to expand the business to sell flower bouquet gifts crafted with her gold flower arranging talent badge as well, but for now, she and Evan were starting simple. They were still completely against leaving Christopher or Rose with a nanny, but Ethan was old enough to baby-sit by then. Evan and Alyssa had a great, family-friendly business that was raking in the dough. They worked it to a level seven business, and Evan and Alyssa earned gold sales badges.
One day Amanda came over. She explained that she had decided it might be best for her to spend some time with her family. Little Rachel and Sandy needed their mother home. So she was going to take a leave of absence from Cory publishing, which meant that there was an opening for someone to run the company for her. Evan happily accepted the job. He had enjoyed his career as an architect, but it was his lifelong dream to be the best journalist in town. He was so grateful to Amanda for giving him the chance to prove himself in the journalism field. It went great. Evan was a perfect fit at Cory publishing. He made all of the right decisions and was soon at the top of the journalism career, which achieved his lifetime want.
Evan and Alyssa threw a huge party for the twin's fifth birthday. They decided to have it outside, since it was such a beautiful summer day. The entire family came.
There were plenty of outdoor toys and games set up for the children.
And of course they had two cakes. Evan and Alyssa knew that the twins wouldn't mind sharing one cake; they shared everything, but they would need all that cake to have enough for everyone to have a slice.
Christopher and Rose were as adorable as children as they were as toddlers. They both obviously looked like their father. Christopher could have been a doppelganger for Evan as a child. "You two are so cute!" Alyssa exclaimed, "but, why don't you open your presents. I think grandma or grandpa might have bought you something more appropriate to wear."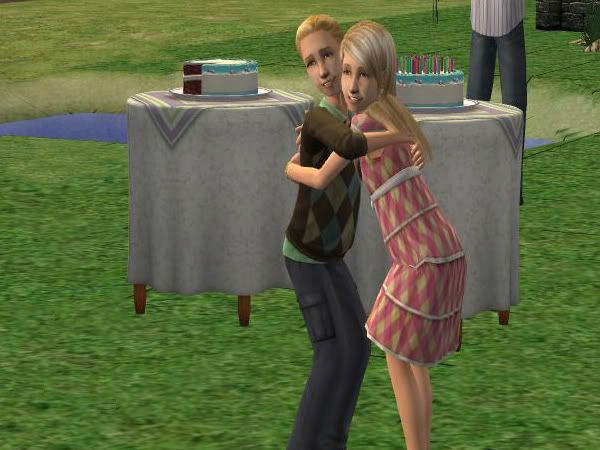 The summer party was a rockin' time. Several people hopped into the pool. Rose spent a lot of time socializing with Rachel, who was actually her half-aunt, even though they were close in age.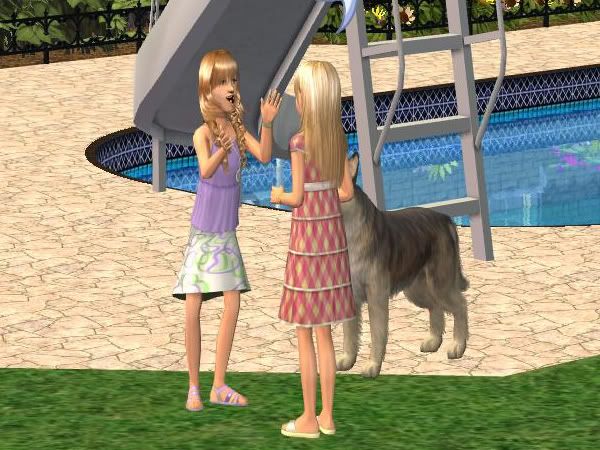 Evan played football with his half-brother, Eli. Eli was overjoyed to have someone to practice with him. Evan was really kind and gentle as he gave him tips. "That's great, Eli. Try tossing it with just a bit more spin."
Life was pretty much the same for the Sinclairs after that. Alyssa did need to adjust her cooking to more kid-friendly fare.
Christopher loved playing any kind of game, even serious games like chess. It wasn't long after he learned the game that he convinced his sister to join him in play. She could even convince him to sit and study with her. They wanted to do absolutely everything together.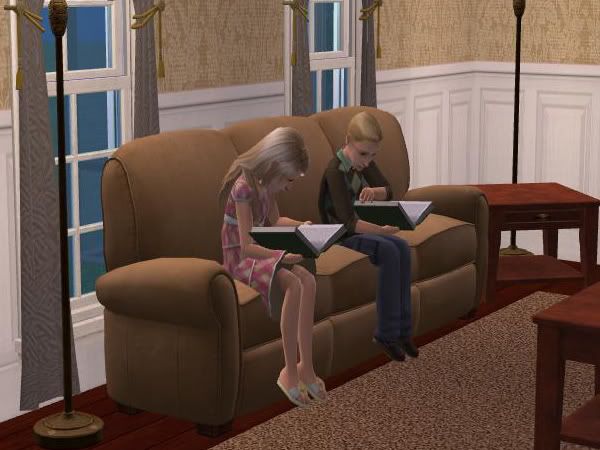 "Now that you're children, I think it's time for you to get your own rooms. We have plenty of space in the house, and you can each decorate your room however you want," Evan announced.
"No!" Christopher and Rose yelled in unison. They hugged each other and shook their heads. "We don't want to have our own rooms. We want to stay together."
"It's just one room over," Alyssa tried to explain. "When you get a little bit older you're going to want your own rooms."
Christopher and Rose were adamant. They refused to let their parents set them up with separate rooms. Finally, Evan and Alyssa acquiesced. "Okay, you can share. How do you want set-up your joint room?"
The twins whispered to each other in their own secret language. Their parents had always thought they were gibbering nonsense as toddlers, but now they knew that the children had invented their own language to talk with each other. After a bit of discussion, the twins shared their decision with their parents. They wanted green for the walls. Christopher wanted all green, but Rose wanted pink, purple, and green colors incorporated in her side of the room. Christopher let her have the largest part of their room for her girly stuff, but he had his own special corner for his art and crafts.
The twins were very happy with their new room. Christopher started bouncing up and down on his big boy bed. That was fun!
But Evan came in and scolded him. "Get down, Christopher. Your bed isn't for jumping. I know that it's fun, but it's dangerous. You could fall and hurt yourself. Get down and finish getting ready for bed, please."
Christopher got down and cried into the teddy bear his father had made for him. "We got into trouble, teddy."
He was not surprised to find his sister playing with her bear, too. They had a special link. When one of them was sad, they both were. Luckily, it worked for happiness, too. They got often decided to do the same thing in unison.
Evan came back in to find his sad twins. "Don't cry, Christopher. Daddy loves you. You know that. I love that you're so playful. I just can't let you do dangerous things. Daddy doesn't want you to get hurt. Tell you what, brush your teeth and then Daddy will read you a bedtime story. You can help me come up with ideas for the story."
"Really?" two bright-eyed children asked with excitement.
Evan stayed in the children's room and watched them well after they'd fallen asleep. He was so proud of his loving family.
Season Recap
1. The majority of this round was spent raising twins, Christopher and Rose. They went from babies to children this round. The twins look a lot like their father, but their personalities are a perfect blend between Evan and Alyssa.
2. Alyssa purchased a toy store to sell her hand-crafted toys and Evan's teddy bears. They worked it to a level 7 and earned gold sales badges.
3. Evan took over Cory publishing for Amanda and reached the top of the journalism career.
4. Evan earned Emerald Isle's second hobby plaque. His is in arts and crafts, of course.
Points Recap
Previous non-money points 168
Top of career, Evan +1
Gold badges, Alyssa (4 total, 2 new) +1
Hobby plaque, Evan +1
New non-money points 171
Neighborhood money
Turner 170,070 +39,513 (business)
Sinclair 270,134 + 62,682 (business)
Cory 143,355 + 24,790 (business)
Windsor 173,446
Windsor 2 95,459
Turner 2 166,337 + 37,112 (vacation home)
Turner 3 241,919 + 74,657 (business)
Sinclair 2 232,046 + 62,975 (business)
New neighborhood money points 1,794,495 simoleons=18 points
New neighborhood total points 189
Author's Notes
Christopher and Rose are just about the most adorable thing I've ever seen. They are so cute, but they are even cuter together. I love both of their personalities. They're both nice and neat, but there's enough difference to make it interesting, too. They are a nice blend of their parents. They do seem to do everything together, and not just at my directing. Whatever one does, the other one decides to do, too. It's so cute!