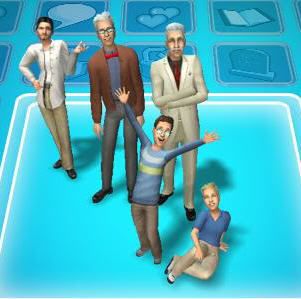 The Turner Family



Nicholas Turner—Elder male romance sim with Aries personality
Lifetime want—have 20 simultaneous lovers

Monty Turner—Elder male fortune sim with Sagittarius personality
Lifetime want—own 5 top level businesses

Will Turner—Teen male family sim with Cancer personality
Lifetime want—Graduate 3 children from college

Klaus Turner—Child male sim with Gemini personality

Daniel Turner—Child male sim with Libra personality
Year 1 Season 2—Winter

It was Sunday and the first day of winter. Finally, the poor Turner orphans got a day to just relax. As the outside temperature became cooler, the thoughts of all the Turners turned to family. Well, Grandfather Nicholas was an exception. He still mostly cared about woohoo.

They started the morning off right with a hardy breakfast of cereal that Will had prepared. Not only was the food satisfying, the company was as well. The children really enjoyed having a moment to just casually sit at the breakfast table and talk.
As Will cleaned up the dishes, Klaus and Daniel began playing cops and robbers together. They didn't have many toys, but their imaginations were strong, and they truly enjoyed playing together. Even though he was working on cleaning up the house, Will couldn't help but smile as he heard the sounds of brothers giggling.

Klaus and Daniel asked Will if they could invite their friend Evan Sinclair over. Daniel explained how Evan's mom had remarried and didn't want him anymore, so Evan lived with his father and his uncle. They were relatively poor, too, even if they did at least have two adult incomes coming into the house. The reason for their friendship was obvious. They had so much in common. So, of course Will said the boys could invite over their friend.

Hearing his brothers talk about Evan made Will long for a friend. He was friends with his brothers and now Grandpa Monty, but he didn't really have any friends his own age. He decided to try and call Genesis, a girl who had ridden home with him on the bus before. Will didn't really like her, but she was at least his own age. He hoped that maybe if he could be friends with her, she would at least introduce him to some more teenagers, and maybe he would find the kind of companionship he was looking for.
Will wasn't surprised when she was less than pleasant to him on the phone. Still, his hopes were dashed. He longed for a girlfriend, someone he could have dreams about starting a family with. But, it seemed that he had little chance of finding one. As Will started to feel lonely, he reminded himself that at least he had his brothers. Their friendship meant everything to him.

Will went outside and was surprised to see Grandfather Nicholas of all people having a water balloon fight with Klaus, Daniel, and Evan.
"Isn't it a little cold out for a water balloon fight?" Will asked. They responded by lobbing a couple of balloons at him.

"That's freezing!" Will exclaimed, but he couldn't help laughing. It was pretty fun.
All three boys laughed together as they tried to gang up on Will. "Okay, seriously boys. This is fun, but Klaus you're going to freeze to death out here dripping wet in your pajamas. At least go in and put on your winter coat, please," Will directed. It wasn't any fun to have to be the parent, but he couldn't let Klaus get sick.

The boys grumbled as they quickly obeyed and went inside. Since they were cold and wet, they decided to just stay inside and play with the toys in their toy box. Still wanting to be close to his brothers, Will just sat in their room and watched them play until eventually he had to make himself go do some more chores around the house.

Grandpa Monty came up and played with the boys before bedtime.
The day of play had truly brought the whole family together. Even their bonds with Grandfather Nicholas had strengthened. He must have been affected by the winter family bonding bug, because he tucked Klaus and Daniel into bed that night.


That night Will couldn't sleep. He kept having nightmares about his father. He felt like he could feel his presence, but when Will woke up, of course he was alone. At one point he felt a strange compulsion to look out the window, and he could have sworn that he saw his father. He'd been having nightmares about his father's drowning a lot lately. Maybe it was just stress. But, whatever the reason, Will just couldn't sleep peacefully.
The family awoke the next morning to find the yard covered in puddles and weeds. Will made a quick breakfast for Klaus and Daniel. He noticed that the cereal and milk were getting pretty low; all of their food supplies were running low. They would have to buy groceries before long, but Will knew that they didn't have the money. He'd been skipping breakfast and dinner himself on school days. The school lunch was enough to keep him alive, and he could save the leftover dinners to feed another meal to his brothers. But even that method was going to stop working before long.

Will wanted to sit with his brothers at the table while they ate, but he knew that he had bettered clean up the yard before those weeds got any worse. He was tired, hungry, and now sore from pulling weeds.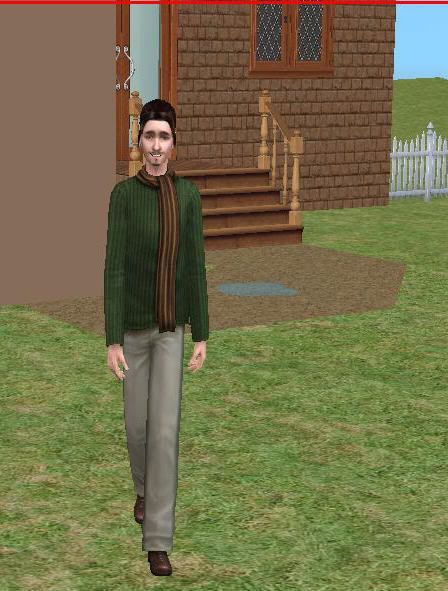 The school day did not go any better for Will. As soon as a note was passed to him from his homeroom teacher, Will realized that there was someone that cared about his school grades: Mr. Emery, the school counselor. Will grimaced as he looked at the pass that excused him from homeroom to come see the counselor. Still, he couldn't just ignore the man.

"Crap," Will whispered to himself as he walked towards the counselor's office. He hadn't been doing his homework because it didn't really affect anyone but himself. He'd put Klaus' and Daniel's needs first. He knew the social worker would come take Klaus and Daniel away if they got failing grades in school or if they didn't eat, but generally the social worker didn't care about the welfare of teenagers. But, she probably did care about the home situation of a teenager that was raising two children. The fact that he was suddenly failing school might make the counselor scrutinize his home life, and maybe even lead to a visit from the social worker. That was exactly what Will needed.

"Have a seat, Will," the counselor gestured at his couch when the teen entered his office. "Do you know why I've asked you to come talk to me, Will?" the man politely asked.

"My grades," Will whispered to the floor. He was still horribly ashamed of his F, and talking about it wasn't really something he wanted to do.

"Yes, Will, your grades. They've been steadily declining since your parents' deaths, and I noticed that you're actually failing now." He let the statement sit in the air, apparently waiting for Will to volunteer some information.

"Is everything okay at home?" Mr. Emery gently probed.

"Yes! Everything's fine," Will quickly responded, his deepest fears confirmed. From the look on the older man's face, Will knew he had given himself away by responding too quickly. "I'm very happy with my grandfathers and my brothers," Will tried to explain.

"I did talk to the counselor at the elementary school. She told me that Klaus and Daniel are both doing extremely well."

"I know," Will responded with a genuine smile. He was so proud of his brothers' achievements.

"Klaus is getting an A+ and Daniel is getting a B. They almost always turn in their assignments on time, and they aren't having any behavior or adjustment problems according to her."

Will simply nodded at the man.

"So, really Will, things are okay at home, because if they aren't . . ."

Will didn't let him finish his sentence. "Everything's fine!" he exclaimed defensively.

"Then, you tell me, Will. Why are you failing?"

Will could feel his throat closing off with shame and held back tears. He didn't want to be failing. But, he couldn't exactly answer Mr. Emery's question. There was a part of it that he truly didn't understand. He didn't know why Klaus had moved on from their parent's death so quickly or why it just didn't seem to affect him that much. He supposed it was just the difference in their personalities. Even Daniel had stopped having nightmares, but Will hadn't. But the fact that he still saw ghostly visions of his father was hardly something he could tell a counselor without risking being labeled crazy.

The other part of why his school performance was lacking was obvious. He was constantly working around the house, doing chores, and helping his brothers. Will rarely had any time to himself at all, much less time for homework. But if anyone knew how many of the adult responsibilities Will was handling instead of his grandfathers, well they'd probably send social services to investigate. He also couldn't mention that he was exhausted all of the time or that he was starving from only letting himself eat school lunches and no other meals. No, any legitimate answer to the man's question would definitely lead to a visit from the social worker, and he couldn't afford to risk losing his brothers.

"I guess I just don't care for school much," Will lied. He had loved school before his parents passed away. He'd always dreamed of going to college and then his future children going to the same college someday. But, dreams went away as you grew old enough to see reality. And the reality was that he had to take care of his brothers.

"I don't believe that, Will," Mr. Emery said firmly. "I can see it in your eyes. You do care that you're failing."

Will quickly looked away. "Look, I did all of my homework this weekend. All of it, okay, so I'm already working on it. My grades are going to improve okay?"

"You're sure it's not just that you're taking on too many responsibilities at home? Maybe you're just a little tired and could use some extra help. I could have someone from . . ."

"No!" Will exclaimed. "Everything at home is fine. You just said Klaus and Daniel are doing fine. It's me, okay. I'm just a bad kid. That's all. But, I'll promise to do all my homework from now on, okay? So, can I please go back to class now?"

Mr. Emery let him leave, but Will was certain he hadn't convinced him. He'd have to find a way to make sure they got some more groceries soon and be sure the house was completely picked-up in case a social worker did stop buy to check on things. And he'd have to be sure to always do his homework, no matter how exhausted he was.

Will couldn't force himself to even look at the report card from school until he stepped off the bus. He didn't want to risk crying in front of the other students just in case it was still bad.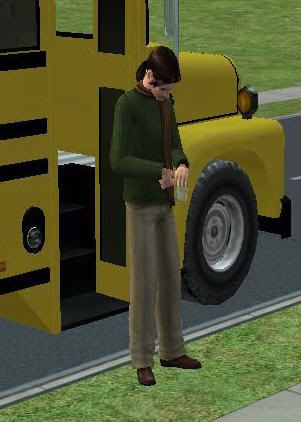 Will was heartbroken when he looked. He got a D-. A D-! He'd done all of his homework. What more did the teachers want from him? He thought he had done really well on his history pop quiz and math test, and he was sure he had done his homework properly. Maybe he'd just made some stupid mistakes because he was so tired, hungry, and irritable. After all that work to get all of his homework done, he'd only managed to get a D-, and now he had more homework that they expected him to do! He had to do it, but he felt awful and wasn't even sure he could force himself to do it right then if he tried.

Today was Klaus' 13th birthday, and Will wanted to be sure it was special for him. That only gave him a couple of hours before Klaus and Daniel got home from school to get his homework done, refresh his energy, and try to get out of the depressed mood he was in. Will couldn't take it anymore. He was so ashamed of himself for getting a D-. But more than that he was overwhelmed with worry that the social worker would come and take his brothers away; that Klaus would have a bad birthday; and that he would pass out sometime tonight before getting Klaus' birthday, his homework, and the household chores all done.

He made it as far as the living room before he had to let himself sit down and cry. He had to let it out for just a minute. Will covered his eyes with his hand and let the tears fall as he sobbed softly for a few minutes.


"What's wrong, Will?" Grandpa Monty asked, responding to the obviously stifled cries.

"No-nothing," Will quickly responded while dashing the tears away from his eyes.


"Will, I heard you crying when I walked in the door. Something's wrong. You can talk to me, you know," Grandpa Monty gently pressed.

Will paused. He did trust Grandpa Monty now. Without him their house would have no income . . . and he had helped Will learn to study. But, Grandpa Monty still wasn't the family sim type that wanted to listen to the worries of a teenager.

"Things are just hard now," Will replied.

"School?" Grandpa Monty asked.

Will nodded. "And money, I guess," he explained. That was something Grandpa Monty could relate to, and honestly things wouldn't be nearly as bad if they had more money. He could hire someone to help with the household chores, and he could buy groceries and not have to starve himself.

"I know, Will," Grandpa Monty commiserated. "Money's tight, but Nich and I are making more money now. Things are starting to ease some."

Will dared to ask for a favor. "Tonight is Klaus' thirteenth birthday. Do you think that maybe you could give me the money to buy him a cake? I know it's a lot to ask for, but thirteen is a really important birthday, and Klaus deserves it."

"Today is Klaus' birthday? Why didn't you tell me before?"

Will just shrugged. He honestly hadn't thought either of his grandfathers would care.

"Let's throw him a party," Grandpa Monty suggested.

"What?" Will asked in surprise.

"Nich and I have the night off from work, and we can afford a cake. People and a cake are all you really need for a party. Let's make it special for Klaus."

"Okay," Will replied. He was very excited about the idea of giving Klaus a party. The excitement was even starting to give him some of his energy back.


"Why don't you call and invite some people, and I'll go get the cake?"

Will knew he should invite Evan Sinclair. He was Klaus and Daniel's closest friend. He also decided to invite Philip Windsor, even though Will didn't think he'd come since he didn't know the Turners that well. Just to round out the party he decided to invite Genesis, just for the heck of it, and Grandfather Nicholas' newest girlfriend, Regina.

Klaus was in a great mood when he came home with an A+ report card.
He was very surprised to find out that he was having a birthday party with both his grandfathers, his brothers, and his friends (Evan and Philip). Will was disappointed that none of the other party invitees wanted to come, but Klaus didn't even know he'd invited them, so it was okay. Klaus was overwhelmed with joy when he saw the cake. He'd never dreamed of getting something so extravagant compared to their current living situation.

The moment he blew out the candles, Klaus turned into a rather dashing young teen. He'd grown up well, mostly due to his brother's sacrifices. He was ready to tackle high school and a more grown-up aspiration.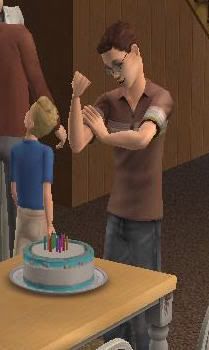 Klaus decided to talk to Will about picking an adult aspiration. He trusted his brother and knew that he would help him pick something that would truly make him happy, not just what Will wanted. Klaus didn't really care about children, women, money, or luxury as many other teens did. Since he liked school so much, Klaus chose knowledge as his aspiration. Klaus loved learning, and he wanted to learn everything he could.

Unfortunately after blowing out the candles, the party seemed to go downhill. No one was really sure how it happened or what had caused it, but the party ended up a disaster. It hit Will, Nich, and Monty hard. They had wanted to make this day special for Klaus. Klaus didn't really seem to care that the party was a disaster, though. He was happy that he'd grown-up well and had chosen a good aspiration.
After the party, Will was even more exhausted. But, there were things he knew he had to do. First he checked to make sure that Klaus and Daniel were both working on their homework and that they weren't having any problems. Next, he had to pick-up after the party. Only then was he finally able to work on his own homework, but he knew that it absolutely had to be done.

Nicholas called Regina over for a quick kiss. That was all it took to get him 3 loves at once.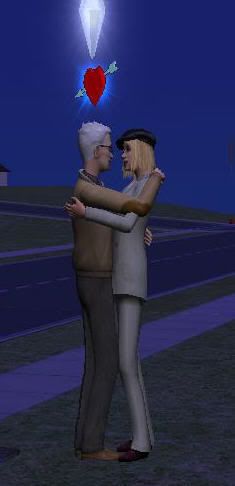 That night Will couldn't sleep well again despite how exhausted he was. He tossed and turned for a long time before falling asleep. This night he was worrying about Daniel growing-up well. Nightmares of the social worker coming and taking away his brothers plagued him when he finally did fall asleep.

He woke up after only a few hours sleep, sure that he could feel his father again. Will was beginning to wonder if maybe his father's spirit was angry with him. He was trying as hard as he could to do the right things, but maybe his father was disappointed in him for doing so bad in school, or for throwing such a lousy party for Klaus. Will told himself that he was being silly, that his father wasn't really there. There were no such things as ghosts. But, Will wondered when he awoke to find the house and yard covered in water again.

Will made himself get up and make the last of the cereal for Klaus and Daniel. It was so hard. His energy was still almost completely drained from not sleeping, and he was hungry. He wanted some cereal, too. But, there just wasn't any left for him. Beyond that, Will was actually AFRAID of going to school now. He was worried Mr. Emery would try to talk to him again, and that he'd slip up and say something that would start an investigation by social services. He made himself go anyway, even though he really, really, really didn't want to.

This school day wasn't any better for Will. Apparently it is not a good idea to try to go to school without any energy our nourishment. He was sitting in Mr. Binn's history class and started to drift off in his thoughts as the man droned on and on about dates. Will actually fell asleep in class. He woke up to a hard shake from the teacher.

"Mr. Turner, what do you think you're doing?" Mr. Binn's demanded.

"Sorry, Sir," Will replied quickly as he ducked his head in embarrassment. He really hadn't meant to fall asleep; he was just exhausted.

"This isn't preschool, Mr. Turner. There is no nap time. But, perhaps you'd do better if we sent you back to kindergarten."

The entire class burst out in laughter as Mr. Binn's continued to tease and lecture poor Will. Will's cheeks burned with embarrassment. He just wanted to run out of the room, but he didn't dare. Then he heard some very dreaded words. "Go to the principal's office, Mr. Turner."

Will cursed himself as he started to walk to the main office. He couldn't believe how much he'd just humiliated himself. And this was going to look just great on the counselor's report on him. Will couldn't take it. He had to stop in the bathroom for a minute and let himself cry before he could make it to the office. Will tried to calm himself with some deep breaths, but it wasn't working. He had to push the embarrassment from being ridiculed in front of the entire class out of his head. It was immediately replaced by fear over what punishment the principal would give him. Will started to tremble slightly as he thought about it. But, he couldn't let himself linger on those thoughts.

Will gripped the sides of the bathroom sink, trying to steady himself. He still felt exhausted and dizzy. He told himself that he had to focus. The most important thing right then was to be sure that no matter what happened, he made it look like everything was okay at home. Will knew that meant he'd get punished worse, but that . . . well it mattered . . . but it wasn't the priority. Protecting his brothers from the social worker was the priority. He had to pull himself together, and he had to convince the principal that his home life was fine. He'd just misbehaved like a rebellious teenager.

Taking another deep breath, Will splashed some water on his face so that the fact he'd been crying would be less obvious. He mustered some courage and went to sit in the waiting room for the principal.

"Come in, Mr. Turner," Principal Norrington said after not too long of a wait. He motioned for Will to take a seat in a chair across from his desk. "Mr. Binns just informed me that you were disrupting his classroom and interfering with his ability to teach."

That was taking it a bit far, Will thought, but he nodded anyway. Will was too afraid to be angry and defiant as he had with the counselor. "I fell asleep in his class, Sir," Will responded.

Principal Norrington nodded. He wasn't a cruel man. He wanted to give Will a chance to explain himself. "Anything else you want to tell me? Maybe why you fell asleep?"

"No, Sir," Will whispered. He was following a recipe to get paddled for sure; he knew it. He had to make everyone believe that his home life was fine, so he had no excuse. Now he was refusing to explain himself to the principal. But, there wasn't anything he could say that wouldn't result in something worse than a paddling, like having his brothers taken away by the social worker.

"Mr. Emery seems to think that maybe you're having problems at home . . ."

"No, Sir," Will responded immediately. "I . . . I'm just a bad kid, Sir," he repeated the phrase he'd given the counselor. "I don't do my homework, and I fall asleep in boring classes. I'll . . . I'll take whatever punishment you want to give me . . ."

Principal Norrington sighed. Teenagers that were bad teenagers didn't admit to it, and they certainly didn't volunteer to accept their punishment. "Will, if you aren't able to handle things . . ."

"No," Will begged. He was actually crying now; he'd promised himself he wouldn't do that. Yet, the tears were streaming from his eyes just the same. "Please, Sir, I'll do better. You can punish me now for this, and I'll never let it happen again. Please, just don't write down that there's something wrong at home."

"Will, I can see what's going on. I know you don't want your brothers placed in foster care. I understand that, but . . ."

Will begged with his eyes for the principal not to finish that sentence. He prayed for Principal Norrington to have some compassion.

"Here's what I'm going to do, Will. I am not going to punish you this time. I think Mr. Emery is right about your home situation. But, I'm going to give you a chance to fix it. Maybe you need to ask your grandfathers to help out a bit more? In any case, you will not fall asleep in class again, you will not disrupt a class, and you will turn in every homework assignment on time from now on. If it happens again, I will have no choice but to punish you and then call child protective services."

"Yes, Sir," Will nodded. "You won't have any more problems from me." He was relieved that he'd gotten out of punishment this time and that he was being given a second chance. But, he was worried. He'd pushed himself as hard as he could. He honestly didn't know if he'd be able to keep his promise of never letting it happen again, and he doubted that either of his grandfathers wanted to help out any more than they already were.

That night Will brought home a C-. It was definitely an improvement over an F. But, he was so completely exhausted when he stepped off the bus. He couldn't even make it up to his room. He felt a sudden wave of dizziness and passed out on his way to the stairs.
Will eventually got himself to bed and let himself take a nap. He needed to start taking care of himself. When Grandpa Monty and Grandfather Nicholas returned from work, they asked Will if he wanted to go on a bowling outing. Will knew he should say no and stay home and work on his homework and the chores, but he wanted to spend some time with Klaus now that he was a teenager, so he went. They had a great time at the bowling ally.
In the cab ride home, Klaus had several things he wanted to discuss with his family. He'd chosen his lifetime want: maxing out 7 skills. He also wanted to discuss the possibility of getting a job. He actually wanted to work. He thought it would be good for his skill building, and he knew the family could use the money.

"I don't know, Klaus. High school is harder than you think. It's going to be hard for you to keep up your grades and have a job. I certainly couldn't do it," Will expressed his concern.

"Please, Will. I truly want to work. Besides, school's always been easier for me. You know that. And, you're always doing the head of household tasks that I don't do. Let me contribute by having a job," Klaus tried to convince his brother.

Will sighed. "I'll say all right for now, because we really could use the money. And, you're right. You always have been smarter than me. But, if your grades start to slip at all, you have to promise me you'll quit your job. School is very important; that has to be your top priority." Klaus agreed to Will's conditions. Will also remembered to ask Grandfather Nicholas if he could try to catch some fish. Their food supplies were getting dangerously low, and they still didn't have enough money to buy some groceries.

The boys got back home a little late. Will was still tired, but he knew he had work to do. After picking up a little, he went to his room to sit down to do his homework only to find that Grandfather Nicholas had his date Regina in there. They wanted use of his room for woohoo.

"But, Grandfather Nicholas, I have to do my homework. I have to!" Will pleaded.

"Later," Grandfather Nicholas said while cuddling his current flame. "You've got the only double bed in the house."

Will was shooed from his own room. It was bad enough that his grandfather was having woohoo with some tramp in his bed, but now he couldn't even do his homework, either.